Tianjin blast: Scenes of devastation in Chinese port city after scores killed by explosion
The blast registered as a seismic event
Adam Withnall
Thursday 13 August 2015 19:41 Comments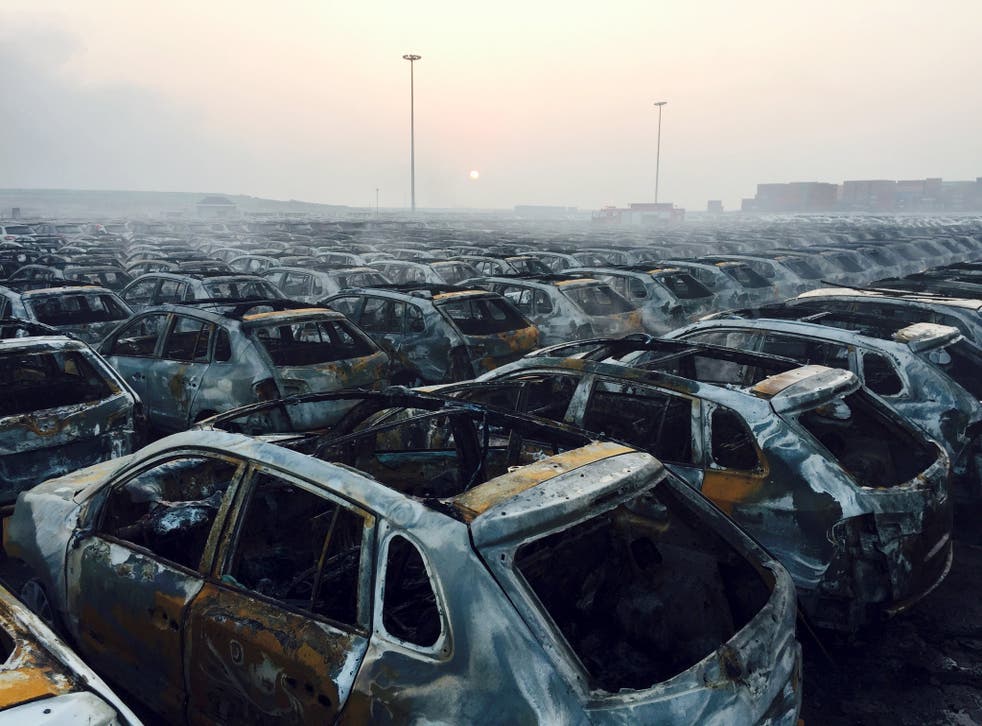 One of the largest and most densely-populated port cities in the world has been devastated by a series of huge explosions at a chemicals warehouse.
Tianjin residents described witnessing the effects of an "earthquake", an "atomic bomb", or a scene from a "Hollywood disaster movie", after shockwaves from the largest blast damaged homes and vehicles for miles around.
At least 50 people have been killed by the explosion, and more than 700 injured. The two main blasts were so powerful they registered as seismic events with the US Geological Survey.
Images from the city showed scenes of apocalyptic devastation, with shipping containers scattered and destroyed, ranks of new cars torched and buildings left as hollow shells.
The cause of the blasts was unknown but industrial accidents are not uncommon in China following three decades of breakneck economic growth. A blast at an auto parts factory in eastern China killed 75 people a year ago when a room filled with metal dust exploded.
Tianjin Explosion - In Pictures

Show all 14
Register for free to continue reading
Registration is a free and easy way to support our truly independent journalism
By registering, you will also enjoy limited access to Premium articles, exclusive newsletters, commenting, and virtual events with our leading journalists
Already have an account? sign in
Register for free to continue reading
Registration is a free and easy way to support our truly independent journalism
By registering, you will also enjoy limited access to Premium articles, exclusive newsletters, commenting, and virtual events with our leading journalists
Already have an account? sign in
Join our new commenting forum
Join thought-provoking conversations, follow other Independent readers and see their replies