Tianjin explosion: China's safety record under scrutiny as nation counts the cost of a blast visible from space
Greenpeace Beijing has warned of long-term effects of pollution in the area
Jamie Merrill
Thursday 13 August 2015 21:56 Comments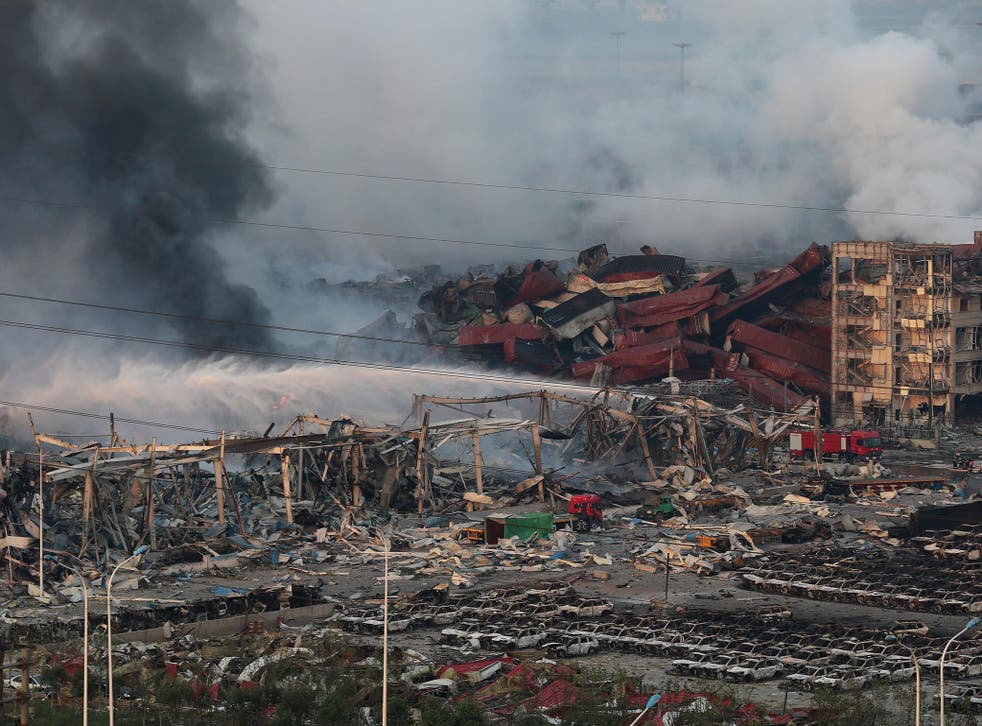 The giant explosion in the Chinese port city of Tianjin which left at least 50 dead and more than 700 people injured has prompted renewed questions over the safety record of the country's vast chemical industry.
The twin blasts, at a warehouse storing toxic chemicals in the port city, destroyed dozens of workers dormitories, flattened tower blocks and burned thousands of cars, prompting international experts to point to China's poor chemical storage standards.
Fire were still smouldering at the site on Thursday evening, where 36 firemen remain missing and the death toll is expected to rise overnight, as efforts to put out the remaining fires had been temporarily suspended while chemical experts wearing face masks assessed the hazardous materials on site.
President Xi Jinping said there would be a thorough investigation and promised "transparent information disclosure to the public", Xinhua news agency reported, after it emerged fire-fighters were already at the scene trying to control a fire when the huge blasts occurred on Wednesday night.
The Chinese leader's comments came after local officials confirmed 1,000 firemen had fought the blaze and that a 200-strong unit from the "national nuclear biochemical emergency rescue team" had been deployed to the vital economic hub, where as many as 6,000 people are set to spend the night in emergency shelters.
According to Chinese media reports the warehouse at the centre of blast, which set off earthquake alarms at China's National Earthquake Centre, is owned by Ruihai International Logistics, which stores and transports hazardous chemicals.
The initial blast was followed seconds later by a second, far more powerful blast equivalent to 21 tons of TNT and a series of secondary explosions which witnesses reported sent shipping containers into the area and devastated vast areas of the port.
It is not known yet what exactly causes the blasts, but Chinese media said at least one member of Ruihai International Logistics staff had been arrested, amid reports that the chemical storage facility was believed to be have storing at least 700 tonnes of sodium cyanide, a high toxic chemical asphyxiate to which exposure can be rapidly fatal.
A briefing note by a senior Chinese academic on safety in the country's chemical industry, seen by The Independent, warned in 2011 that chemical technologies in China are out of date, the number of serious accidents was rising and senior managers lack safety training.
Andy Furlong, director of policy at the Institution Chemical Engineers in London, who has work with Chinese academics on safety standards, said: "It's dangerous to speculate at this stage, but when it comes to small and medium size Chinese chemical storage firms, we know they are a long way behind. The view expressed to us very recently by Chinese experts was that in the field of chemical storage their technologies are outdated, some of the equipment they use is primitive, safety management is poor and employee training is not up to scratch."
The blasts, which created a fireball visible from space, have prompted Greenpeace Beijing to warn of long-term effects of chemical pollution in the area, after it also emerged that officials in the port city had met with the company recently to discuss tightening safety standards, Reuters reported, while a government report from 2013 showed that owners of the facility had flouted safety regulations after it failed packing checks guiding the labelling of dangerous chemicals.
Mr Furlong added that larger Chinese firms are "starting to embrace" higher safety standards, but said that Chinese workers were not "empowered" to complain to managers if they thought a plant was "about to go bang."
If the explosion was as a result of poor storage or handling of hazardous chemicals or explosives, it would be the latest in a string of deadly industrial accidents in the county, where dismal safety standards and corruption contribute to hundreds of industrial accidents each year. An explosion at a fireworks warehouse last month killed 15 people, while last year a blast at a car parts factory in Shanghai killed 69 workers. Mr Furlong said the "size of blast" led him to believe the death toll would rise in the coming hours.
The chemical processing industry accounts for as much as 22 per cent of Chinese GDP and since 2006 there has been an policy of relocating chemical firms to industrial plants near major cities, but there has been criticism in the Chinese media that a warehouse containing such dangerous chemical should have been located so close to a main road, housing developments and office blocks
Register for free to continue reading
Registration is a free and easy way to support our truly independent journalism
By registering, you will also enjoy limited access to Premium articles, exclusive newsletters, commenting, and virtual events with our leading journalists
Already have an account? sign in
Join our new commenting forum
Join thought-provoking conversations, follow other Independent readers and see their replies