Tianjin explosion: 44 dead and 400 injured as huge blasts rock Chinese port city
The explosion occurred at a warehouse for explosive and dangerous goods - with reports saying the first explosion was equivalent to 3 tons of TNT, and the second, 21 tons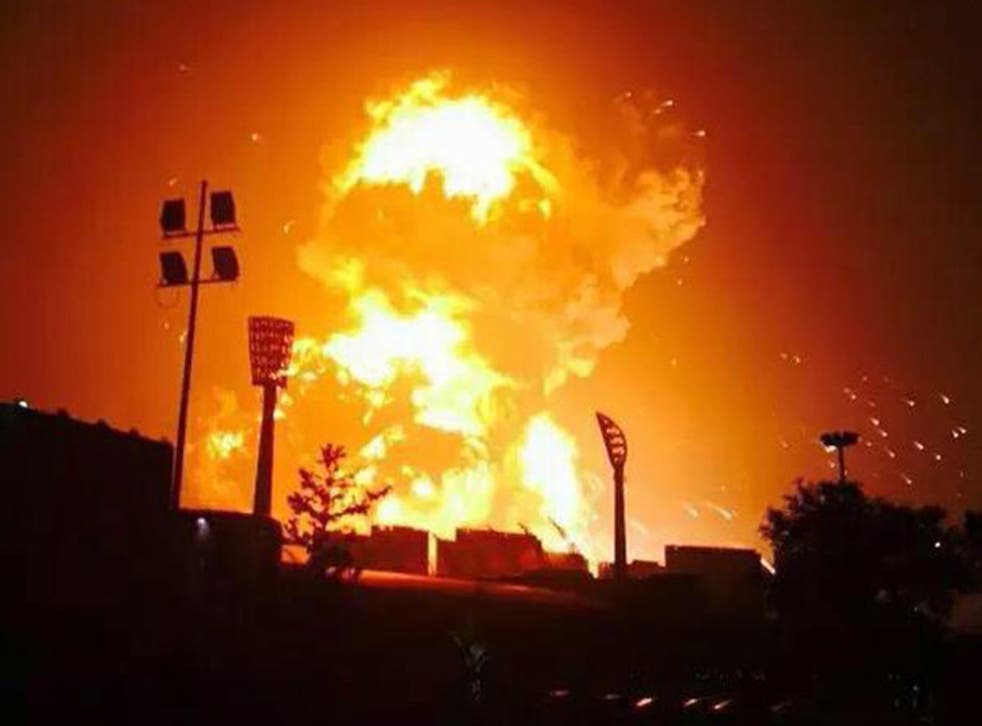 At least 44 people are dead and another 400 are injured, according to state broadcasters, after multiple huge explosions rocked the Chinese port city of Tianjin.
Twelve firefighters are reportedly among the dead and 32 of those injured are in critical condition.
The explosions, so large they could be seen by satellites in space, reportedly began at around 11:30pm (3:30pm GMT) in the Binhai district, and shattered windows and knocked off doors of buildings in the area, Beijing News reported.
The explosion occurred at a warehouse for explosive and dangerous goods. Xinhua News said the first explosion was equivalent to 3 tons of TNT, and the second, 21 tons.
The blasts then triggered others at nearby businesses, according to Xinhau.
One thousand firefighters were called to tackle the blazes, according to Xianhau.
The state-run Beijing News cited Tianjin fire authorities as saying they had lost contact with 36 firefighters, and that another 33 were among the hundreds of people being treated in nearby hospitals.
It is not yet known what caused the explosion, but videos from the scene show a dramatic fireball exploding near the site of a fire.
As dawn broke, images emerged of hundreds of burned-out vehicles at the site of the explosion.
President Xi Jinping demanded that authorities "make full effort to rescue and treat the injured and ensure the safety of people and their property".
Xi said in a statement carried by official media that those responsible should be "severely handled".
Residents reported feeling a huge shockwave after the explosion.
Photos circulating online show a gigantic fireball high in the sky, with a mushroom-cloud.
Video posted on YouTube from what appeared to be an apartment building some distance from the scene showed an initial blast followed by a second, much bigger, explosion. Shockwaves hit the building seconds later.
"Our building is shaking. Is this an atomic bomb?" said a frenzied voice inside.
Tianjin Explosion - In Pictures

Show all 14
Local residents in Tianjin are posting pictures of shattered windows and injured people.
State broadcaster CCTV says six battalions of firefighters had brought the ensuing fire under control, although it was still burning. It says the firefighters were combing the neighbourhood for possible injured residents.
Tianjin resident Zhang Siyu, whose home is several kilometres from the blast site, told the Associated Press: "I thought it was an earthquake, so I rushed downstairs without my shoes on.
"Only once I was outside did I realize it was an explosion. There was the huge fireball in the sky with thick clouds. Everybody could see it."
She said she could see wounded people weeping. She said she did not see anyone who had been killed, but added: "I could feel death."
Han Xiang, who lives in the city, compared the blast to an earthquake but said "then there was a huge mushroom cloud, so we thought we were also in a war."
Xianhua identified the owner of the warehouse involved in the first explosion as Tianjin Dongjiang Port Ruihai International Logistics. The company's website said it was a government-approved firm specialising in handling "dangerous goods". Company officials could not immediately be reached for comment.
According to an assessment by government environmental inspectors published in 2014, the facility was designed to store several dangerous and toxic chemicals including butanone, an explosive industrial solvent, sodium cyanide and compressed natural gas.
CCTV said at least one person at a "relevant company" had been detained.
Tianjin is a major port and industrial area, around 70 miles from the capital Beijing and home to around 15.2 million people.
Additional reporting by Reuters
Join our new commenting forum
Join thought-provoking conversations, follow other Independent readers and see their replies