Tianjin: Death toll rises to 50 and scores still critically injured after huge explosion
'Our building is shaking. Is this an atomic bomb?'
Adam Withnall
Thursday 13 August 2015 12:40 Comments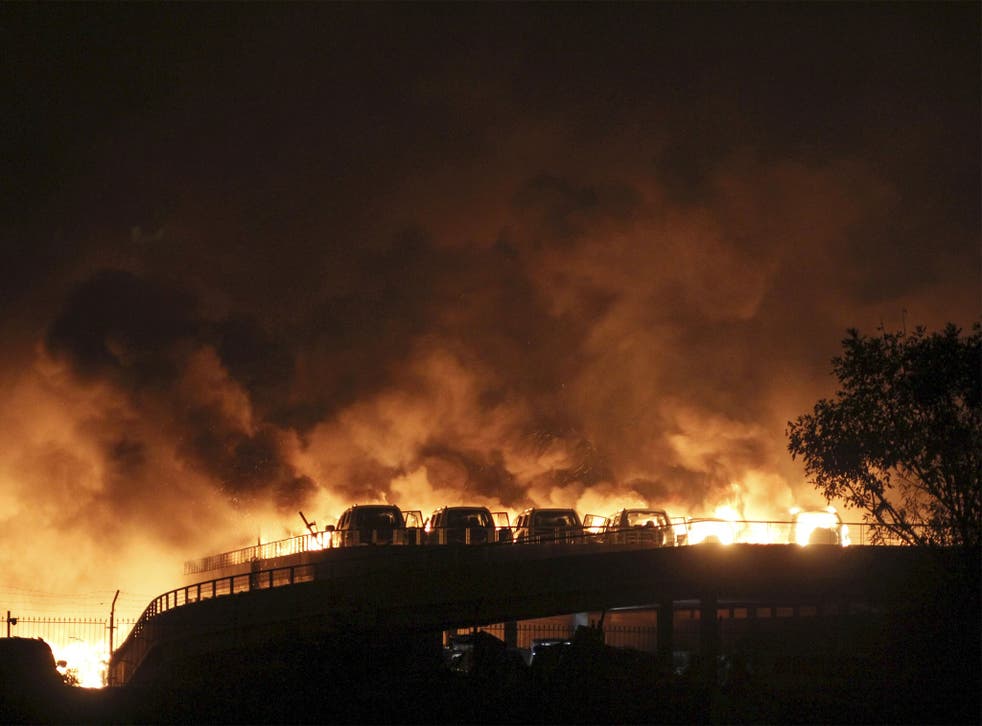 A series of huge explosions have rocked the Chinese port city of Tianjin, killing at least 50 people including at least a dozen fire fighters.
City officials said the death toll rose on Thursday afternoon, adding that more 700 people were injured in the blast. According to Chinese news agency Xinhua, 71 of those were in a critical condition.
Images and video from the blast site showed a plume of fire rising up to 100m into the air, with local residents saying it felt like there had been an "earthquake" or "an atomic bomb".
The incident began with reports of a fire at a warehouse filled with "dangerous" chemicals in the densely-populated city.
With large numbers of firefighters already on the scene, the site erupted in explosions. China's earthquakes centre said the first blast had the power of three tonnes of TNT, and a second was equal to 21 tonnes.
More than 1,000 firefighters and 140 fire engines continued to battle to bring at least four distinct fires under control on Thursday morning, Xinhua reported.
Tianjin is the 10th largest port in the world, and the city has more than 14 million residents. Locals reported shockwaves that shattered glass more than two kilometres away, while the blast itself was seen by satellites from space. Even the US Geological Survey registed the event as seismic.
Tianjin Explosion - In Pictures

Show all 14
"I was sleeping when our windows and doors suddenly shook as we heard explosions outside. I first thought it was an earthquake," Guan Xiang, who lives 7 km (4 miles) away from the explosion site, told Reuters by telephone.
Video posted on YouTube from what appeared to be an apartment building some distance from the scene showed an initial blast followed by a second, much bigger, explosion. Shockwaves hit the building seconds later.
"Our building is shaking. Is this an atomic bomb?" said a frenzied voice inside.
Local authorities said police have now arrested the head of the company involved, Tianjin Dongjiang Port Rui Hai International Logistics.
The company's website said it was approved by the government to handle "dangerous goods" including butanone, an explosive industrial solvent, sodium cyanide and compressed natural gas.
The government said that despite the destruction, the port itself was operating normally.
Additional reporting by agencies
Register for free to continue reading
Registration is a free and easy way to support our truly independent journalism
By registering, you will also enjoy limited access to Premium articles, exclusive newsletters, commenting, and virtual events with our leading journalists
Already have an account? sign in
Join our new commenting forum
Join thought-provoking conversations, follow other Independent readers and see their replies