Tianjin explosion video: Dashcam captures full force of both blasts as residents are seen running for cover
Residents flee in fear as latest video shows sheer force of second blast
Kiran Moodley
Thursday 13 August 2015 18:13 Comments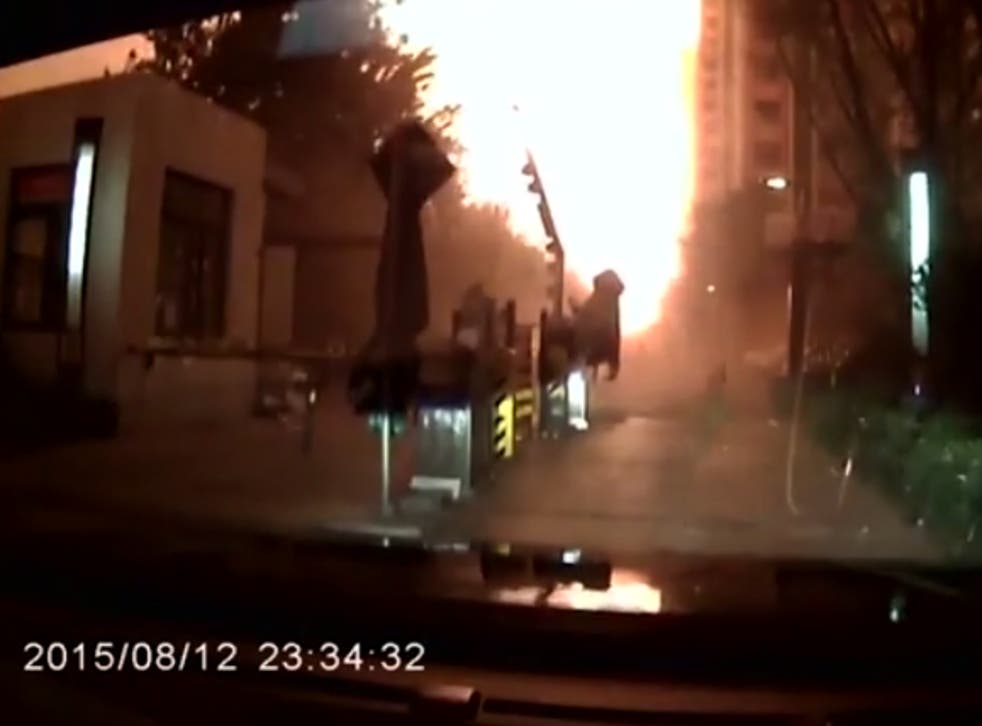 The latest video from the Chinese port city of Tianjin shows the full force of both blasts that killed at least 44 people and has left over 500 injured.
Two huge explosions shook the industrial area of the city on Wednesday night. The incident occurred where toxic chemicals and gas were being stored, with the blasts so large they were seen by satellites in space.
The second explosion, captured on film, was the equivalent of 21 tonnes of TNT and was seven times more powerful than the first (3 tonnes of TNT). Drone footage from the area of the blast shows shipping containers tossed on their sides alongside buildings and cars stripped bare. The blast shattered windows and knocked down walls in a 2km radius of the blast site.
The latest video was taken by a dashboard camera from a car. Whereas most videos of the blast have so far just shown the second, much larger blast, this one shows the first explosion too.
The video also confirms that the large blasts two place at 11:34pm local time.
Tianjin Explosion - In Pictures

Show all 14
Furthermore, the full force of the second blast is felt, with trees swaying, a huge wind blowing the car out of position and debris swirling along the street. To the left of the screen residents can be seen running for cover as the second explosion rips through the city.
Video courtesy of Newsflare.com
Register for free to continue reading
Registration is a free and easy way to support our truly independent journalism
By registering, you will also enjoy limited access to Premium articles, exclusive newsletters, commenting, and virtual events with our leading journalists
Already have an account? sign in
Join our new commenting forum
Join thought-provoking conversations, follow other Independent readers and see their replies