Over half of the tigers rescued from Thailand tourist attraction have died
Viral disease rampant as animals left with 'no immune system'
Vincent Wood
Sunday 15 September 2019 18:35 Comments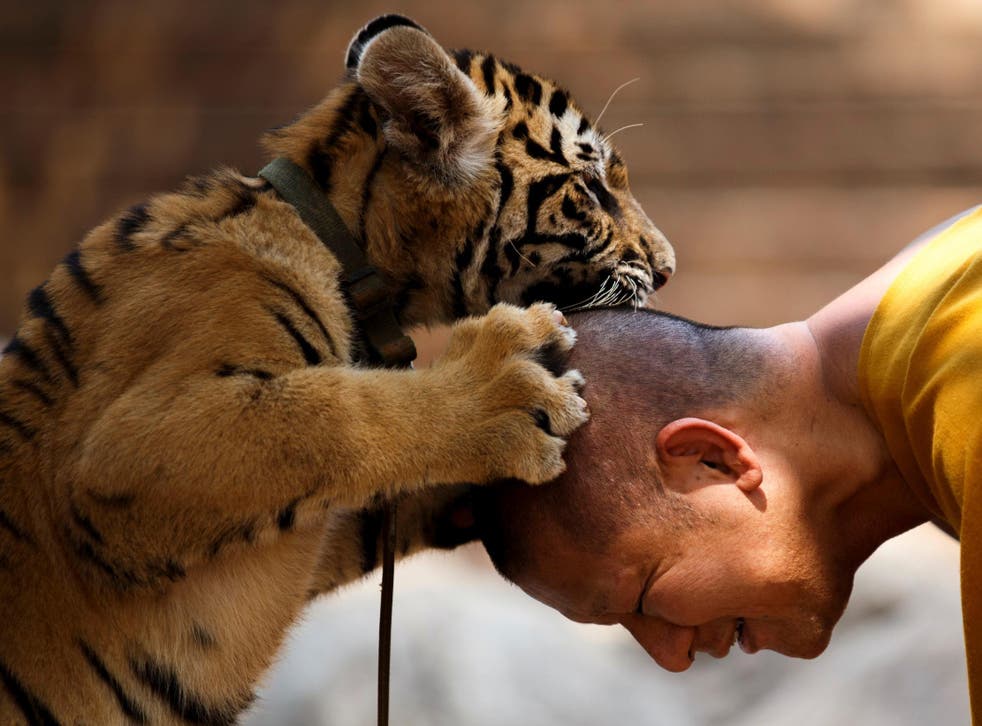 More than half of the almost 150 tigers rescued from a tourist attraction in Thailand have reportedly died in captivity in the last three years.
The Wat Pha Luang Ta Bua Yanasampanno temple west of Bangkok promoted itself as a wildlife sanctuary. It charged admission to visitors who would take photos with the animals and bottle feed their cubs.
Three years ago, 147 tigers were removed for the facility by the Thai government, follwoing allegations that they were being illegally bred.
Tourists had also reported that the animals seemed drugged.
After it emerged the rescued creatures had died, a senior official from Thailand's department of national parks, wildlife and plant conservation said their immune systems had been weakened by inbreeding.
Thailand's Tiger Temple raid

Show all 10
Prakit Vongsrivattanakul said they were said the tigers were particularly susceptible to the canine distemper virus.
"When we took the tigers in, we noted that they had no immune system due to inbreeding," he told state-owned broadcaster MCOT. "We treated them as symptoms came up."
Mr,​Vongsrivattanakul, the department's deputy director-general, did not give a figure for the number of tigers to have.
However, local media reports suggested 87 of the 147 rescued creatures had died.
Thai government officials could not be reached for comment.
While removing the tigers from the temple, Thai state officials reported finding the bodies of 40 dead tiger cubs in a freezer.
They also discovered 20 glass jars containing baby tigers and tiger organs during a raid of the site.
A monk allegedly attempted to flee the site in a truck carrying more than 700 vials of tiger skin, as well as tiger teeth hidden in a suitcase.
"I am quite shocked," Teunchai Noochdumrong, director of the government's wildlife conservation office, said at the time. "We all have heard concerns and allegations about this temple. I would never have thought they would be so blatant."
Additional reporting by Reuters.
Register for free to continue reading
Registration is a free and easy way to support our truly independent journalism
By registering, you will also enjoy limited access to Premium articles, exclusive newsletters, commenting, and virtual events with our leading journalists
Already have an account? sign in
Join our new commenting forum
Join thought-provoking conversations, follow other Independent readers and see their replies