'Torture bribe' demanded after 'stage-managed' arrest of Briton alleged Isis recruiter in Bangladesh
Wife claims police scammed her family after arrest for alleged jihadist recruitment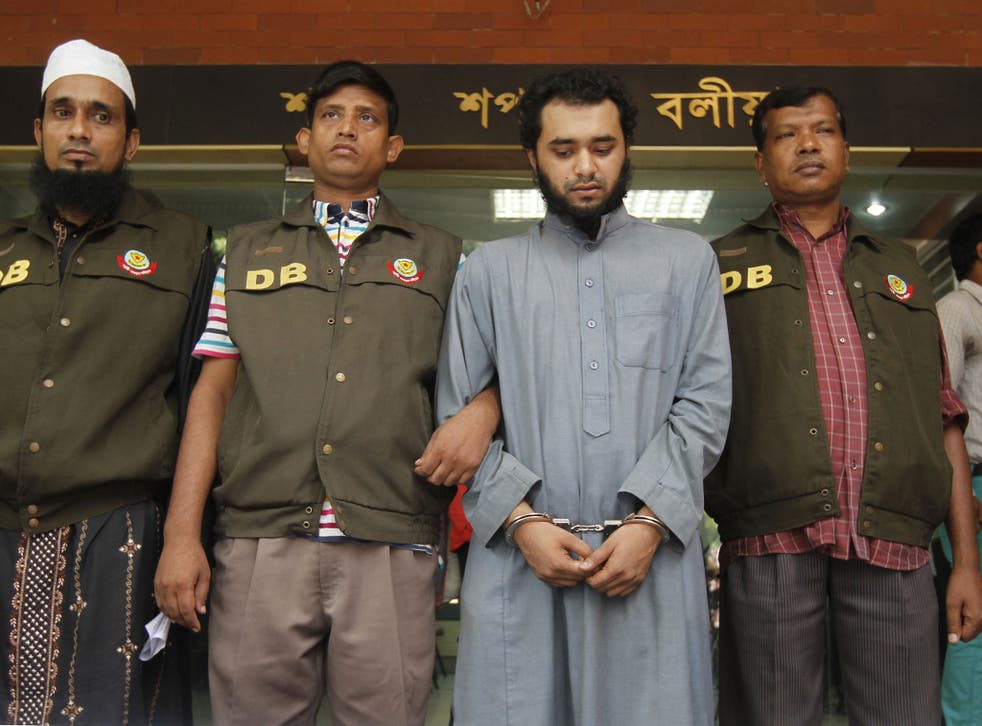 The family of a British man accused of recruiting fighters for the Isis claim they have been forced to pay a "torture bribe" after he was imprisoned in Bangladesh.
Samiun Rahman, a 24-year-old London minicab controller, has been held for two months in Dhaka and faces life in prison if convicted of allegations that he was using the country as a base to send jihadists to Syria.
His wife has told The Independent that Mr Rahman has been threatened with torture by the Bangladeshi security services and the family forced to pay a "torture bribe".
Fatima Rahman, from Holborn, London, said that after his arrest on 24 September the family were contacted by Bangladeshi police who informed them that Mr Rahman had suffered a stroke while in prison and needed emergency medical care or he would die.
"We were told to pay 60,000 bdt (£500) so he could have an operation, but we later found out this was a lie and they had scammed us," she said.
"They said if we had not given this money they would have beaten him up badly."
Explaining how the family had no choice but to the pay bribe, Mrs Rahman added: "After the police arrested my husband in the middle of the night they took him away.
"A few days later the jailer at Habigonj prison [north-east of Dhaka] phoned a relative who had been present during my husband's arrest and demanded that he brings money to them to pay for medical treatment, they reported that my husband had a stroke. The relative went and paid them some of the money they had demanded but luckily asked to see Samiun before they gave the rest of the money."
Mrs Rahman, who is being helped by the UK human rights organisation CAGE, vehemently denies that her husband is a terrorist and claims he went to Bangladesh to settle a family dispute.
But she now fears he has been tortured after he told a British consular official who visited him in prison that he had been threatened with beatings with "planks of wood".
Mrs Rahman continued: "Since my husband's arrest I have not had any direct contact with him. The Bangladeshi authorities have not allowed any phone contact and I am unable to travel to Bangladesh because I do not have the money to go."
After her husband's arrest, Metropolitan Police officers visited the family home in London and seized Mrs Rahman's mobile phone.
The family is concerned that the UK Government may be supplying intelligence to the Bangladesh authorities which is being used against Mr Rahman.
Mrs Rahman said: "I am worried that my phone may be used as evidence against my husband as he is yet to be charged by the Bangladeshi authorities of the alleged crimes they are accusing him of. The Bangladesh Police have put in applications to state they are still investigating."
She added: "Given that they have already threatened my husband with violence if he does not co-operate, I am concerned that he will not be given a fair trial and the UK police will be supporting the Bangladeshi authorities as they have done in the past."
Mr Rahman, who is now being held in Kashimpur Central Prison, is accused of travelling to the South Asian country in February to recruit for Isis and the al Qaeda-linked al-Nusra Front, police have said.
Monirul Islam, joint commissioner of the Detective and Criminal Intelligence Division (DCID) told reporters in Dhaka: "He has plans to recruit and send a team from Bangladesh to fight in Syria."
But CAGE and the family say the case against Mr Rahman is full of holes and appears to have been stage-managed for the benefit of the media.
They point out that it would be impossible to recruit for both Isis and al-Nusra as they are fighting each other. They also say that Mr Rahman had already been arrested when the police announced a nationwide manhunt for him and then staged a mock arrest at a railway station in Dhaka.
CAGE spokesman Amandla Thomas-Johnson said: "The case of Samiun Rahman perfectly exemplifies the abuses of the War on Terror. The media hyped up the case by pushing a grossly incorrect narrative. Meanwhile, Samiun Rahman was detained and interrogated in conditions incompatible with the most basic principles of law."
During a court appearance in October it was reported that Mr Rahman had been arrested in London over disorderly behaviour. He told reporters he had tried to turn his life around by studying the Koran.
Fatima Rahman confirms that as a young man her husband had been in trouble with the police: "Since then things have changed, he has grown up and has become more mature and responsible and he has not been in any trouble."
An FCO spokesman said: "We can confirm the arrest of a British national in Bangladesh in September 2014. We are providing consular assistance to the individual and their family at this time.
"Consular officials from the British High Commission in Bangladesh visited on 18 November to check on the individual's welfare.