Japan gives Trump colourful map to help him understand its investment in US
'Kudos to Japan, they figured out how best to interact with a toddler. So sad'
Jane Dalton
Saturday 29 June 2019 20:29 Comments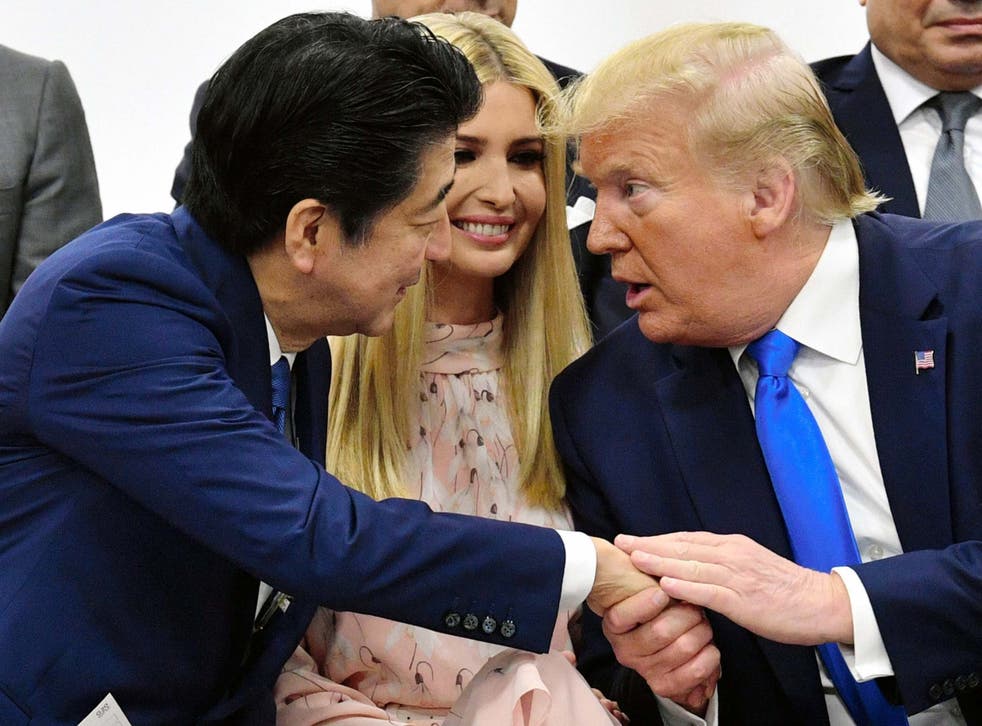 The Japanese prime minister has appeared to reveal a deep insight into Donald Trump's thinking – when he gave him a colourful chart as a simple visual representation of Japanese investment in the US.
It depicted a map of America, with arrows leading to boxes of information on where and what the investments were.
The headline "Japan has five additional investments in just one month" was in big red letters with the words "five" and "just one month" both underlined and in capital letters – possibly designed to mirror Mr Trump's liberal use of capital letters in his tweets.
The US president is known to be averse to reading complex documents and has been described as having a short attention span.
After his meeting with Shinzo Abe at the G20 summit in Japan, Mr Trump praised the investments the chart depicted.
"I appreciate the fact that you're sending many automobile companies into Michigan and Ohio and Pennsylvania and North Carolina – a lot of our states," he said, adding, "They're building magnificent plants."
Mr Abe is not the first foreign leader to use a simple chart to help Mr Trump. Jean-Claude Juncker, the European Commission president, last year reportedly used colourful cue cards to explain world trade policy to him.
Peter Baker, a New York Times reporter, tweeted: "Like others around the world, the Japanese have figured out how to play to a visiting Trump."
Commenters pointed out how similar it was to a child's picture book and asked whether it came with crayons.
Trump's America imagined in posters

Show all 9
One wrote: "Kudos to Japan, they figured out how best to interact with a toddler. So sad!"
A source said in 2017 that National Security Council officials made sure Mr Trump's name was included as frequently as possible in intelligence briefings because he was more likely to pay attention if he saw himself mentioned.
Other officials said he preferred memos with lots of pictures and charts.
"He likes to visualise things," a senior administration official said.
Support free-thinking journalism and attend Independent events
Register for free to continue reading
Registration is a free and easy way to support our truly independent journalism
By registering, you will also enjoy limited access to Premium articles, exclusive newsletters, commenting, and virtual events with our leading journalists
Already have an account? sign in
Join our new commenting forum
Join thought-provoking conversations, follow other Independent readers and see their replies