'If US and North Korea can, why not India and Pakistan?' Could Trump-Kim summit inspire wave of unlikely peace talks?
Top politician in Pakistan suggests Singapore could serve as a 'good precedent', while China rushes to quash proposition of similar meeting with Taiwan
Adam Withnall
Delhi
Wednesday 13 June 2018 23:36 Comments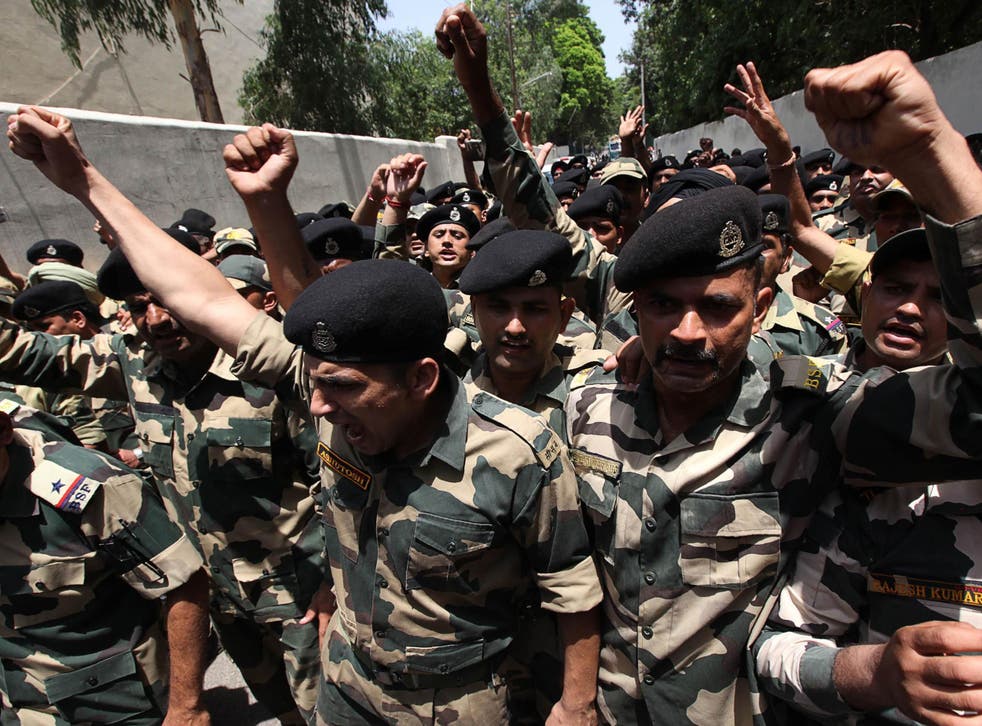 If historic enemies like the US and North Korea can come together to forge a fresh start after months of escalating threats, what is there to stop any other bickering countries in the world from burying their own differences?
That's the message from a senior politician in Pakistan, who suggested the summit between Donald Trump and Kim Jong-un in Singapore could be a model for new talks with India.
Shehbaz Sharif will lead the Pakistan Muslim League (PML-N) into elections next month after his older brother, Nawaz Sharif, was ousted in a corruption scandal. And while those allegations may hurt PML-N at the ballot box, the junior Sharif could yet emerge as a central figure in the balance of Asian nuclear powers.
He issued what was a rare statement on India shortly before reports emerged of a new flare-up in violence in Kashmir, a region hotly disputed by the two nations.
Early on Wednesday, soldiers exchanged fire across the highly militarised border and India said four of its paramilitary troops were killed by Pakistani shooting.
Accusations were also exchanged along familiar lines; Islamabad denied initiating the violence, saying its soldiers responded to "unprovoked" Indian fire, and summoned an Indian diplomat in protest against the alleged killing of a civilian.
The clashes served to highlight the intractable conflict described by Mr Sharif. It was only two weeks ago that high-ranking generals from both sides agreed to stop exchanges of fire and uphold a 15-year-old ceasefire agreement in "letter and spirit".
The Singapore summit "should set a good precedent for Pakistan and India to follow", Mr Sharif wrote in a series of tweets, suggesting Afghanistan could also be brought into the fold for "comprehensive peace talks in our region".
"If the United States and North Korea can return from the brink of a nuclear flashpoint, there is no reason why Pakistan and India cannot do the same," he said.
While Shehbaz Sharif has made relatively few public comments on his policy towards India in the past, his brother was seen as willing to bridge the divide between the two countries. Nawaz Sherif developed something of a relationship with India's Narendra Modi, even attending his swearing-in as prime minister when some in Pakistan would have advised him against doing so.
Yet the younger Sharif's comparison of the two situations – both involving countries "at odds, threatening to use military force with their nuclear arsenals facing each other" – isn't enough to convince everyone.
Mr Sharif's statement appeared "more rhetorical than practical", Dr Jagannath Panda, research fellow at the India-based Institute for Defence Studies and Analyses, told The Independent.
While a "constructive dialogue" would be equally valuable in the India-Pakistan case, Dr Panda said, it was unrealistic to collate the two crises.
"Between the US and North Korea, it is mainly the nuclear issue – the threat issue posed by DPRK towards the US and its allies," he said. "While in the India-Pakistan context, it is a complex state matter that involves nuclear and territorial rivalries along with regional dialogue."
Singapore Summit: historic first meeting between Trump and Kim Jong-un

Show all 20
Meanwhile on Wednesday, the Chinese government moved quickly to quash any suggestion that the example of Singapore could prompt a warming of relations between Beijing and Taiwan.
Observers have noted that Singapore was also the site of landmark talks between China's president Xi Jinping and Taiwan's then-president Ma Ying-jeou in 2015.
Relations have worsened since, however, after the island territory elected a new president in 2016 who leads the pro-independence Democratic Progressive Party and, according to Beijing, does not recognise its "one China" principle.
"The Taiwan issue is purely an internal Chinese affair. Its nature is entirely different to North Korea-US relations," said Ma Xiaoguang, spokesman for China's Taiwan affairs office.
"Taiwan and the mainland both belong to one China, and relations across the Taiwan Strait are not state-to-state ties."
Register for free to continue reading
Registration is a free and easy way to support our truly independent journalism
By registering, you will also enjoy limited access to Premium articles, exclusive newsletters, commenting, and virtual events with our leading journalists
Already have an account? sign in
Join our new commenting forum
Join thought-provoking conversations, follow other Independent readers and see their replies