Trump claims China has been 'caught red-handed' allegedly allowing oil into North Korea: 'There will never be a friendly solution if this continues'
The President's tweet comes after a South Korean newspaper report on the issue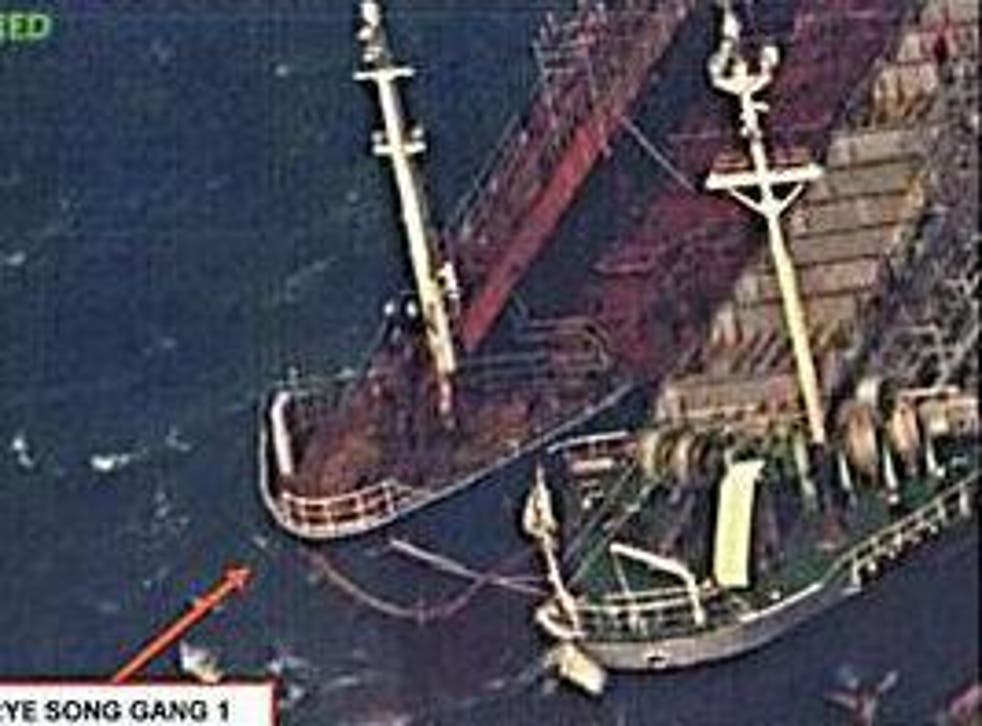 President Donald Trump has accused China of allowing oil into North Korea in violation of international sanctions, despite denials from Chinese officials.
"Caught RED HANDED – very disappointed that China is allowing oil to go into North Korea," Mr Trump tweeted. "There will never be a friendly solution to the North Korea problem if this continues to happen!"
The tweet came shortly after South Korean newspaper Chosun Ilbo reported that the US had photographed Chinese ships selling oil to North Korean vessels on around 30 occasions.
The UN has drastically cut the amount of oil products allowed into the country in the wake of Pyongyang's recent ballistic missile tests.
Chinese defence ministry spokesman Ren Guoqiang denied that China had violated UN sanctions, telling Reuters: "The situation you have mentioned absolutely does not exist."
The Chosun Ilbo report, which was picked up by Fox News, cited South Korean government officials who said China and North Korea had been trading illegally in the West Sea.
The report included photos, purportedly from US satellites, which the paper claims shows the two countries trading oil ship to ship in order to evade sanctions.
Chinese foreign ministry spokeswoman Hua Chunying told Fox News she had no information regarding the report, but maintained that the Chinese government has been "completely and strictly enforcing Security Council resolutions".
North Korea announces intercontinental missile launch

Show all 13
China is North Korea's top trading partner and energy supplier, but voted to support the UN Security Security Council's sanctions on the country last week. The sanctions capped exports of refined petroleum products to North Korea at 500,000 barrels per year, and crude oil supplies at 4 million barrels.
China has not disclosed its crude exports to North Korea in years, but industry sources say it still supplies about 520,000 tonnes, or 3.8 million barrels, to the country each year.
Chinese customs data obtained by Reuters, however, showed China exported no oil products at all to North Korea in November. Beijing also imported no North Korean iron ore, coal or lead that month, according to the customs data.
UN security council unanimously agrees new sanctions for North Korea
The US published photos last month of what it alleged were North Korean ships engaging in ship-to-ship trades. The government also sanctioned four Chinese companies and one individual who were said to have deep economic ties to North Korea.
The sanctions were part of a US campaign to further economically isolate North Korea and starve its rapidly advancing nuclear programme.
North Korea twice launched missiles over Japan this fall, and completed its sixth-ever test of a nuclear weapon. The regime claims they now have missiles capable of reaching anywhere on the US mainland, though there are questions as to whether these missiles are nuclear-capable.
Mr Trump has repeatedly called on China and President Xi Jinping to play a larger role in reigning in Pyongyang.
"China has great influence over North Korea. And China will either decide to help us with North Korea, or they won't," Mr Trump said in an interview in April.
"If they do, that will be very good for China, and if they don't, it won't be good for anyone."
Join our new commenting forum
Join thought-provoking conversations, follow other Independent readers and see their replies