'It was easy to get swept up in it all': Two years after Singapore, how hopes faded for Trump's approach to North Korea
North Korea's foreign minister marks anniversary of 2018 summit by declaring 'never again' will Pyongyang be swept up by Trump's charm offensive. Adam Withnall explains where it all went so wrong
Friday 12 June 2020 06:47 Comments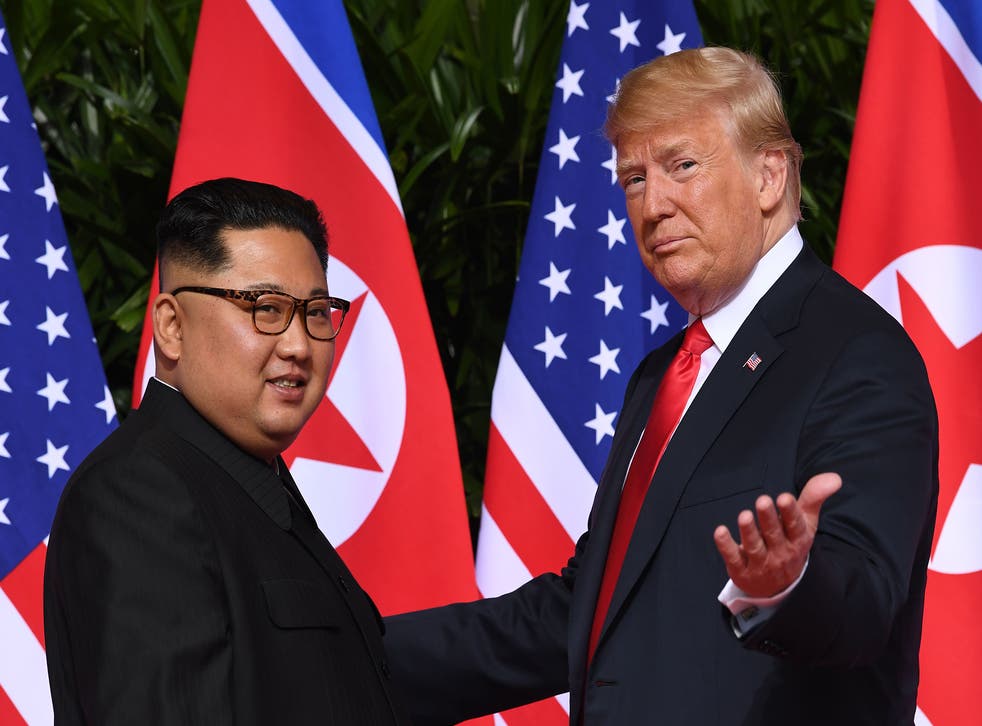 Two years ago today, Donald Trump and Kim Jong-un met in Singapore for the first ever summit with a serving US president and a leader of North Korea.
It was hailed around the world as a historic moment, one that promised much but ended with only a loose commitment to denuclearisation, containing few concrete details. As the leaders left Singapore, the world was still "unclear whether the two countries were on a path to securing a genuine peace deal, or had in essence engaged only in a glorified photo-opportunity", wrote our correspondent in the city at the time.
Fast forward two years, and North Korea has marked the anniversary of that first summit by declaring it sees no benefit whatsoever to a continued relationship between Mr Trump and Mr Kim. "Never again will we provide the US chief executive with another package to be used for achievements without receiving any returns," announced foreign minister Ri Son Gwon. He added that the hopes of 2018 had "faded away into a dark nightmare".
It is a seemingly conclusive statement, one which caps a period where, even as the talks between their two countries have deteriorated, the two leaders have at least exchanged letters and phone calls on a semi-regular basis. Given Ri's comments today, it now seems impossible for that to continue.
So was the optimism of June 2018 misplaced? Alex Jensen, a British journalist and K-League football commentator who has lived in Seoul for the last decade, tells The Independent that "for all but the hardline conservatives [in South Korea] who are both pro-Trump and anti-North, it was easy to get swept up in it all".
Progress in peace talks with North Korea matters nowhere more than in the South, where the capital of some 25 million people is well within range of Pyongyang's conventional artillery battalions – never mind its nuclear arsenal.
The 2018 Winter Olympics in Seoul, where the North Korean delegation was led by Kim's sister Kim Yo-jong, kicked off a year of optimism. The summits in Singapore and Hanoi followed. "It felt like the clouds just opened that year, and there was this series of unique opportunities", says Jensen.
"Even those sceptical of North Korea's intentions could feel positive that dialogue was actually happening rather than the 'fire and fury' rhetoric of the previous year."
For Harry J Kazianis, senior director of Korean studies at the Centre for the National Interest think tank in Washington, Trump can claim a real achievement from this period in the form of North Korea's commitment to halt the testing of long-range intercontinental ballistic missiles (ICBMs), which continues to this day.
"Pyongyang was on the way to a full-working nuclear deterrent that had the range and technological sophistication to strike the US homeland," Kazianis says. "[It is] what made the Trump administration respond with such over the top rhetoric and fear of what was to come."
Although North Korea has conducted several ICBM tests in the past, Kazianis says the pause over the last two years means Pyongyang can have no confidence that such a weapon would work in a real military conflict, "limiting the Kim regime's options in a crisis with America".
Most analysts agree that the biggest flaw in the Singapore talks was the lack of specific commitments by both sides. North Korea gave a "firm and unwavering commitment to the complete denuclearisation of the Korean peninsula" – but over the months to come it became increasingly clear that the two sides differed drastically in their view of what this meant, and how it could be achieved.
In exchange, Mr Trump promised to stop joint military exercises with South Korea – calling them expensive and "provocative" – as well as reducing the strength of international opprobrium towards Pyongyang. "The problem with the Singapore summit was that it ended maximum pressure and green-lit North Korea-China relations, but did not secure a roadmap for denuclearisation," says Leif-Eric Easley, associate professor of international studies at Ewha Womans University in Seoul.
In the 12 months that followed Singapore, Trump and Kim met twice – in Hanoi in late February 2019, and for a brief, impromptu photo-op the following June at the Demilitarised Zone (DMZ) dividing the Koreas.
The breakdown of the Hanoi talks, which concluded early as the US delegation left before a joint statement had been prepared, crystallised a single point of disagreement: Washington demanded Pyongyang give up most of its nuclear arsenal before sanctions relief would be granted, while Kim insisted the US should show goodwill by lifting sanctions first.
With lower-level delegations, led by Mike Pompeo on the US side and Kim's sister with the former general Kim Yong-chol on North Korea's, the two sides continued to hold talks throughout 2019 but made no real progress. It made the DMZ meeting, where Trump became the first US president to step onto North Korean soil, all the more surprising.
Hanoi served a purpose in "clarifying the positions" of both sides, says Easley, but the failure to secure expected sanctions relief led Kim to lash out at mediator South Korea, denting inter-Korean relations. The breakdown in talks "left the North Koreans angry and the South Koreans disempowered from continuing engagement", he says, while the DMZ meeting "provided symbolic photos worthy of the history books – but failed to write the actual history".
For Dr Hoo Chiew-Ping, senior lecturer in strategic studies and international relations at the National University of Malaysia, the tumultuous negotiations "showed that the US has yet to take North Korea seriously on the denuclearisation agenda".
She suggests Trump chose to sacrifice the Hanoi summit in order to provide "a distraction from the [Michael] Cohen hearing", when the president's former lawyer gave evidence to Congress calling him a "racist" and a "conman".
"The meeting was supposed to reach a more substantive deal than the Singapore summit. [Instead] the opportunity to begin the inspection of North Korean nuclear facilities as the first step of denuclearisation was forsaken by Trump for domestic gain," says Hoo.
Two years on from Singapore, North Korea is still "nowhere near a strategic decision to denuclearise", says Easley, and the intervening period has served to show that "leader-led diplomacy is woefully insufficient".
Ri's broadside against the US marking the anniversary itself does not come in isolation. On Thursday, after the US State Department said it was "disappointed" that Pyongyang had cut communication lines with Seoul, a top North Korean diplomat was quoted in state media telling Washington to "keep your mouth shut".
It came with a veiled threat – that staying out of inter-Korean affairs "will not only be in the United States' interest, it will also be beneficial for a successful presidential election [in November]".
For Trump, that election is the only important issue at hand right now, alongside domestic crises in the form of statistically the world's worst coronavirus outbreak, and the Black Lives Matter protests. In December, the president said Kim "knows I have an election coming up. I don't think he wants to interfere with that, but we'll have to see".
A military provocation in the coming months – such as an ICBM test – seems the most likely way North Korea could interfere with US politics, but analysts are divided on whether this is likely.
For Hoo, the preparations for such a test "might be under way" already, given the North "has no intention to return to negotiations [after] a shift in their strategy and policy direction". She says: "Breaking the moratorium [on long-range testing] will be a strong enough signal to the Trump administration that negotiation is no longer an option."
Pyongyang hasn't always delivered on its threats – the ominous and much-vaunted promise of a "Christmas gift" for America in December never materialised. But it's also clear that Trump's 2018 claim that "there is no longer a nuclear threat from North Korea" has not stood up well to the test of time.
For Jensen in Seoul, North Korea has been rising up the ranks of a news agenda dominated in recent months by the Covid-19 pandemic, thanks to its "antagonistic remarks" and "serious concerns building that the Moon Jae-in administration is being too soft on the North". There is a sense that "at some point, inevitably, North Korea will carry out a significant test or provocation".
But for ordinary South Koreans, who have to live with the threat of an unpredictable nuclear-armed neighbour, things are yet to reach the point of real concern. "Seoul is a vibrant metropolis and it's easy to forget that North Korea is even there, let alone a potential threat," says Jensen. "Those who do actually think about it can easily reason that an attack by the North on Seoul would be suicidal, and wouldn't exactly match the self-preservation goal of the Kim dynasty in Pyongyang."
Register for free to continue reading
Registration is a free and easy way to support our truly independent journalism
By registering, you will also enjoy limited access to Premium articles, exclusive newsletters, commenting, and virtual events with our leading journalists
Already have an account? sign in
Join our new commenting forum
Join thought-provoking conversations, follow other Independent readers and see their replies