Tunanomics: the story of the million dollar fish
Japan went wild when a single tuna sold for $1.7m. But far from being a cause for celebration, the record price reveals a species that's sinking fast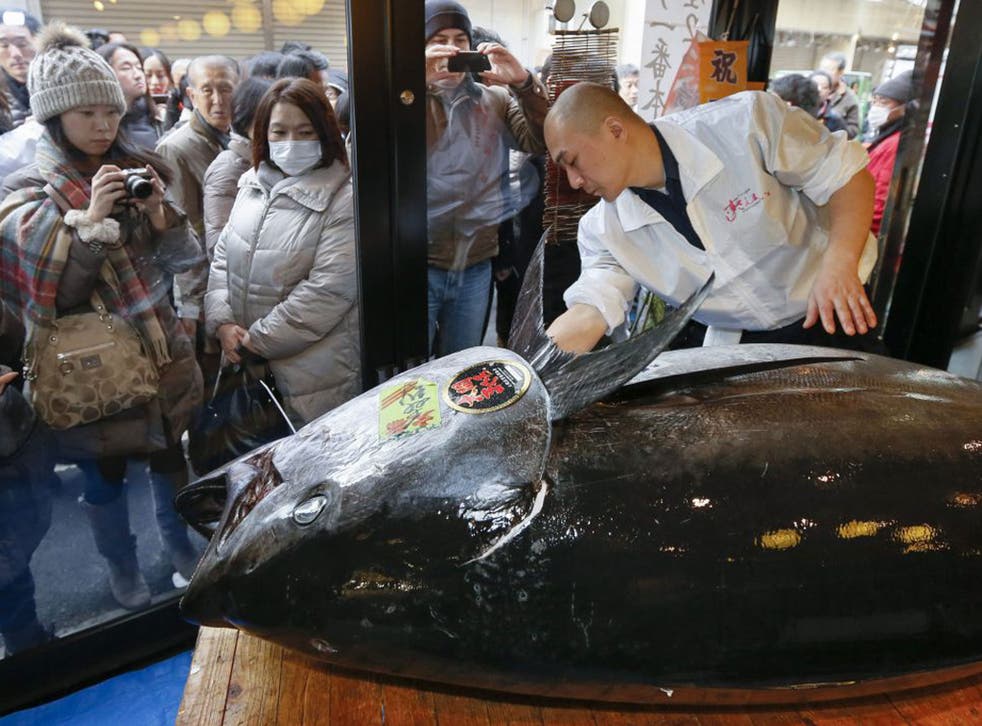 It's the world's biggest fish market, a dank sprawling hive of forklift trucks, labourers and run-down buildings stretching across an area bigger than 40 football pitches down to Tokyo Bay. By the end of the year, after 78 years catering to the Japanese capital's voracious appetite for fish, Tsukiji will close, replaced by a larger complex a few miles away. Long after it's gone, however, they'll still be talking about the million-dollar tuna.
Lotteries come in all shapes and sizes but few more unlikely than Daisuke Takeuchi's 222kg slimy prize. A tuna that size is often worth the price of a Lexus or BMW. But the bluefin that fisherman Takeuchi hauled from the Pacific waters off north-east Japan last December was bid up to an eye-popping 155 million yen ($1.7m/£1m) at this year's first auction in Tsukiji. The 36-year-old can afford to buy a sizeable new house – and a BMW of his own. "I'm speechless," he told reporters.
The sale climaxed years of inflated prices for the season's first tuna. A 269kg bluefin went for over $735,000 in 2012, trouncing the previous year's Tsukiji record by more than $260,000. Journalists have been flocking to the market since it sold in January looking for explanations. "It's that time of year," says one trader, explaining that demand for traditional New Year food in Japan always pushes up prices.
Some blame China, which has developed a taste for tuna that may one day eclipse Japan, the world's largest consumer. Tellingly, the sushi chain that bought Takeuchi's fish, Zanmai, outbid an upmarket Hong Kong consortium, prompting Japanese nationalists to celebrate that the tuna had stayed at home. Zanmai's president said he hoped to "cheer up Japan", which is still recovering from the 2011 tsunami and embroiled in a potentially dangerous territorial dispute with Beijing.
Tsukiji's traders are mostly silent, however, on another likely cause of the inflated price – overfishing. Decades of ruthlessly exploiting what Japan calls the king of fish have left stocks near collapse. The Pacific bluefin biomass "is near historically low levels and experiencing high exploitation rates above all biological reference points", said an unusually stark warning last month by the International Scientific Committee for Tuna and Tuna-like Species in the North Pacific Ocean.
Global stocks have plummeted by 90 per cent in the past 30 years, and the Atlantic tuna, among several species, is now critically endangered. The ISC report notes that the population of the Pacific bluefin is down a staggering 96 per cent from their unfished level. Conservationists say the historic January auction was a shot across Japan's bows, not a cause for celebration. "It's a sign of things to come," says Wakao Hanaoka, oceans campaigner for Greenpeace Japan. "Unless there is proper management, the price will keep climbing."
The global conservation fight begins in Tokyo. Every year the Japanese consume about three-quarters of the world's bluefin catch; 80 per cent of tuna caught in the Mediterranean ends up on Japanese tables. But Hanaoka says the Japanese media has been slow to push the alarm button. "They keep saying stocks will recover, not warning how bad the situation really is."
Annual spending on bluefin per household in Japan has actually fallen by more than a third since the late 1990s, from about 9,000 to 6,000 yen ($97 to $64) according to the Japan Fisheries Agency. The stagnant economy is as much to blame, however, as growing public awareness of the tuna's perilous state. Every day thousands of consumers can be found at kaiten (conveyor belt) sushi restaurants across Tokyo tucking into a dish that has become a mass-produced treat: two small pieces of the prized, fatty hon-maguro can still be had for under a fiver.
In the week when MEPs voted to ban fish "discards", the practice by which unwanted but perfectly edible fish are dumped at sea, dead, when quotas have been exceeded, the tale of the million-dollar tuna is particularly poignant. The fish were once considered so worthless, their meat so inferior, that they, too, were discarded – or even converted into cat food. But in the 1980s the world began copying the Japanese method of eating tuna on top of a finger of compressed vinegared rice, and consumption exploded.
Today it is the planet's most valuable fish, even attracting the attentions of the Italian and Russian mafia who control much of the Mediterranean trade. Tsukiji is the world's tuna epicentre, its importance to the global trade so absolute that fish are bought and sold there from all over the world. The spectacle of Tsukiji, with its traders expertly slicing the giant fish using samurai-style knives with the precision of surgeons, is so compelling that, in 2007, tourists were briefly banned when they were deemed to be interrupting the workings of the market. Many had come to see, and be pictured with, tuna from their home waters.
Sushi Zanmai, the Japanese restaurant chain that paid for Takeuchi's tuna, specialises in bringing affordable sushi to Tokyoites. On the face of it, Zanmai lost more than 100 million yen – dividing the 222kg tuna into 10,000 cuts recovered just a fraction of what it cost. But the auction also brought enormous media attention. Many restaurant branches show large pictures of Kiyoshi Kimura, the company's president, beaming happily above the tuna's carcass. The purchase brings Kimura's chain prestige, and buckets of "free" advertising.
And what about Takeuchi, the fisherman? Not surprisingly, the catch has made him a star in the isolated coastal town of Ooma-cho, hundreds of miles north-east of Tokyo. For some, his success has become a symbol of revival from the tsunami that devastated the north-east coastline in March 2011, but the benefits will flow mostly to him. Even after the local fishing cooperative, Tsukiji wholesaler and taxman get their cut, he takes home a cool £488,000, according to business magazine Nikkan Gendai.
Struggling fishermen across Japan will look with not a little envy at that windfall, and many surely hope their turn will come too, even as they help to make it less likely. Around the coast of Japan in fishing communities like Ooma, trawlers are returning to port empty. Many have noted for years that catches of bigger tuna of 150kg are falling, leaving only smaller immature fish. Tuna under 36kg are incapable of reproducing, so the fishermen are in effect cutting their own throats. "It's a vicious circle," says fisherman-turned-activist Atsushi Sasaki. "The more younger fish they take, the more likely it will be that they go extinct." For that reason, say conservationists, the celebrations for Tsukiji's million-dollar tuna may be short-lived.
Farmyard fortunes: precious livestock
Missy the Cow
In 2009, Missy the Ponoka cow, sold for $1.2m (£760,000) at an auction in Toronto. The Ponoka Morsan Farm in Alberta sells "elite dairy genetics". Missy sold for $800,000 more than their second most-expensive cow.
Bud the Pig
E A "Bud" Olson and his partner Phil Bonzio purchased "Bud" the pig from Jefferey Roemisch of Hermleigh, Texas, for $56,000 in 1985.
Deveronvale Perfection
In 2009, a sheep named Deveronvale Perfection sold for $376,000 at a sale in Scotland. The farmer who purchased the sheep, Jerry Douglas, said Deveronvale was the best sheep he had ever seen.
Join our new commenting forum
Join thought-provoking conversations, follow other Independent readers and see their replies