Tunisia hotel attack: British tourists' relatives plead for information on missing loved ones
The majority of people shot dead by Isis militant yesterday are believed to be British
Lizzie Dearden
Saturday 27 June 2015 15:30 Comments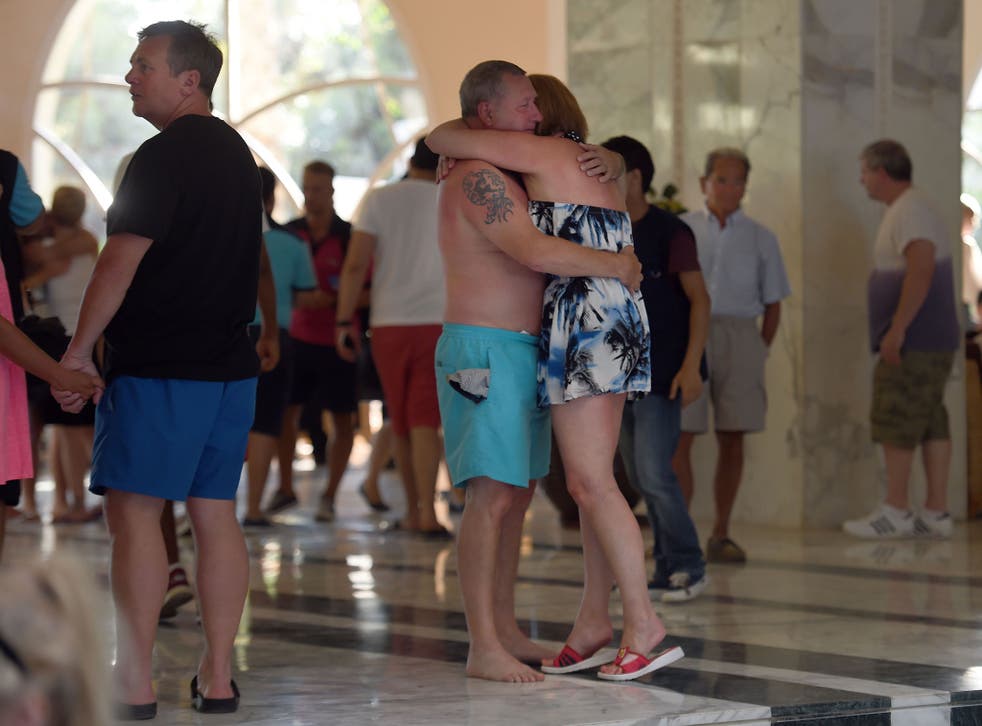 Relatives and friends of British people who are missing after yesterday's massacre in Tunisia are appealing for information online as the agonising wait for victims to be officially named continues.
Up to 39 people were shot dead at a beach resort in Sousse when a 23-year-old Isis militant started mowing down holidaymakers with a machine gun.
Defence Secretary Michael Fallon said the government believes the "majority" of casualties were British and warned that the death toll could increase as people are identified.
Ross Naylor is one of the people to have launched a plea for information on social media for his father, Scott Chalkley, who was on holiday with partner Sue Davey.
They were staying at the Imperial Hotel in Sousse and Mr Naylor said he is growing more desperate after not hearing any news on their whereabouts despite several calls to their mobiles, hotel and a local hospital.
The 23-year-old said his fears had increased after hotel staff told him his father and partner were on the beach after finding some of their bags on the sand.
Mr Naylor, of Derby, said he had since called the Foreign Office but has yet to hear any news back.
Speaking to the Mirror, he said: "He's a fun-loving guy. Even though he is 20 years older than me, he's like a mate - that's how it is.
"They say no news is good news, but I would just rather hear something. The waiting is killing me. I don't know what to do with myself.
"I just want to hear that he's safe."
Here are some of the appeals:
The family of a couple from Corsham in Wiltshire who are still missing after the massacre have said they are "expecting the worst"
John Welch, 74, and his partner Eileen Swannack, 70, had stayed at the RIU Imperial Marhaba hotel twice a year for the last eight years because "they adore the place".
Mr Welch's grandson, Daniel Welch, said: "You know that we're going to get some sort of news at some point, whether it be today, tomorrow or the next day, and you know it's probably not going to be great, because they haven't been able to make contact themselves by now.
"But it's just that not knowing."
The hotel has told the family that the couple are not at there but that they have not checked out.
Anyone with concerns about their friends or family, or who is in Tunisia and wants to let the Foreign and Commonwealth Office to know they are safe, should call 0207 008 0000 or complete an online form here.
The gunman, identified as militant Abu Yahya al-Qayrawani, was shot dead by security forces.
He was reportedly laughing as he carried out the massacre and deliberately selected western tourists.
Additional reporting by PA
Register for free to continue reading
Registration is a free and easy way to support our truly independent journalism
By registering, you will also enjoy limited access to Premium articles, exclusive newsletters, commenting, and virtual events with our leading journalists
Already have an account? sign in
Join our new commenting forum
Join thought-provoking conversations, follow other Independent readers and see their replies