Turkish men take to Istanbul's streets in skirts to protest death of young woman
Social media campaign has grown into physical protest after murder of 20-year-old Ozgecan Aslan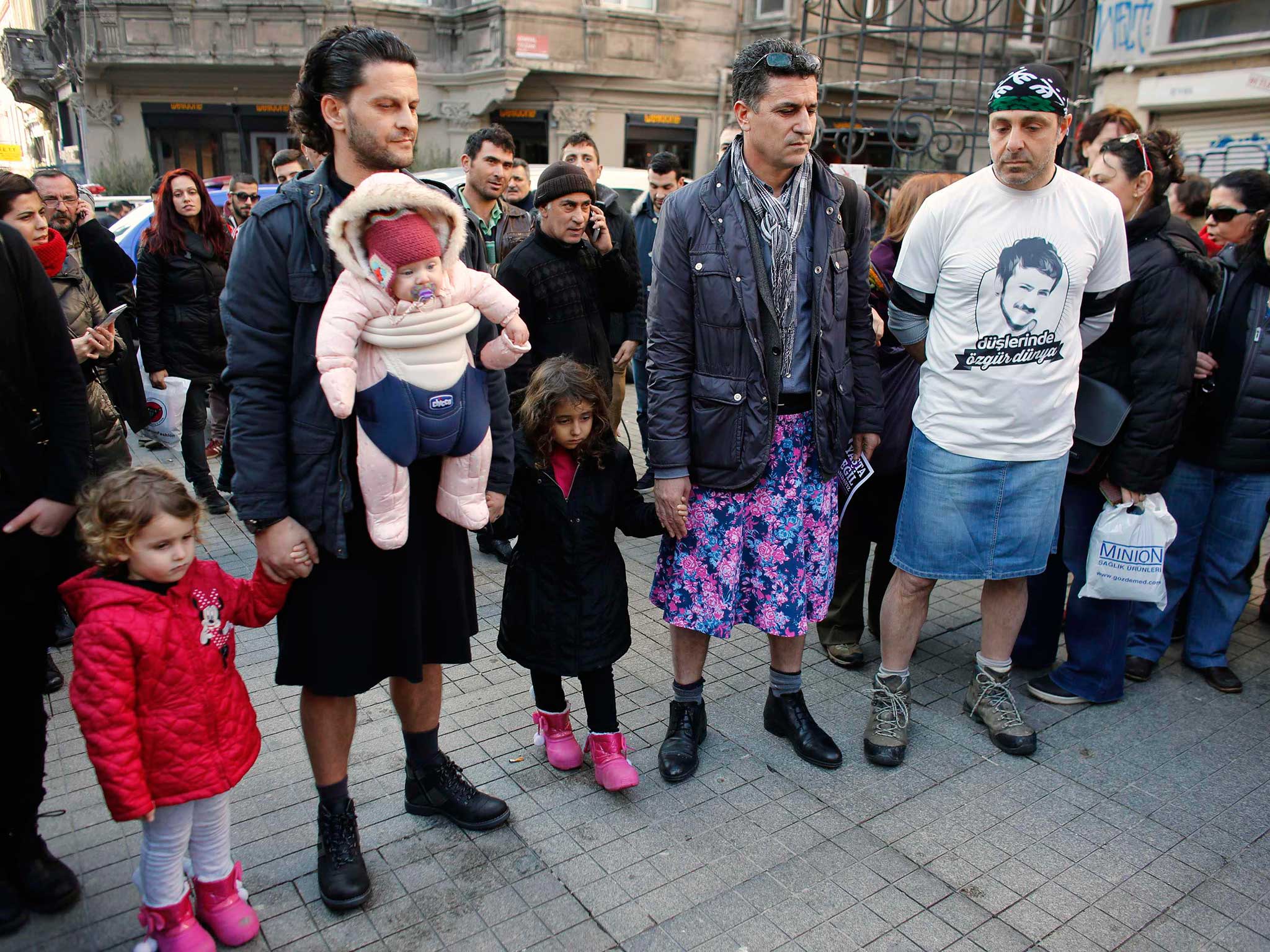 Turkish protesters have taken to the streets of Istanbul after men in Turkey and neighbouring Azerbaijan tweeted images of themselves in skirts as a protest against the death of a young female student.
The brutal death of 20-year-old Ozgecan Aslan on 11 February provoked a widespread reaction on social media - which has unusually translated into physical action.
Ms Aslan died after reportedly fending off a bus driving attempting to rape her. She was beaten and stabbed before being dumped in a riverbed, where her body was eventually discovered.
Female Turkish social media users first tweeted out under the hashtag #sendeanlat – translated roughly as 'tell your story' – before men in neighbouring Azerbaijan began tweeting out images of themselves wearing skirts under the hashtag #ozgecanicinminietekgiy on Wednesday.
Translated roughly as 'wear a miniskirt for Ozegan', the tweet spread from Azerbaijan – where many understand Turkish – and went global.
As of this morning, thousands have tweeted using hashtag – with many sharing photos of themselves – and many more have tweeted out their support, including western celebrities such as Emma Watson who brought more publicity to the campaign.
A Facebook page supporting the campaign explains, "If a miniskirt is responsible for everything, if [wearing] a miniskirt means immorality and unchastity, if a woman who wears a miniskirt is sending an invitation about what will happen to her, then we are also sending an invitation!"
On Saturday hundreds gathered in dresses, skirts and miniskirts to march through the streets of Istanbul.
Turks in skirts: Istanbul protest over horrific death of Ozgecan Aslan
Show all 9
Activists have responded with delight to the apparently spontaneous campaign, saying it is the first time womens' rights have been so widely discussed in Turkey.
"The women's movement is trying to tell society, 'My dress is not an excuse for your rape or sexual harassment.' But society didn't want to hear these voices," lawyer and activist Hulya Gulbahar told CNN.
Sexual and physical violence against Turkish women is on the rise. Since 2002 reported violence against women has risen 14-fold, the Guardian reported last year.
In August 2014 a woman attacked by her ex-husband in the street was reprimanded by a court, who claimed she had "provoked" him by wearing leggings.
Join our commenting forum
Join thought-provoking conversations, follow other Independent readers and see their replies