Twin baby pandas born in China after mother artificially inseminated
Researchers are trying to increase the population of the endangered species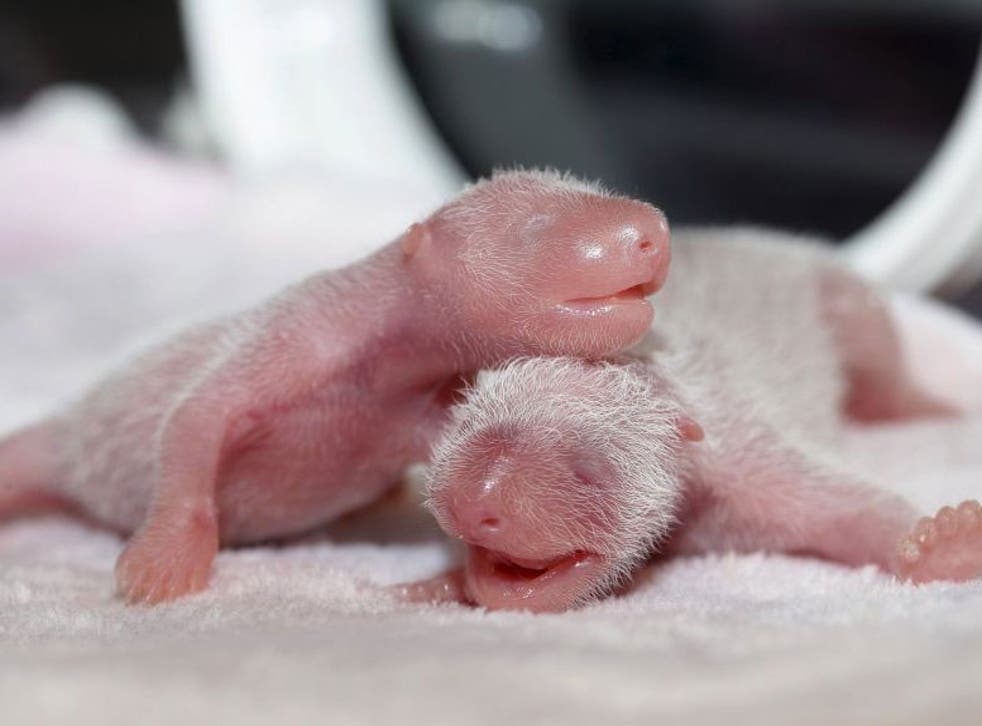 Twin baby pandas have been born in China after their mother was artificially inseminated as part of efforts to ensure their survival.
The tiny animals were shown to members of the public for the first time on Tuesday, still mostly hairless and bright pink.
The newborn sisters were just a day old and kept their eyes tightly shut, stumbling around their incubator and huddling together in a pile.
The new arrivals were a boost for the Chengdu Research Base of Giant Panda Breeding, which is aiming to increase the panda population until they can be reintroduced to the wild and left to breed naturally.
Wu Kongju, the chief administrator, said the twins were in good condition based on their milk consumption and normal body temperature.
Their mother, seven-year old Kelin, gave birth to the babies weighing just 118g and 70g each on Monday, after being artificially inseminated in January.
Critically endangered species

Show all 10
They are the world's first set of panda twins born in 2015, Chinese state media reported.
Giant pandas were once spread through China, Vietnam and Burma but are now endangered, with only 1,800 animals believed to remain in the wild.
Additional reporting by AP
Register for free to continue reading
Registration is a free and easy way to support our truly independent journalism
By registering, you will also enjoy limited access to Premium articles, exclusive newsletters, commenting, and virtual events with our leading journalists
Already have an account? sign in
Register for free to continue reading
Registration is a free and easy way to support our truly independent journalism
By registering, you will also enjoy limited access to Premium articles, exclusive newsletters, commenting, and virtual events with our leading journalists
Already have an account? sign in
Join our new commenting forum
Join thought-provoking conversations, follow other Independent readers and see their replies