South Korea ferry: Four dead and almost 300 missing as mass rescue gets underway
Passengers on the Sewol ferry included 325 high school students on a trip
Heather Saul
Wednesday 16 April 2014 19:43 Comments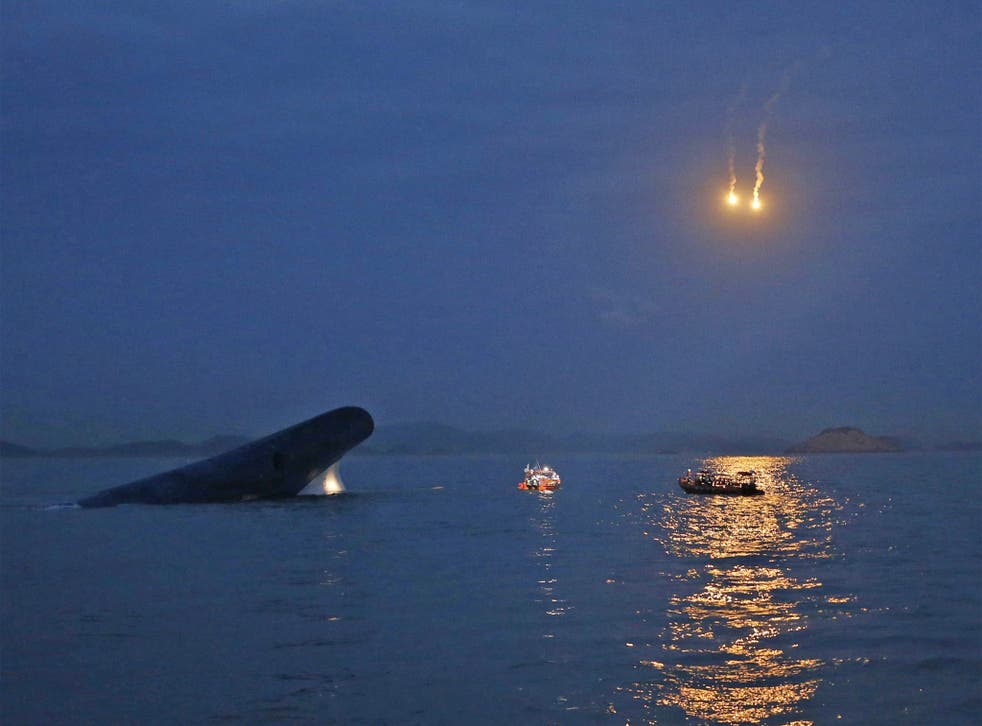 Almost 300 people remain unaccounted for after a ferry carrying 459 passengers, most of them school students, sank in cold waters off South Korea's southern coast, killing at least four and injuring up to 55 in what could be the country's biggest maritime disaster in over 20 years.
The South Korean Coast Guard warned many more are missing than the initial 100 announced, as dozens of boats, helicopters and divers scrambled to rescue passengers.
The Sewol ferry, which had been carrying students from the Danwon high school in Ansan city near Seoul, had been travelling from the north-western port of Incheon to the popular southern tourist island of Jeju for a four day trip when it capsized.
About 325 students and 15 teachers were on board at the time.
"It was fine then the ship went 'boom' and there was a noise of cargo falling," said Cha Eun-ok, who said she was on deck of the ferry taking photographs when the disaster began.
"The on-board announcement told people to stay put ... people who stayed are trapped," she said in Jindo, the nearest town from the scene of the accident.
The Coast Guard said 164 people have been rescued so far. One rescued passenger said he believed many others were trapped inside the ferry when it sank.
South Korea's Ministry of Security and Public Administration had reported that 368 people had been rescued and about 100 were still missing but later said those numbers had been miscalculated.
Emergency officials said at least 30 navy and coastguard divers are searching the ship for survivors. The US Navy has confirmed it will be sending a ship to join the rescue operation.
The US Seventh Fleet said the amphibious assault ship USS Bonhomme Richard, which has helicopters on board, was on a routine patrol off South Korea's west coast and was on its way to the scene of the accident.
The Sewol vessel sent a distress call after it began listing three hours from its destination, according to the Ministry of Security and Public Administration. The government said about 95 per cent of the ferry was submerged.
Two coastguard officers said a 27-year-old woman named Park Ji-yeong and another unidentified person had died. Officials gave no further details, including what caused the ferry to sink or the conditions of the other passengers.
Images showed the ship listing at a severe angle and after it sank. "There was a banging noise then the boat suddenly started sinking," a rescued student was quoted by Yonhap News as saying.
One student, Lim Hyung-min, told broadcaster YTN from a gym on a nearby island that he jumped into the ocean wearing a life jacket with other students and then swam to a nearby rescue boat.
"As the ferry was shaking and tilting, we all tripped and bumped into each another," Lim said, adding that some people were bleeding.
The water temperature in the area was about 12C, cold enough to cause signs of hypothermia after about 90 minutes, according to an emergency official.
Local media ran photos showing the partially submerged ferry listing dramatically as helicopters flew overhead and rescue vessels and a small boat covered with an orange tarpaulin floated nearby.
Passenger Kim Seong-mok, speaking from a nearby island after his rescue, told YTN he was "certain" that many people were trapped inside the ship as water quickly filled up inside and the severe tilt of the ferry kept them from reaching the exits.
Some people yelled at those who could not get out, urging them to break windows.

Kim said that after having breakfast he felt the ferry tilt and then heard it crash into something. He said the ferry operator made an announcement asking that passengers wait and not move from their places. Kim said he did not hear any announcement telling passengers to escape.
Parents have been waiting anxiously at the Danwon high school for news about the ferry.
At least 87 vessels and 18 aircraft have assisted the stricken ship, Lee Gyeong-og, a vice minister for South Korea's Public Administration and Security Ministry, said.
Fifty-five people have been injured so far, one seriously, and taken to hospital.
Additional reporting by agency
Register for free to continue reading
Registration is a free and easy way to support our truly independent journalism
By registering, you will also enjoy limited access to Premium articles, exclusive newsletters, commenting, and virtual events with our leading journalists
Already have an account? sign in
Join our new commenting forum
Join thought-provoking conversations, follow other Independent readers and see their replies