Typhoon Faxai turns deadly as 130mph winds smash into Japan cutting power to 900,000 homes
One woman killed as strong winds slammed her into side of a building in Tokyo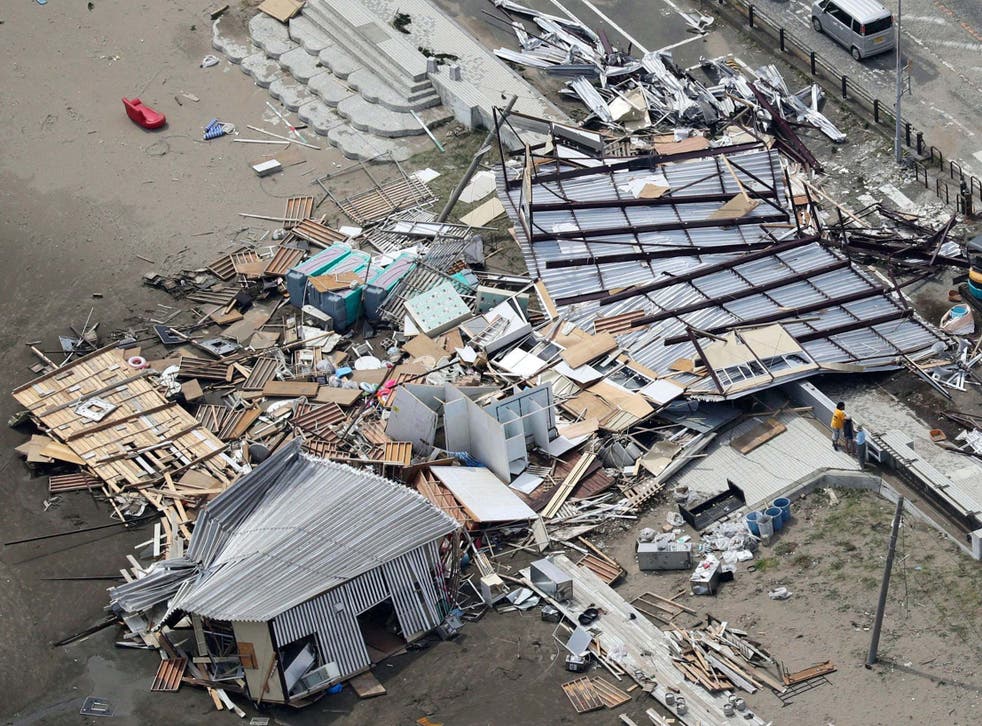 At least one person has died after Japan was hit by one of its most powerful storms in years.
Typhoon Faxai made landfall just outside the capital Tokyo on Monday morning, leading to power cuts that affected 930,000 people and widespread travel disruption.
The streets of Tokyo were deserted as the storm brought winds of up to 130mph. One woman died after being smashed against a building by the strong gales, national broadcaster NHK reported.
Heavy rain caused landslides and a bridge washed away, while power was cut to the entire city of Kamogawa. The Ministry of Economy, Trade and Industry said electricity had been restored to around 90,000 homes by the afternoon.
There was some significant structural damage, including electricity poles snapped at their bases and towers toppled over. Some panels of a floating solar power plant southeast of Tokyo were on fire.
Typhoon Faxai: Japan hit by one of most powerful storms in years

Show all 14
And the Japan Atomic Energy Agency said a cooling tower at its research reactor at Oarai, which has not been in operation since 2006 and is set to be decommissioned, had fallen. There was no radiation leakage or impacts on workers or the surrounding environment, the agency said.
Eastern Japan is hit by four or five big storms during the typhoon season each year, but it is rare for such powerful weather systems to hit Tokyo. NHK said it was the capital's worst storm in a decade.
The travel disruption lasted well into the evening, as more than 160 flights were cancelled and many train lines remained closed.
The storm effectively cut off Narita airport, travellers said, with bus services and trains largely non-existent. Passengers trying to get in to the city complained of long waits for any kind of connecting services.
"They simply had no contingency plan," one traveller trying to get home to Tokyo told the Reuters news agency. Another, who waited three hours for a bus, complained: "My wife said: what if this happens during the Olympics." Tokyo hosts the 2020 games and events will run well into August.
Meanwhile, an earlier typhoon that passed over the Korean peninsula at the weekend killed at least eight people and caused extensive damage to homes and farmland.
Typhoon Lingling led state media in North Korea, where five of the deaths occurred, to call on citizens to "fully mobilise" and rebuild storm-ravaged structures.
The state-run Rodong Sinmun newspaper said officials and workers were engaged in an "intense struggle" to repair power systems in several towns.
And soldiers were scrambled in major farming provinces to help drain flooded fields and right fallen crops, the newspaper said. It nonetheless described the overall impacts of the storm as "smaller than expected".
Join our new commenting forum
Join thought-provoking conversations, follow other Independent readers and see their replies