Typhoon Soudelor: Dash cam footage shows mini tornado swallowing a car in Taiwan
Video: Six people killed by the storm in Taiwan, with four people missing and nearly 400 injured
Kiran Moodley
Tuesday 11 August 2015 10:10 Comments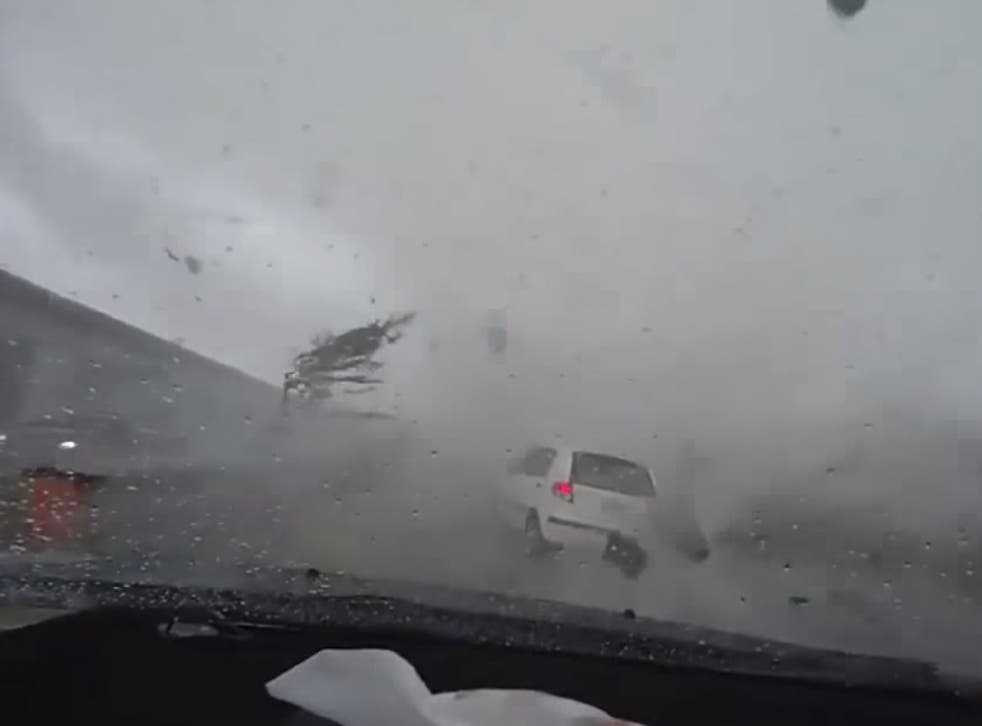 A dash cam video shows the force of a mini tornado caused by Typhoon Soudelor, providing some incite into the strength of the tropical cyclone that caused the deaths of six people in Taiwan.
The video shows a car proceeding along a seemingly quiet road when suddenly a strong gust of wind becomes even greater, forcing a white vehicle in front to be blown away, disappearing into sight as the mini tornado passes through.
The video is reportedly from Sunday, with the typhoon having made landfall on the island on Saturday morning with winds of 120mph and 50 inches of rain, causing fallen trees and mud flows.
On top of the six people killed by the storm in Taiwan, four people are missing and nearly 400 injured, according to authorities.
Typhoon Soudelor hit China on Sunday, causing the death of 14 people and forcing thousands to evacuate the east coast of the country. State news agency Xinhua said that four people were still missing.
Over 530 flights were cancelled and nearly 200 trains suspended.
Video courtesy of Mr. Cheng / ViralHog.com.
Register for free to continue reading
Registration is a free and easy way to support our truly independent journalism
By registering, you will also enjoy limited access to Premium articles, exclusive newsletters, commenting, and virtual events with our leading journalists
Already have an account? sign in
Join our new commenting forum
Join thought-provoking conversations, follow other Independent readers and see their replies