What the UK can learn from South Korea's success with flattening the curve
Why is the UK's level of infection far higher than South Korea – when both countries discovered cases at a similar time? Experts suggest its threefold: mass testing, real-time tracking and self-isolation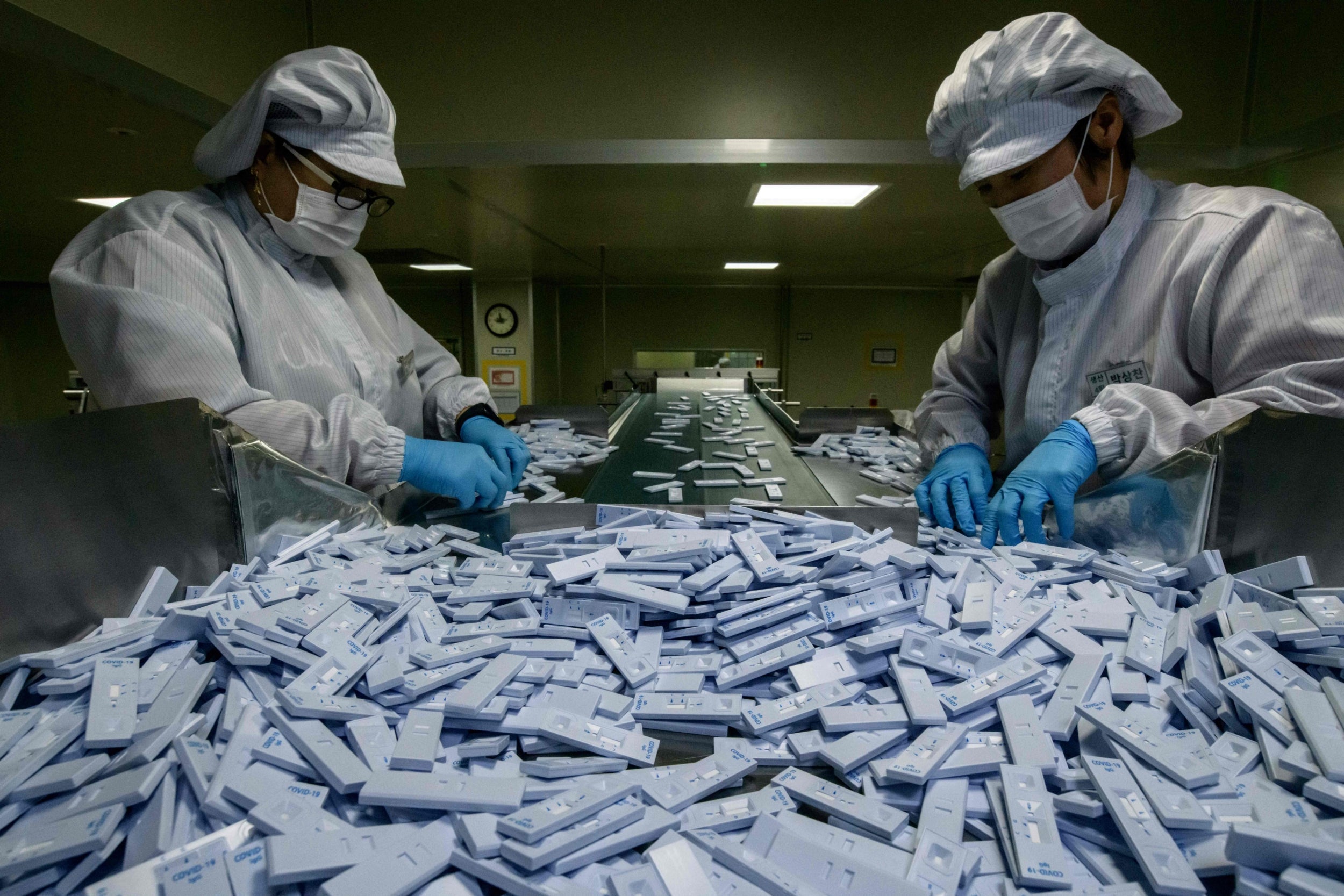 South Korea confirmed its first coronavirus case only 11 days before the United Kingdom did, but the two nations are now living in very different worlds.
The UK has reported a total of 60,773 confirmed cases – almost six-fold that of South Korea's. The death toll in the UK stands at nearly 8,000, after 938 died overnight, compared to South Korea's death toll of just 204.
In late February, South Korea had reached what looked like breaking point with a peak of 909 daily cases – a majority connected to the secretive Shincheonji Church in Daegu. The city's population of 2.5 million were told they had to stay at home and both the government and WHO called for an investigation.
However, within weeks, number of daily cases plummeted.
Experts suggest that the key to South Korea's successful strategy lies in three components: mass testing, real-time tracking and self-isolation.
According to Dr Lee Hyuk Min, who serves as the director of infection control affairs at the Korean Society for Laboratory Medicine, by the time the fourth person in South Korea had tested positive for Covid-19, medical experts had already conducted a series of emergency meetings.
"It was 27 January and we were in a room asking the testing companies when they could develop kits," Lee recalled. "When they told us next month, we said no. We rushed them to prepare everything in one week."
Within a couple of weeks, thousands of test kits were being shipped out. The country is now producing more than 100,000 kits daily.
It was this sense of urgency during the calm, blindly preparing for a war that could not be seen, that equipped South Korea to take on the coronavirus.
While the UK hesitated on mass testing, South Korea was quick off the mark. By 10 February, when there were only 27 confirmed cases, the country had already reported its findings on the first 2,776 people to be tested.
To date, it has conducted more than 350,000 tests, free of charge, and was one of the first countries to set up drive-through testing booths. The UK government has said it has tested more than 230,000 – but critics say this increase came too late.
"Countries like the United States and the United Kingdom missed their golden time," Lee added. "While they've recently started ramping up testing efforts, they cannot keep up with the rate at which new cases are emerging."
The UK government recently purchased 17.5 million antibody tests, but was forced to admit that none of them work well enough to be used.
South Korean experts found that this test, while fast, was not accurate to combat Covid-19, and there's been a push towards new forms of testing.
"Only when someone is fully recovered can they take this test," Lee said. "There's a danger because someone may take the antibody test too early, test negative, then go around interacting with others while unconsciously infecting them."
Given this limited testing capacity, South Korean medical experts advise the British public to push "mass masking" as antigen tests are prepared – a phenomenon that became normalised in South Korea in mid-February.
"Masks are usually worn to protect oneself from contracting the virus," Lee explained. "But we've seen many asymptomatic cases. People should wear masks assuming that they may be carrying the coronavirus to prevent further spread."
Questions have, however, been raised over the effectiveness of such masks.
South Korea has avoided a nationwide lockdown, and instead focused on the isolation of people thought to have contracted the virus, coupled with real-time tracking.
Anyone with symptoms is required to self-isolate and download an app that alerts officials if the patient moves outside of the quarantine, a policy which has raised privacy concerns. Citizens cannot opt-out of alerts, and anyone found to be breaking quarantine could be fined up to $2,500. People also receive automatic alerts when they are near a confirmed case of the virus.
"South Korea's facilities prioritise the most vulnerable, while also keeping tabs on thousands by using real-time tracking and mobile apps," Kim said.
By the time the lockdown ends, South Korean experts project that the UK will be more capable to expand testing and have broader access to ventilators. But they caution that a more "normalised social distancing" that's being practised in South Korea now will have to continue long afterwards.
"If Britons are diligent with social distancing, they will begin to see a decrease in the overall number of cases, especially among younger populations," said Lee.
On the streets of Seoul, masked faces continue to occupy the streets, as bottles of hand sanitiser spray are neatly placed in front of almost every public store. People are trying to regain a sense of normality while also refraining from becoming too careless; the cost of complacency is far too precarious.
"The scars from South Korea's battle in 2015 with Mers still protrude like a sharp nail today," said Kim. "But it's because of those scars that we knew exactly what to do this time and why we have not let down our guard yet."
Join our commenting forum
Join thought-provoking conversations, follow other Independent readers and see their replies