UK tourists arrested in Cambodia for 'pornographic dancing' should be expelled from the country, says lawyer
The detainees currently face up to six months in prison without trial along with another year if convicted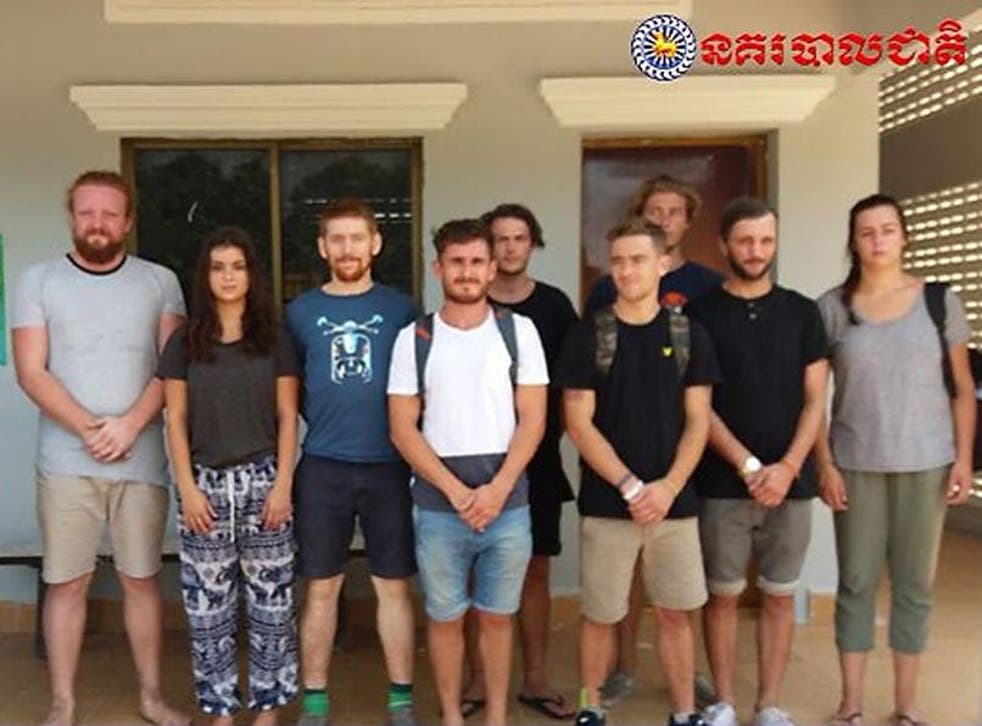 The lawyer for the 10 Western tourists arrested in Cambodia for "pornographic dancing" has called for them to be deported rather than jailed.
The group, which include people from the Britain, Canada, Norway, the Netherlands and New Zealand, were detained by police after a raid on a party at a rented villa in the town of Siem Reap which is near the Angor Wat temple complex.
The force said they found the people "dancing pornographically" at an event organisers called a pub crawl.
They were also accused of posting images of themselves imitating sexual positions on social media, although they were fully clothed.
However, the tourists claim the photos were taken years before the incident and one said none of them were even in the photographs.
Brtion, Paul Francis Harris was among those detained.
His father said the 32-year-old had told him that the photos had been taken at a "Let's Get Wet" pool party five years ago before his son arrived in Cambodia.
Britons Vince Hook, 35, Daniel Jones, 30, Thomas Jeffries, 22, and Billy Stevens, 21, were also arrested along with Job Robertus van der Wel, 22, from the Netherlands.
Norwegian David Nikolaus Aleksandr Ballovarre, 22, and Paul Martin Brasch, 32, of New Zealand were also arrested along with two Canadian women, Jessica Drolet, 22, and Erin Koazoleas, 19.
World news in pictures

Show all 50
They face up to a year in prison if convicted said one of their lawyers, Sourng Sophea.
He said the families of some of the detainees have contacted him by phone from overseas, but none had come yet to visit.
Photos of posted by his clients showed them at a party, some drinking by a swimming pool and some of the women wearing bikinis, he added. None of them were having sex or exposing themselves, he added.
Under Cambodian law they should be deported or have their visas cancelled, but should not be held in pretrial detention, he said.
"I admit that they have done something wrong according to morality in Cambodian society, but their crimes did not warrant them being charged or put in jail," he added.
He said that when the 10 had been taken into custody but not yet charged, he sent a three -page note to the Siem Reap provincial police and prosecutors, asserting that they had not committed any serious wrongdoing, were innocent of producing pornography, and should be released.
This had been turned down, he added.
Mr Sourng said he did not know what the conditions were like in the prison but pictures published by The Sun show some of the group with their heads shaved and wearing orange uniforms.
The newspaper reported their beards and hair had been shaven to prevent lice.
Mr Sourng said the group now faces a six month wait in a local prison before they stand trial and they could then face up to a year in prison if convicted.
Police originally arrested a further 77 partygoers in the crackdown but they were later released without charge.
Additional reporting by agencies
Register for free to continue reading
Registration is a free and easy way to support our truly independent journalism
By registering, you will also enjoy limited access to Premium articles, exclusive newsletters, commenting, and virtual events with our leading journalists
Already have an account? sign in
Register for free to continue reading
Registration is a free and easy way to support our truly independent journalism
By registering, you will also enjoy limited access to Premium articles, exclusive newsletters, commenting, and virtual events with our leading journalists
Already have an account? sign in
Join our new commenting forum
Join thought-provoking conversations, follow other Independent readers and see their replies