Unmanned 'quadcopters' could deliver medicine in Bhutan
Prime Minister hopes they will play radical role in his small and mountainous country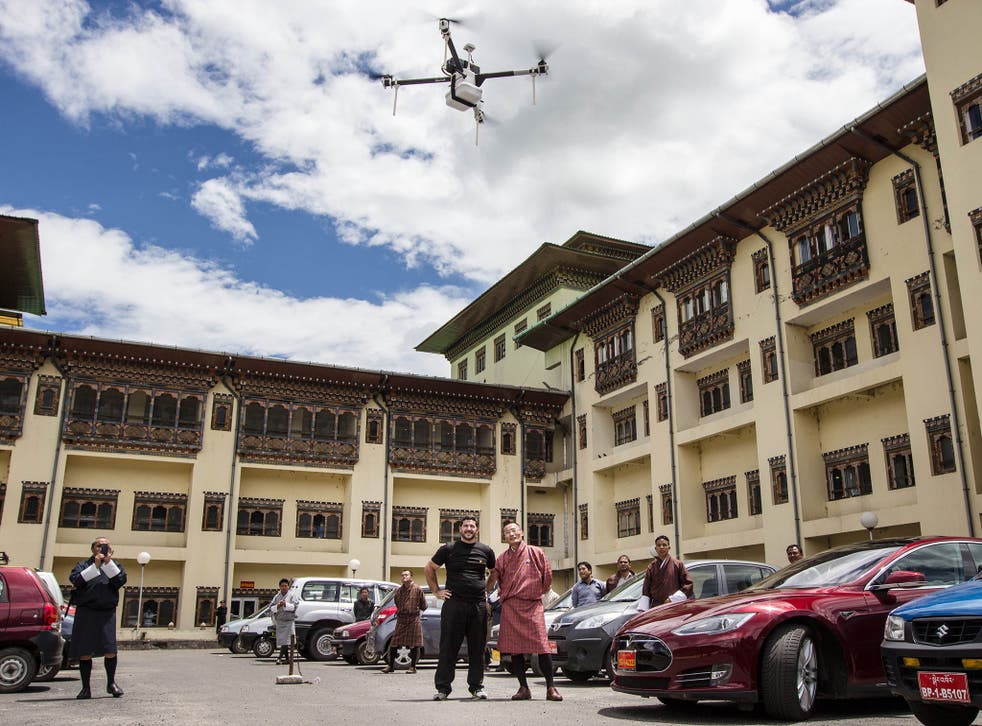 They rose, they hovered and then they were gone. Tshering Tobgay, Prime Minister of the Himalayan nation of Bhutan, stood and watched the trial of unmanned aerial vehicles that he hopes could play a radical role in providing healthcare services in his small and mountainous country.
Standing in the grounds of the Jigme Dorji Wangchuck National Referral Hospital in Thimpu, the country's main medical centre, Mr Tobgay watched as several, tiny unmanned "quadcopters" were dispatched on test flights.
"We discussed how quadcopters can take tele-medicine in Bhutan to the next level by using the unmanned devices to deliver vital medicine," Mr Tobgay later said in a message posted on social media. "The devices could also pick up samples - blood, urine and others - from basic healthcare units to be analysed."
The Buddhist Himalayan nation of Bhutan, squeezed in between India and China, is typically seen in the West as an idyllic, untouched Shangri-La. Reports about the national of 700,000 people, invariably mention a concept promoted by the country's former monarch, that gross national happiness, should be considered as important as gross domestic product.
But for all its dramatic, picturesque landscapes and clear mountain air, Bhutan remains an essentially poor country. GDP per capita stands at $2,400, higher than in India and Nepal, but less than Sri Lanka and China.
A major challenge for the country, which became a democracy in 2008 and where a ban on televisions was only lifted in 1999, is its steep, mountainous terrain, which makes the building of roads expensive and difficult.
This lack of infrastructure and the remote location of many of its communities, even today, creates problems not only for farmers and the country's rapidly increasing tourism industry, but also in providing services such as healthcare.
In this field, Bhutan is also confronting a problem with capacity. The country has just 0.3 doctors for 1,000 people. It has 31 hospitals, 178 basic healthcare units and around 650 even more primitive clinics located in distant villages and communities.
To tackle this problem, Bhutan has, in liaison with the World Health Organisation (WHO), been looking at the potential for tele-medicine – using mobiles and the internet to allow doctors at the larger hospitals carry out check-ups remotely and for medical records and x-rays to be emailed back to patients.
Dr Pem Namgyal, a regional official with the WHO, said Mr Tobgay was personally interested in the potential for using technology to tackle his country's challenges. Earlier this year, the PM's office contacted the WHO and asked about the possibility of using drones, or unmanned vehicles, in a humanitarian capacity.
"He wanted to expand the role of tele-medicine," said Mr Namgyal, who is based in Delhi, India. "He said we should look to see if there were unmanned vehicles that could deliver emergency supplies or pick up a blood sample from a remote area. He requested the WHO support."
The company contacted by Mr Namgyal, after some research, was Matternet, a California-based technology start-up company that claims it is creating the "next paradigm for transportation" using a network of unmanned aerial vehicles.
The company, whose backers include Fadi Ghandour, the founder of the Aramex logistics company and who also heads a technology investment fund, has previously conducted trials of its unmanned vehicles in Haiti and the neighbouring Dominican Republic. It says its primary focus is how the 4lb vehicles could be used in a healthcare environment.
"We want to solve transportation problems in places where are no roads or places where roads are impassable – Haiti, Bhutan, New York or Los Angeles," Paola Santana, the firm's chief regulatory officer, said from Palo Alto
She said company can not only supply a fleet of environmentally-friendly vehicles, but would also provide platforms for them to take off and land from. The software it produces would oversee the vehicles' movements and forward such information to the relevant air traffic control authorities. The vehicles cost between £1,100 – £3,000.
In Bhutan, Matternet is looking at linking remote clinics with larger hospitals, transferring medicine and blood samples. "We could move critical healthcare supplies," she said.
The initial feedback from Bhutan, where Matternet's Greek CEO Andreas Raptopoulos showcased the UAVs, appears to have positive. One of the test flights dispatched a quadcopter from Thimpu to a local health centre in Chamgang, about eight miles from the capital.
Another trial saw a quadcopter fly to a shimmering, 50m statue of a golden Buddha, located at the Kuenselphodrang Nature Park and which overlooks the Thimpu valley. Photographs showed hospital staff and young children alike seemingly fascinated by the quadcopters.
The government declined to answer questions from The Independent about the trials, saying they were only at a preliminary stage. An official in the Prime Minster's office, Nim Tshering, said the government was "exploring the possibilities".
Join our new commenting forum
Join thought-provoking conversations, follow other Independent readers and see their replies