US intelligence reveals Pakistan plot to kill human rights activist Asma Jahangir
DIA notes that such a plot 'would result in an international and domestic backlash as the ISI is already under significant criticism for intimidation and extra-judicial killings'
Andrew Buncombe
Wednesday 04 September 2013 14:01 Comments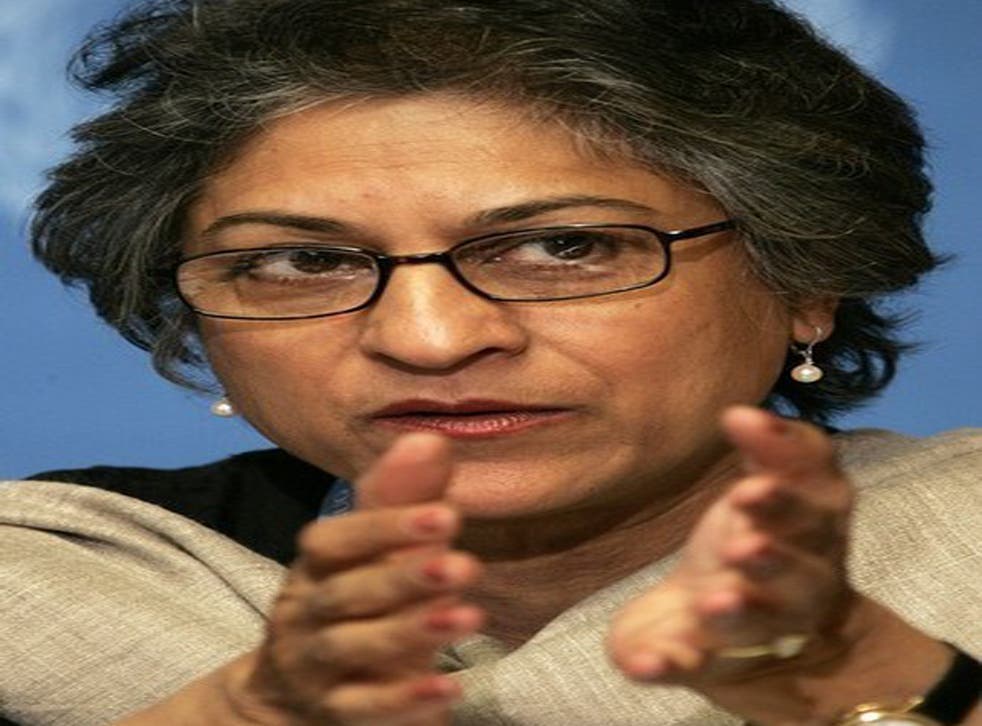 Elements within Pakistan's security establishment plotted to kill the celebrated human rights campaigner Asma Jahangir, according to a leaked US intelligence report.
US agencies discovered in May 2012 that unidentified Pakistani officers were hatching a plan that involved recruiting militants to attack her while she was on a visit to neighbouring India or else "militants or criminals" to kill her while she was in Pakistan.
The details of the US intelligence report appear to confirm claims made last summer by Ms Jahangir, a leading lawyer and campaigner and a former president of the country's Supreme Court Bar Association, that she had learned of a plot against her from a "a responsible and highly credible" source.
"It's not news but it's chilling nevertheless to have it confirmed by an independent source," Ms Jahangir told The Independent on Wednesday, speaking during a visit to London.
In a series of television appearances in June last year, Mr Jahangir said she believed elements within the security establishment wanted to silence her because of critical remarks she had made about the "brutal tactics" used to suppress ethnic unrest in Balochistan province.
At the time, 44 prominent members of Pakistan's civil society released a statement condemning the threat against her. "This is not a conspiracy against one individual alone; it is obviously a plot against Pakistan's future as a democratic state," it said.
Ms Jahangir said on Wednesday that last summer the then prime minister and president contacted the head of the military about the threat to her. "But we never got a satisfactory answer. We were unable to get to the bottom of it," she said.
Details of the Pakistani plot were contained within the summary of a top-secret report by the US Defence Intelligence Agency (DIA) that was leaked by NSA whistleblower Edward Snowden to the Washington Post.
The report said it did not know whether Pakistan's Inter-Services Intelligence agency had given its approval for the plot to proceed. However, it speculated that the ISI could have been motivated kill Ms Jahangir "to quiet public criticism of the military".
The US agency noted that such a plot "would result in an international and domestic backlash as the ISI is already under significant criticism for intimidation and extra-judicial killings".
Ms Jahangir, who formerly headed the Human Rights Commission of Pakistan, has long received threats from various elements within the country. She has been a staunch defender of rights for campaigners and journalists and has taken on many of high-profile cases that have involved powerful interests.
The documents obtained by the newspaper also reveal that the US has sharply increased its surveillance of Pakistan's nuclear arms, citing previously undisclosed concerns about biological and chemical sites there. The report also details efforts to assess the loyalties of counterterrorism sources recruited by the CIA.
In a statement issued by its foreign ministry, Pakistan said said it had an properly established system of controls to "ensure the safety and security" of its nuclear facilities.
The documents also highlight fresh allegations of human rights abuses in Pakistan. They say US intelligence learned that Pakistani military and intelligence officials had been aware of, and even ordered, extrajudicial killings targeting militants. The documents suggest administration officials decided not to press the issue in order to preserve an already frayed relationship with Pakistan.
In another part of the US report, the DIA reveals efforts by al-Qa'ida militants in Pakistan and elsewhere to come up with technology to counter CIA drone strikes It said the outfit had commissioned studies on the best technology that might be used to deter or even seize control of the remotely-flown aircraft.
Register for free to continue reading
Registration is a free and easy way to support our truly independent journalism
By registering, you will also enjoy limited access to Premium articles, exclusive newsletters, commenting, and virtual events with our leading journalists
Already have an account? sign in
Join our new commenting forum
Join thought-provoking conversations, follow other Independent readers and see their replies