US-North Korean war would result in 20,000 South Koreans dying every day, say Pentagon analysts
Conflict risks deadly artillery barrage on South's capital city of Seoul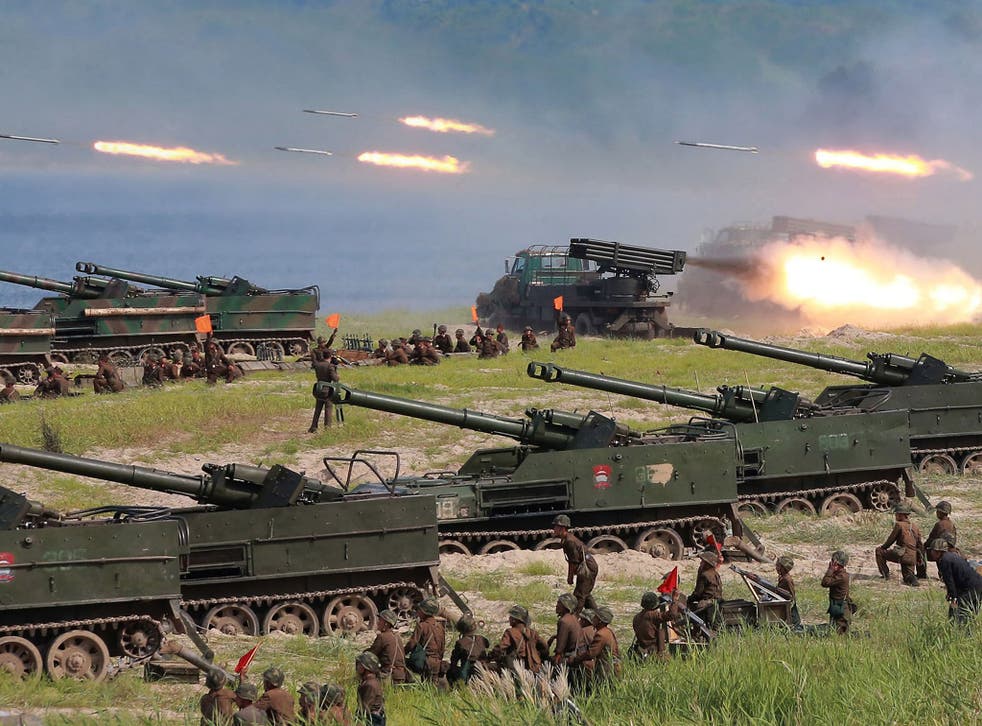 Up to 20,000 people would be killed in South Korea each day in a war between the United States and North Korea, a retired US Air Force brigadier general has said.
"Too many Americans have the view that [war with North Korea] would be like the invasion of Iraq or Afghanistan, or like combat operations in Libya or Syria, but it wouldn't remotely resemble that,'' Rob Givens, who spent four years stationed on the Korean peninsula, told the Los Angeles Times.
Such a conflict risks a devastating artillery barrage on the South Korean capital city of Seoul.
The Pentagon estimates as many as 20,000 people a day could be killed in South Korea, Mr Givens said.
Trump: US's military solution for North Korea would be 'devastating'
James Stavridis, a retired Navy admiral, told the paper the chances of a conventional conflict with North Korea were 50/50.
He said war could be sparked by North Korean leader Kim Jong-un launching a missile which lands on or near the US island territory of Guam.
US aircraft carriers would then retaliate with an air stroke on a North Korean coastal launch facility.
North Korea would likely respond by using its 11,000 artillery units to target the 35,000 US troops currently stationed in North Korea, eventually firing on Seoul's 25 million inhabitants as the conflict escalated.
Kim Jong-un inspects weapon North Korea says is powerful hydrogen bomb

Show all 6
The US Department of Defence has conducted military simulations to find "four or five ways to resolve" a conflict with North Korea, according to National Security Adviser H R McMaster.
"And some are uglier than others," he said at a Washington event hosted by the Institute for the Study of War.
"There's not a 'precision strike' that solves the problem," Mr McMaster said.
"There's not a military blockade that can solve the problem. What we hope to do is avoid war, but we cannot discount that possibility."
Donald Trump has warned the US is ready with a "military option" to end the crisis with North Korea.
"We are totally prepared for the second option, not a preferred option," the US President said.
"But if we take that option, it will be devastating, I can tell you that, devastating for North Korea. That's called the military option. If we have to take it, we will."
The White House dismissed North Korea's suggestion Mr Trump had "declared war" on Pyongyang as "abusrd."
North Korea's foreign minister Ri Yong-ho said Mr Trump's comments, in which he said the foreign minister and North Korea's leader "won't be around much longer" if they continued their threats, amounted to a declaration of war.
"We've not declared war on North Korea. Frankly, the suggestion of that is absurd," White House spokeswoman Sarah Sanders said.
Join our new commenting forum
Join thought-provoking conversations, follow other Independent readers and see their replies