North Korea accuses US student of being 'manipulated' by his government to commit 'hostile acts' against rogue state
Otto Warmbier has been sentenced to 15 years' hard labour after being convicted of subversion
Tim Walker
US Correspondent
Wednesday 16 March 2016 20:00 Comments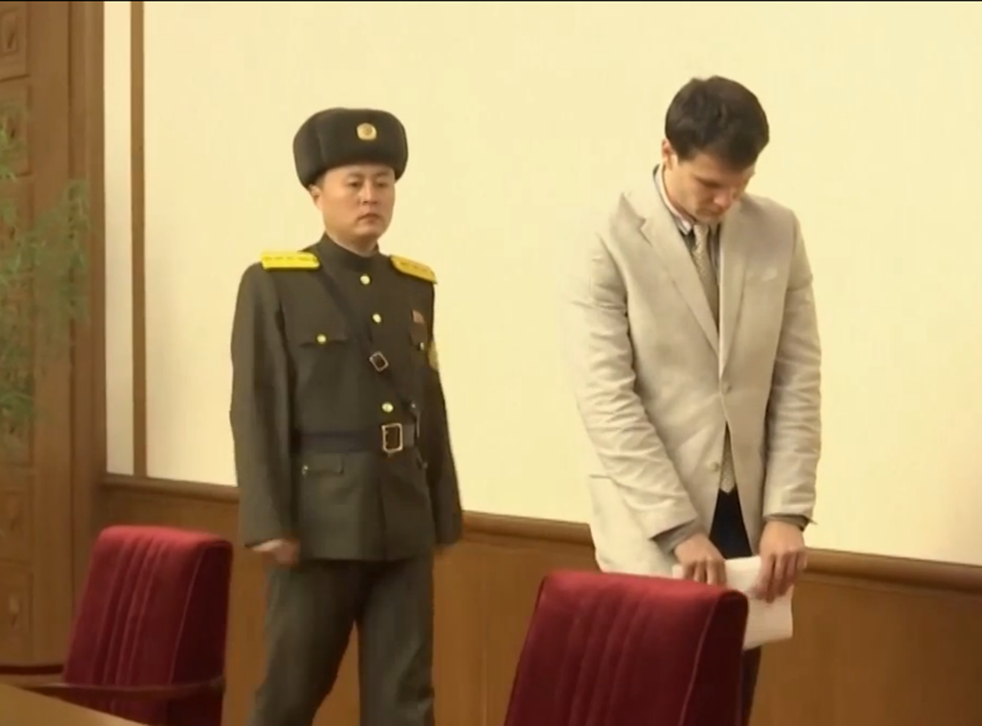 An American student has been sentenced to 15 years' hard labour in North Korea for pocketing a propaganda sign from his hotel during a trip to Pyongyang. Otto Warmbier, 21, was accused of subversion and convicted by the country's Supreme Court.
Mr Warmbier, a student at the University of Virginia, was arrested on 2 January as he tried to leave the country after a five-day trip organised by Young Pioneer Tours.
The state news agency, KCNA, said at the time that he had been "manipulated" by the US government to commit "hostile acts" against North Korea.
"The accused confessed to the serious offence he had committed against the DPRK [Democratic People's Republic of Korea], pursuant to the US government's hostile policy toward it, in a bid to impair the unity of its people," the agency reported.
The sentencing, after a one-hour trial on Tuesday, comes shortly after the UN imposed some of its toughest sanctions yet on the isolated Asian nation, in response to the Pyongyang regime's recent nuclear and rocket tests. Tensions between the regime and the US have also been exacerbated by a major joint military exercise being carried out by the US and South Korea, which the North considers a dry run for an invasion.
The North Korean leader, Kim Jong-un, said this week that his military would soon test a nuclear warhead, though experts remain sceptical of the regime's ability to launch a nuclear attack.
Mr Warmbier, who reportedly studies economics and global sustainability, was paraded at a press conference in February, where he said he had confessed to "taking down a political slogan from the staff holding area of the Yanggakdo International Hotel", saying he had promised to bring back a "trophy" for a friend in the US. It was, he added tearfully, the "worst mistake" of his life.
Around 6,000 Westerners travel to North Korea each year. Though it is legal for American tourists to visit the DPRK, the US State Department strongly advises against it, precisely because the regime has a history of detaining foreigners.
Yet prisoners such as Mr Warmbier rarely serve out their full sentence, and are instead employed as leverage in international negotiations. Mr Warmbier's brief trial came just a day after Bill Richardson, the former Governor of New Mexico and a veteran of US-Korean diplomacy, met DPRK officials at the UN in New York to urge his release.
Mr Warmbier is originally from the town of Wyoming in Ohio. In a statement, the state's Governor, John Kasich, called on Pyongyang to free the 21-year-old.
"His detention was completely unjustified and the sentence North Korea imposed on him is an affront to concepts of justice," he said.
Register for free to continue reading
Registration is a free and easy way to support our truly independent journalism
By registering, you will also enjoy limited access to Premium articles, exclusive newsletters, commenting, and virtual events with our leading journalists
Already have an account? sign in
Join our new commenting forum
Join thought-provoking conversations, follow other Independent readers and see their replies