US 'must be prepared to use nuclear weapons against North Korea', says ex-CIA director
Kim Jong-un regime could be in 'final stages' of preparation for sixth nuclear test, satellite images suggest
Jon Sharman
Wednesday 29 March 2017 18:39 Comments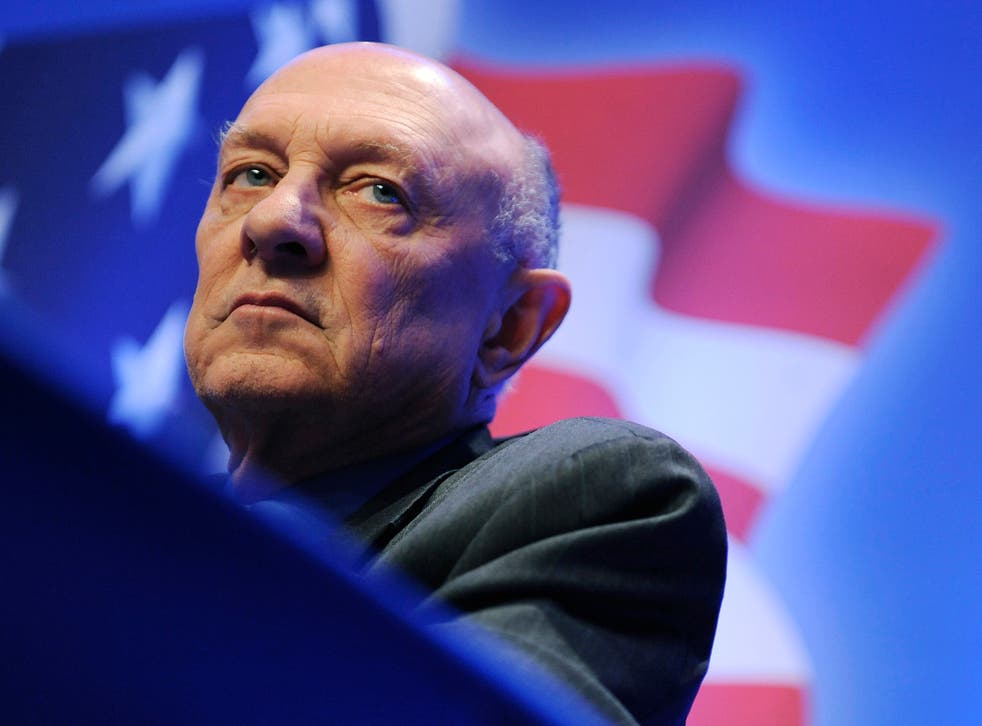 The United States should be prepared to pre-empt a North Korean nuclear attack by using its own atomic weapons, a former head of the Central Intelligence Agency (CIA) has said.
James Woolsey, who was a senior adviser to then-President-elect Donald Trump before abruptly resigning in January, accused "the press and public officials" of ignoring or under-reporting the threat from the dynastic dictatorship.
In a hawkish joint column for The Hill he also claimed the Kim Jong-un regime could use a warhead-triggered electromagnetic pulse (EMP) to kill 90 per cent of Americans by knocking out the "national electric grid and other life-sustaining critical infrastructures for over a year", following a strike from space.
Satellite images taken over the weekend suggest North Korea could be in the final stages of preparation for its sixth nuclear test. Washington-based 38 North, a website that monitors North Korea, said the images showed the continued presence of vehicles and trailers at the Punggye-ri test site and signs that communications cables may have been laid to a test tunnel.
A lack of activity elsewhere at the site "may mean that test preparations are in their final stages," the report said, although it added: "Since North Korea knows the world is watching and is capable of deception, caution should be used before declaring that a nuclear test is imminent."
Mr Woolsey, writing alongside Congressional EMP Committee chairman Dr Peter Pry, said: "The notion that North Korea is testing A-Bombs and H-Bomb components, but does not yet have the sophistication to miniaturise warheads and make reentry vehicles for missile delivery is absurd.
"Any nation that has built nuclear weapons and long-range missiles, as North Korea has done, can easily overcome the relatively much simpler technological challenge of warhead miniaturisation and reentry vehicle design.
"Even if it were true that North Korea does not yet have nuclear missiles, their 'Dear Leader' could deliver an atomic bomb hidden on a freighter sailing under a false flag into a US port, or hire their terrorist allies to fly a nuclear 9/11 suicide mission across the unprotected border with Mexico."
They concluded: "The US must be prepared to preempt North Korea by any means necessary—including nuclear weapons. "
The US should begin a "crash programme" to protect infrastructure against EMP attacks as well as revive a "Star Wars"-style space missile defence system, they added.
But while Mr Woolsey and Dr Pry write of the potential "millions of casualties" of a nuclear attack on the US, they do not analyse the potential impact of a US first strike on ordinary North Koreans.
In 2014 the United Nations concluded the North Korean people were subjected to "extermination, murder, enslavement, torture, imprisonment, rape, forced abortions and other sexual violence, persecution on political, religious, racial and gender grounds, the forcible transfer of populations, the enforced disappearance of persons and the inhumane act of knowingly causing prolonged starvation".
Its commission of inquiry on human rights added: "There is an almost complete denial of the right to freedom of thought, conscience and religion, as well as of the rights to freedom of opinion, expression, information and association".
Propaganda is used to manufacture absolute obedience while state surveillance means criticism of the political system can be detected and punished, it found.
The CIA's world factbook estimates the North Korean population at some 25 million.
World news in pictures

Show all 50
North Korea has conducted five nuclear tests and a series of missile launches, in defiance of United Nations sanctions, and is believed by experts and government officials to be working to develop nuclear-tipped missiles that could reach the US mainland.
The North's highest-ranking defector, Thae Yong-ho, has previously claimed Mr Kim would fire a suicidal nuclear salvo at Los Angeles if he thought his reign was threatened. The ex-deputy London ambassador also said following his defection last year that the regime was aiming to complete its development of nuclear weapons by the end of 2017.
During his first visit to China earlier this month, Mr Trump's Secretary of State Rex Tillerson warned of "dangerous" tensions with North Korea.
He added: "There are a number of steps that we can take… to see if we cannot bring the government in Pyongyang to a place where they want to make a course correction and move away from their development of nuclear weapons."
After Mr Trump accused the North of "behaving very badly" in a tweet—and China of doing "little to help"—Beijing's foreign minister Wang Yi urged all parties to "size up the situation in a cool-headed and comprehensive fashion and arrive at a wise decision".
Additional reporting by agencies
Register for free to continue reading
Registration is a free and easy way to support our truly independent journalism
By registering, you will also enjoy limited access to Premium articles, exclusive newsletters, commenting, and virtual events with our leading journalists
Already have an account? sign in
Join our new commenting forum
Join thought-provoking conversations, follow other Independent readers and see their replies