US war veteran detained by North Korea Merrill Newman free to fly home after "apologising"
Merrill Newman, 85, was taken off a plane last month, accused of ordering the deaths of North Koreans during the 1950-3 war.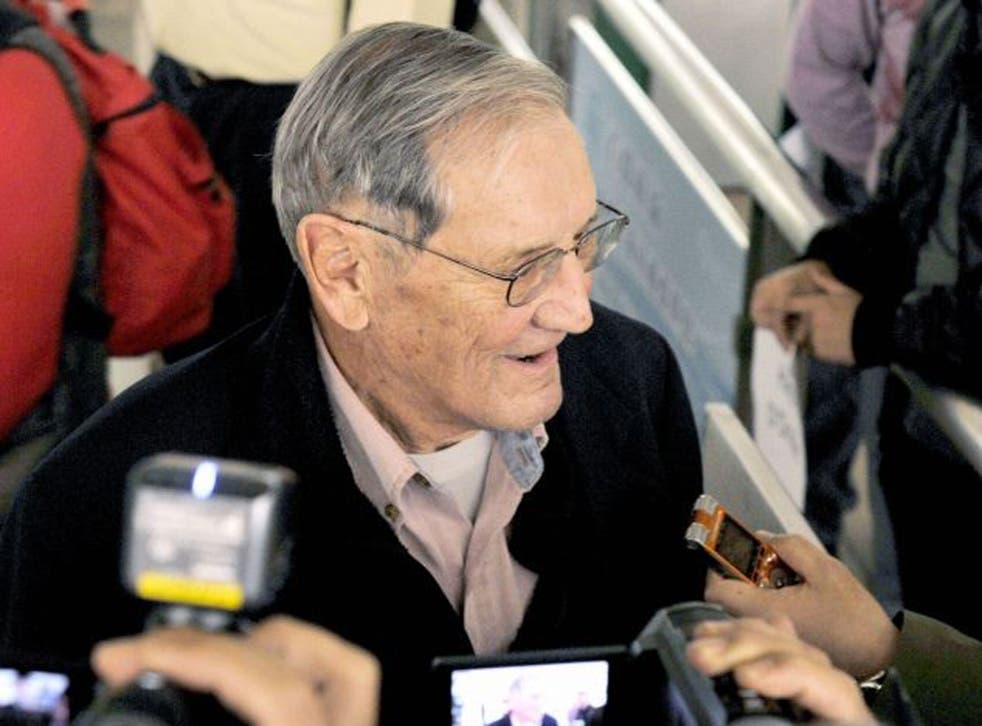 North Korea has deported an elderly US tourist and Korean War veteran detained since October for alleged hostile acts against the country.

The country's official state news agency Korean Central News Agency (KCNA) said Merrill Newman has been expelled on "humanitarian grounds" because of his age and health after he "confessed" to crimes during the 1950-53 war and apologised.
The 85-year-old flew to China this morning where he boarded a flight to San Francisco. Speaking to Japanese reporters at Beijing airport, he said: "I'm very glad to be on my way home. And I appreciate the tolerance the DPRK government has given to me to be on my way. I feel good, I feel good. I want to go home to see my wife."
Merill has been in detention since being taken off a plane on October 26 by North Korean authorities following a 10-day tour of the country. KCNA claimed that Merrill had ordered the deaths of North Korean civilians and soldiers during the war. His family say he was a victim of mistaken identity.
Last week, North Korean authorities released a video showing Mr Newman reading his alleged apology. It is unclear whether it was made willingly but North Korea has a history of allegedly coercing statements from detainees.
In it, he stated he was an "adviser of the Kuwol Unit of the UN Korea 6th Partisan Regiment part of the Intelligence Bureau of the Far East Command" - an apparent reference to a special operations unit which acted against the North during the war. He went on to apparently confess to attempting to contact surviving soldiers during his trip. The statement added: "Please forgive me."
North Korea has detained at least six Americans since 2009. Five of them have been either released or deported following visits to Pyongyang by prominent American figures including former Presidents Bill Clinton and Jimmy Carter.

Newman's detention came as tension remains high on the Korean Peninsula despite Pyongyang toning down its rhetoric against the US and South Korea in recent weeks following threats earlier in the year to launch nuclear attacks.

While welcoming North Korea's release of Mr Newman as "a positive thing," US Vice-President Joe Biden renewed calls for Pyongyang to free another American, Kenneth Bae, who is the longest serving United States detainee in North Korea since the end of the Korean War having been held since November 2012. In May, he was sentenced to 15 years' hard labour.
Pyongyang has accused Mr Bae - described as a tour operator and Christian missionary - of plotting sedition.
Join our new commenting forum
Join thought-provoking conversations, follow other Independent readers and see their replies