US warship defies Beijing to sail within 12 miles of disputed islands in South China Sea
'This is something that will be a regular occurrence, not a one-off event,' said a US defence official
Alexandra Sims
Tuesday 27 October 2015 09:56 Comments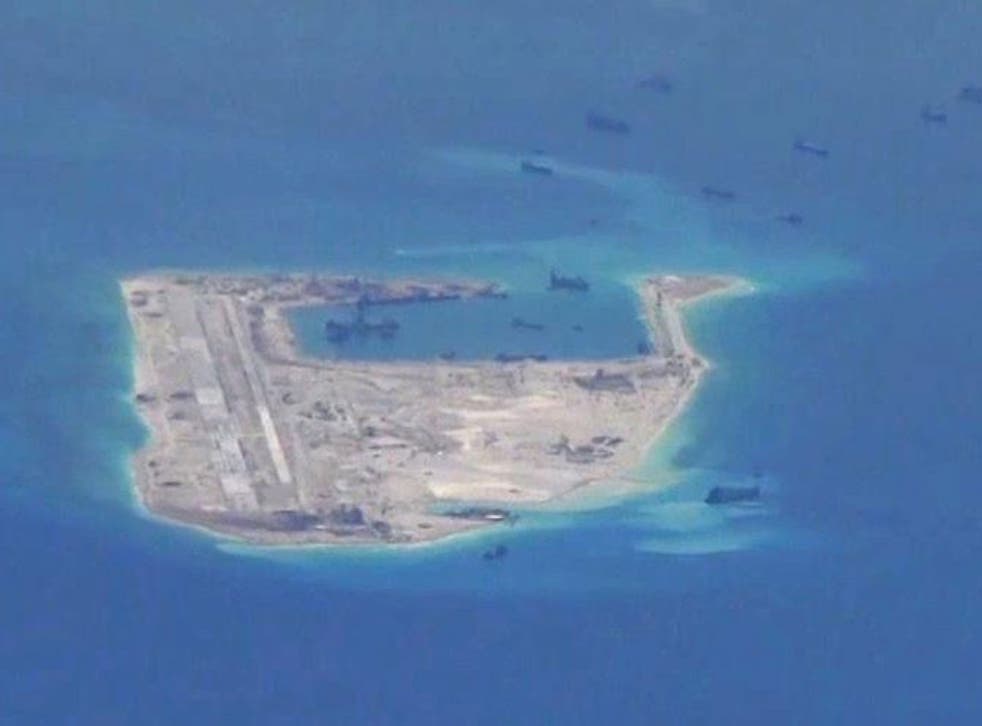 A US Navy ship has sailed near to China's man-made islands in the disputed South China Sea, sparking anger from Beijing.
The patrol by the guided-missile destroyer, USS Lassen, was the United States' most significant challenge to the 12-nautical-mile zone China implements around the islands in the Spratly archipelago.
China's Foreign Ministry said the USS Lassen "illegally" entered the waters around the islands and reefs in the Spratlys without the Chinese government's permission, adding they monitored, followed and warned the ship.
In a statement the ministry said, China "will resolutely respond to any country's deliberate provocations" and urged the US not to "take any dangerous or provocative acts that threaten China's sovereignty and security interests."
China's territorial disputes

Show all 5
No details were given about where exactly the US ship sailed.
A US defence official confirmed the USS Lassen sailed within 12-nautical-miles of the Subi Reef in a mission which lasted a few hours.
"This is something that will be a regular occurrence, not a one-off event," said a US defence official. "It's not something that's unique to China," adding additional missions could be conducted around features built up by Vietnam and the Philippines in the Spratlys in the coming weeks.
White House spokesman, Josh Earnest, said the US has stressed to China the importance of a free flow of commerce in the South China Sea.
China holds claim to the majority of the South China Sea, which sees more than $5 trillion of world trade pass through its waters annually.
Vietnam, Malaysia, the Philippines and Taiwan also have rival claims.
The mission marks the first time the US have conducted a patrol within 12 miles of the reefs since Beijing began building them in 2013.
The patrols, however, threaten to upset already strained relations with China.
"By using a guided-missile destroyer, rather than smaller vessels ... they are sending a strong message," said Ian Storey, a South China Sea expert at Singapore's Institute of South East Asian Studies.
China began a large-scale dredging project in 2014 to turn the formerly submerged Subi and Mischief Reefs into islands.
Under the UN Convention on the Law of the Sea, 12-nautical-mile limits cannot be set around man-made islands built on previously submerged reefs.
Additional reporting by Reuters
Register for free to continue reading
Registration is a free and easy way to support our truly independent journalism
By registering, you will also enjoy limited access to Premium articles, exclusive newsletters, commenting, and virtual events with our leading journalists
Already have an account? sign in
Join our new commenting forum
Join thought-provoking conversations, follow other Independent readers and see their replies