Afghan woman accused of adultery stoned to death in video posted online
The man she was eloping with was lashed
Serina Sandhu
Wednesday 04 November 2015 13:36 Comments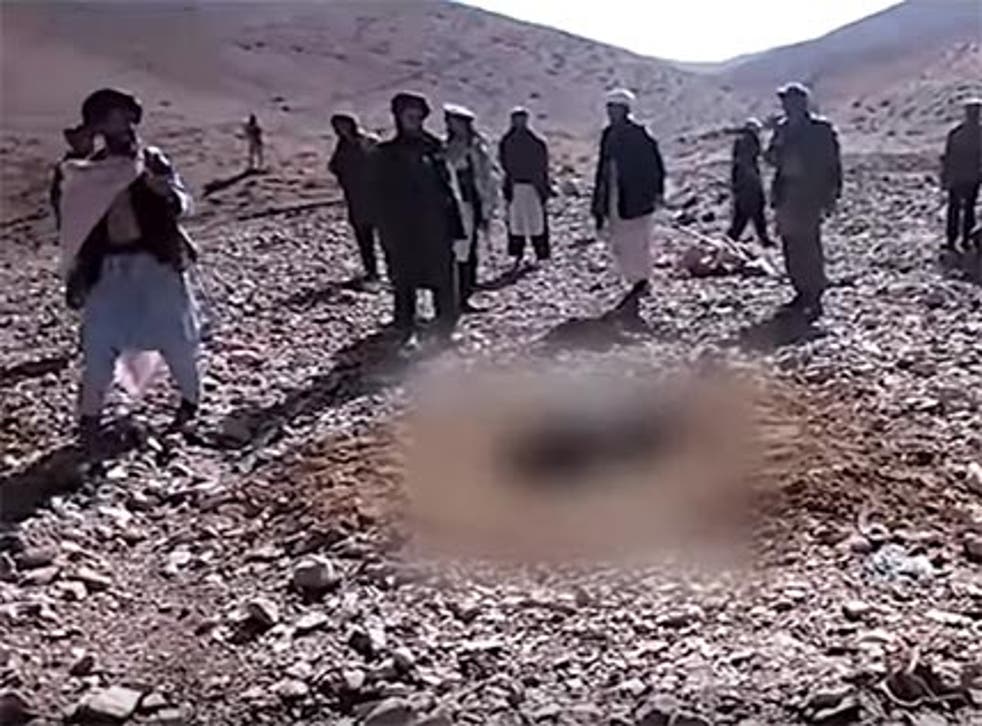 A video has been posted online purportedly showing an Afghan woman accused of adultery being stoned to death.
The woman, identified as Rokhshana, believed to be aged between 19 and 22, was made to stand in a hole in the ground in a village just outside Firozkoh, in the Ghor province
In the video of the killing on 24 October, which could not be independently verified, men could be seen throwing rocks at the woman while another group of men sat and watched.
Governor Seema Joyenda, who strongly condemned the stoning, said the girl's family had "married her to someone against her will and she was eloping with a man her age," Tolo News Agency reported.
Rokhshana was accused of having premarital sex after she and a man - named by Radio Free Europe as 23-year-old Mohammad Gul - allegedly left their families to find a place to marry each other.
Mr Gul sentenced to be lashed as punishment for his role in the "offence".
Abdul Hai Khateby, a spokesman for the governor, said the village was controlled by Taliban insurgents "who implement their own barbaric laws".
According to Tolo News Agency, Police Chief General Mustafa said: "The Taliban ordered stoning of the girl after she was caught eloping with a man on the mountains. Police has started investigations and will arrest the perpetrators soon."
But Wazhma Frogh, co-founder of the Research Institute for Women, Peace and Security, said the attackers could have been tribal leaders as local officials were known to blame Taliban insurgents "to cover up their own kind".
She told The Guardian: "Of course the Taliban do these things, but we can't deny that tribal leaders also do the same things."
Stoning is illegal under the Afghan constitution. But Silai Ghafar, a spokeswoman for the Solidarity Party which advocates women's rights, said: "This is not the first such incident and it won't be the last."
Additional reporting by AP
Register for free to continue reading
Registration is a free and easy way to support our truly independent journalism
By registering, you will also enjoy limited access to Premium articles, exclusive newsletters, commenting, and virtual events with our leading journalists
Already have an account? sign in
Join our new commenting forum
Join thought-provoking conversations, follow other Independent readers and see their replies