Vietnam General Vo Nguyen Giap dies aged 102
Heather Saul
Saturday 05 October 2013 11:58 Comments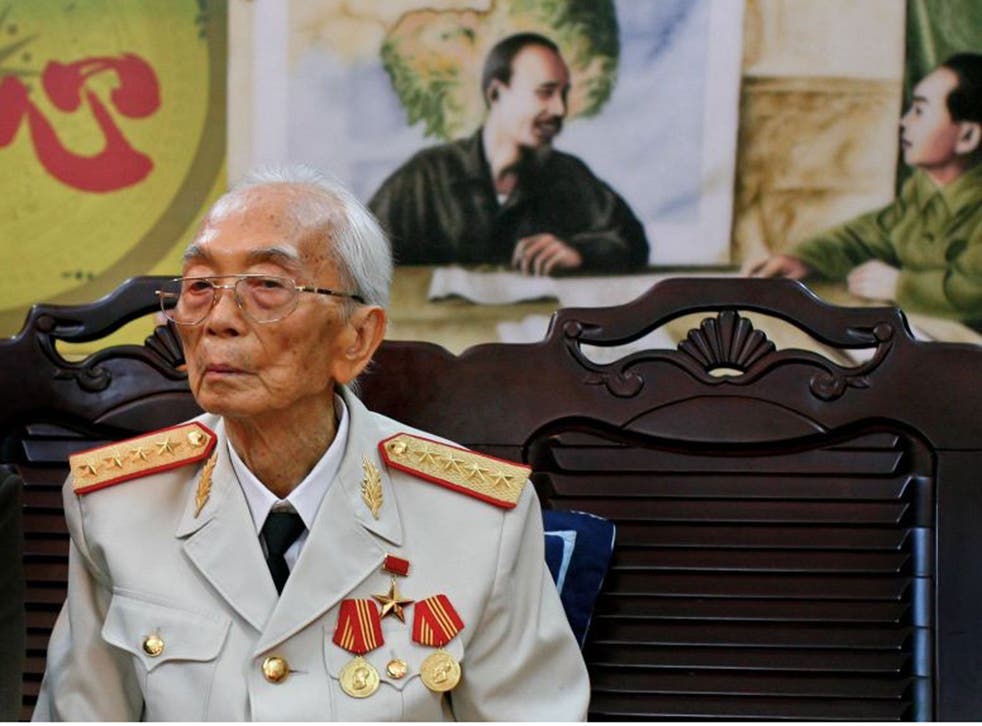 The celebrated Vietnamese general who oversaw key victories against France and America and effectively ended French colonial rule in the region has died aged 102.
General Vo Nguyen Giap passed away in a military hospital in Hanoi surrounded by his family, where he has spent the last three years of his life having suffered a prolonged illness.
Giap was born into a peasant family in the Quang Binh province on 25 August 2011. At age 14, he joined a revolutionary resistance movement before studying politics, economics and law at the University of Hanoi.
His adult years were initially spent as a journalist and a teacher, before he fled to China with Ho Chi Minh's Indochinese Communist Party ahead of the Japanese invasion of Vietnam.
Despite having received no formal military training, after organising a small resistance army, he returned to Indo-China to begin a guerrilla war against the Japanese occupation forces. He is largely credited with the defeat of French forces who had returned to occupy Indo-China at Dien Bien Phu in 1954, where Viet Minh fighters besieged the French from rugged mountain terrain.
Whilst in exile, his wife Hong Anh was tortured and executed in a French Prison in 1939. His sister and father were also killed by French colonial forces. A decade later he re-married and went on to have five children.
Giap remained commander in chief of the People's Army of Vietnam during the war against the United States, overseeing the expansion of a small crew of soldiers into a significantly larger and more sophisticated army. Giap was credited for his leadership role during the Tet Offensive in 1968, where Viet Cong and North Vietnamese Army challenged South Vietnam and US troops in a sporadic wave of attacks. Although many of Giap's army were severely weakened and eventually driven back, the ambush served to change public attitudes to the Vietnam war in America.
After the wars, Giap maintained his position as Minster of National Defence under the new Socialist Republic of Vietnam, before being made Deputy Prime Minister in 1976.
He retired from the Government six years later, having been side-lined and removed from his post in the Politburo in 1982.
Giap wrote extensively on the topic of military theory and strategy throughout his life.
Tributes from political figures across the globe poured out after his death was announced, including from Senator John McCain, who tweeted: "Gen. Vo Nguyen Giap has passed away - brilliant military strategist who once told me that we were an 'honorable enemy'."
He is survived by his wife Dang Bich Ha, whom he married in 1949, and four children.
Additional reporting by agencies
Register for free to continue reading
Registration is a free and easy way to support our truly independent journalism
By registering, you will also enjoy limited access to Premium articles, exclusive newsletters, commenting, and virtual events with our leading journalists
Already have an account? sign in
Join our new commenting forum
Join thought-provoking conversations, follow other Independent readers and see their replies