Vietnam PM Nguyen Tan Dung sends mass text to calm anti-China violence
Chinese workers and businesses were targeted earlier in the week over Beijing's stationing of an oil rig in the South China Sea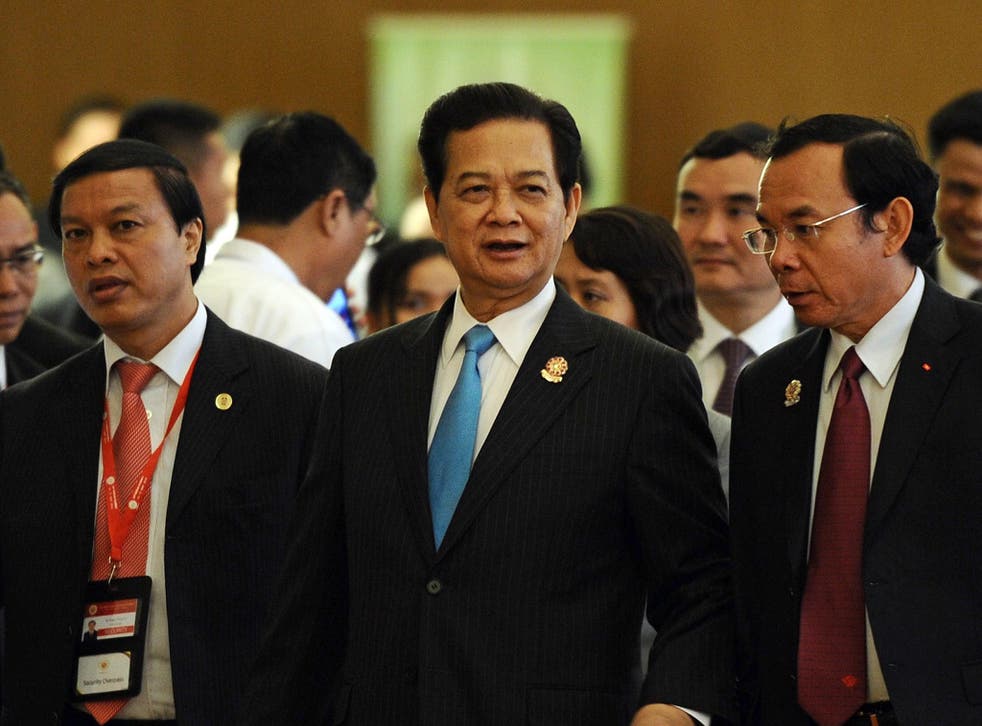 Anti-China violence has subsided in Vietnam after the Prime Minister sent out a mass text message calling for calm.
Earlier in the week thousands of people had attacked businesses and factories in Vietnam's industrial parks, targeting Chinese workers and Chinese-owned businesses. They were reacting to Beijing's stationing of an oil rig in a part of the South China Sea claimed by Vietnam.
The Vietnamese government has said one person was killed in clashes on Tuesday and Wednesday, but a doctor at a hospital near one scene of rioting said he had seen 21 dead bodies and that at least 100 people had been wounded.
A witness to fighting between Chinese and Vietnamese workers in an industrial zone in the same area said she had seen at least 13 bodies. A Foreign Ministry spokesman described media reports and accounts on social networking sites of higher casualties as "groundless".
Nguyen Tan Dung, Vietnam's Prime Minister, has called on police and state and local authorities to ensure the safety of people and property in the affected areas.
A text message sent to mobile phone subscribers via state-owned operators read: "Prime Minister asked and called every Vietnam citizen to promote patriotism and protect the fatherland's sacred sovereignty by practical activities following the law."
It added: "Don't allow bad people to instigate extremist actions that damage the country's interest and image." There were no reports of fresh violence today.
The US has described China's deployment of the rig as "provocative", and President Barack Obama is under pressure to increase America's military presence in the region to counter China's rising influence. State media in China has placed blame for the violence solely at the feet of Vietnam.
Industrial parks account for more than 30 per cent of Vietnam's exports, so the riots risk damaging the country's economic growth. Vietnam's leaders typically clamp down on public protests, but in this case the government can use the nationalist sentiment of its people to reinforce its protests to Beijing.
Reuters
Join our new commenting forum
Join thought-provoking conversations, follow other Independent readers and see their replies