Vietnamese women raped in wartime seek justice for a lifetime of pain and prejudice
Victims of atrocities carried out by South Korean soldiers still pursuing reparations decades later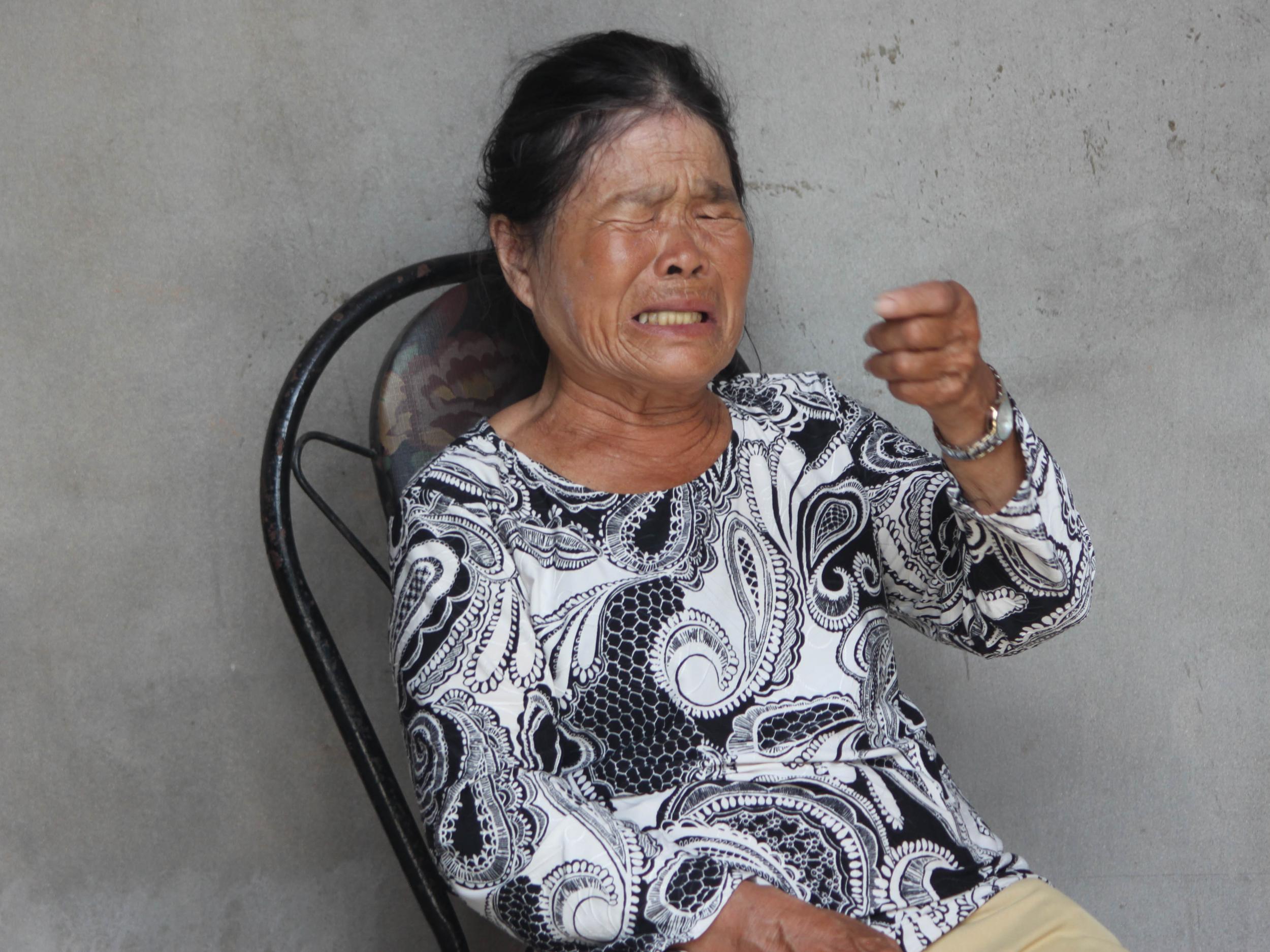 Tran Dai Nhat still remembers the moment his childhood disappeared forever.
The shy, five-year-old boy survived the bloody curtain call of the Vietnam War and was optimistic about a future free from military might and chemical warfare.
So, it was with bewilderment he was suddenly jolted from his happy daydreams by a sharp kick from a victorious Communist soldier. "Your father was a dog, boy," bellowed the stockily-built man, "Now run!"
For many Vietnamese, 30 April 1975 marked a joyous day after 20 years of death and destruction at the hands of both indigenous and foreign fighters.
But for a significant number of children fathered as a result of rape by South Korean soldiers, it was the start of a living hell.
Mr Nhat recalled: "Before April 1975, I had been treated well by the South Korean troops who lived on the base near my home in Phu Yen Province, central Vietnam. I was still too young to have any real sense of my identity and hadn't yet questioned my mother about why I looked different to other Vietnamese children.
"But when the Communists declared victory, everything changed for me. Suddenly, I knew I was dangerously different."
A period of painful bullying ensued in school. Mr Nhat said: "I was bullied repeatedly. The other children kept asking who my father was and called him a 'dog'. I just kept suffering in silence.
"I was 18 when my mother finally sat me down and told me she had been raped by Korean soldiers - not once but three times. My two sisters are also mixed blood or Lai Dai Han as we are known in Vietnam."
The story of South Korea's involvement in the Vietnam War is largely untold.
Around 300,000 troops joined American forces in 1964. South Korea's contingent was bigger than that of Australia or New Zealand - second only to the US military. Troops were largely concentrated in Vietnam's Central Province.
South Korean troops were not alone in their exploitation of civilian women but their country has never acknowledged the allegations or taken steps to investigate.
In 1987, the Amerasian Homecoming Act resettled the children of American soldiers in the United States. 21,000 Amerasians and more than 55,000 family members made homes on US soil as a result.
South Korea did not follow suit. According to Mr Nhat, a Ho Chi Minh City-based travel agent, an estimated 800 rape victims are still living and now determined to tell their stories. They want South Korea to recognise the children its soldiers fathered.
Despite his own struggles, Mr Nhat remains dedicated to caring for his elderly mother Tran Thi Ngai and leads me to her humble home in the Dong Hoa District of Phu Yen Province - a two-hour drive from popular beach resort Nha Trang.
Now 76, Mrs Ngai's body is frail but her memory is sharp when it comes to recalling the sexual violence she suffered during the war.
She occasionally pauses to wipe away tears. At one point, she breaks down and sobs as she offloads a lifetime of shame and secrecy.
She said: "I was just a young girl during the war but I worked as a nurse to support people in my village. My parents worked on a farm and we were quite poor. Helicopters and bombs were a part of our everyday lives. There were operations happening every night. We suffered a lot of hardship. We had no rice and constantly had to find ways of escaping the cross-fire."
Mrs Ngai was 24 and still a virgin when she was first raped. "During my nursing shift, I went home to take a lunchtime nap. A South Korean commander from a nearby base appeared in my room and started hugging me. I froze. I felt petrified. No-one could argue with soldiers. He started touching my body and then raped me. I shouted out loud for help but no-one came. Afterwards I cried for days but my parents just shouted at me. They thought I had had sex with him of my own free will. No-one would believe me. My parents told me to abort the child so I tried to do it with medicine but it didn't work. Sometime after, I gave birth to a little girl. I thought about committing suicide but somehow I found a way to carry on."
Once 'defiled' by Korean soldiers, women were labelled 'fair game' for fellow comrades. This warped code of honour sealed Mrs Ngai's fate for a second time. Catching her breath between sobs, she explained: "The father of my first-born child returned to South Korea but sent another soldier to my house on the pretence of checking up on the baby. Once again, this man moved towards me holding me tightly before pulling me down to the ground and raping me on the floor. He later returned to Korea too and I gave birth again to another daughter. I cried every day."
Incredibly, Mrs Ngai was raped a third time the following year by yet another Korean solider who had been briefed on her whereabouts by departing colleagues. "After it happened a third time I felt very vulnerable and miserable - like there was no hope anyone would believe me."
Despite suffering crippling depression, Mrs Ngai made an admirable attempt to be a good mother. She was especially determined to send her children to school despite prejudice from teachers and parents.
She said: "I received a lot of criticism from the villagers and my children were treated badly by the principal of the school who questioned their right to be there. Some teachers hit my children and asked them why they didn't return to Korea with their fathers. When they got older they moved to Ho Chi Minh City to escape the criticism in the village."
While the Ngai children were driven out of their homes to the big city, Mrs Ngai was terrorised by Communist soldiers who branded her a 'blood taker.' She said: "They took all my possessions and put me in prison but worst of all, they beat my grandfather to death."
Mrs Ngai felt confused in the fog of war but now she is very clear about what she wants now. "I think the South Korean government should apologise for everything they did to women in Vietnam. Our country has suffered during many chapters in history but it is the Lai Dai Han who still suffer now. The Americans took their children home but my children have been left behind by their fathers.
"I still cry in silence in the dark - for my children and for myself. My wish is that I can seek some comfort in my lifetime simply in recognition that we exist."
Vo Thi Mai Dinh, from the Tuy Phuoc District, in Binh Dinh Province, has a similar story to tell.
She said: "When I was 16 I didn't go to school. Instead, I was working as a cleaner to help my family survive during the war. One day I met a translator who said the local troops needed a dishwasher. I was so happy for chance of a better-paid job so I happily accepted the work at a nearby Division.
"A year later I moved into another job as a lunch cook for one of the South Korean commanders. One day in 1972, I was taking food to his room when he closed the door. I was very frightened and scared but couldn't shout for help. He might have killed me."
Mrs Dinh pauses and a silent tear falls down her face. The pause denotes a lifetime of sadness. "He raped me. Afterwards I was afraid of so many things including losing my job. I had to keep it a secret from everyone."
For months, the frightened young woman tried to camouflage her ever-swelling belly under billowing clothes. "I couldn't share my pregnancy with family or friends. As my belly got bigger, I began receiving criticism from people but managed to carry on working a local farm."
Mrs Dinh finally gave birth to a baby boy. She remained fiercely protective of her right to mother him despite pressure from her family to put him up for adoption.
She explained: "I was frightened and worried about the future but knew I would find a way of raising my baby alone. Sometimes we didn't have enough to eat but I tried my best. I really pitied him because of the stigma he grew up with - not having a father and being mixed-blood."
Mrs Dinh is a shy lady and is it taking great courage to speak out. She said: "I'm old now and I feel very shy about raising my voice. Mostly I try not to think about what happened all those years ago because it's too painful."
Mrs Dinh's protective son Vo Xuan Vinh is anxiously waiting for his mother to finish. He said: "During my childhood, people used to tease me saying I was 'mixed blood' but I never knew my origin. One day I came home and asked my mother: 'Who is my father?' It was a difficult time.
"My mother was only a girl when she was raped. Since then she has had to work very hard to support me on her own."
The 44-year-old tree cutter is angry with his father, adding: "This man was a senior commander in the army but he took no responsibility for me or my mother. I want someone to acknowledge what my mother went through because she is now old and has had a hard life."
Meanwhile, in Ninh Hoa District, Khanh Hoa Province, Cu Thi Hong Lien, now 68, is also trying to make sense of a life blighted by abuse.
Living in daily fear of their lives, Mrs Lien's parents were delighted when a South Korean solider from a neighbouring base took a keen interest in their daughter and offered his assistance in the form of food donations and employment.
They were dangerously unaware that his gestures of kindness were part of a calculated grooming process which would end with him claiming the vulnerable girl's virginity.
Mrs Lien recalled: "I was a teenager during the war and used to help my mother transport water to and from houses and sometimes the army base. We survived on one meal a day and at night we took refuge from the fighting under beds and tables. Helicopters were everywhere in the sky and one day I remember a bomb going off while I was out riding my bike. The Viet Cong were burning villages near where we lived. Every day was terrifying."
As the war stretched on, the Lien family became increasingly impoverished and sent Cu Thi Hong Lien to work for local Korean troops at the nearby Divisional base doing odd jobs including cooking and cleaning.
Mrs Lien said: "One soldier was like a father to me and began buying rice and other food for my family. I thought he was really nice. My mother would ask me to take bananas and coconuts to him as a way of saying thank you. A relationship between him and my family was established."
One day, the soldier treated his new 'surrogate daughter' to a glass of Coke while she was tidying his living quarters. Mrs Lien doesn't remember what happened in the immediate aftermath of consuming the liquid.
She said: "The next thing I knew I was waking up from a very deep sleep. I realised straight away that I had had sexual intercourse. It was 4pm and I was sitting in his living room in a pool of blood."
Mrs Lien believes the high-ranking soldier slipped a heavy sedative into her drink before raping her. Later she discovered she was pregnant and gave him the news.
"He was terrified of losing his job," she explained, "So he accompanied me to Saigon where he paid for lodgings to keep me out of sight. It was a lonely, frightening time."
World news in pictures
Show all 50
By the time Mrs Lien's daughter Cu Thi Thuy Dung, now 48, was born, the soldier was long gone from Vietnam. She said: "I'm still angry at the way he just left us. We have been shunned by society in our own country for something that was not our fault.
"We deserve answers now. All of us do."
The Untold Stories of Vietnamese Women, an event hosted by Justice for Lai Dai Han featuring former Foreign Secretary Jack Straw as guest speaker, is being held at the Hilton Double Tree, 30 John Islip Street, London, on Tuesday 12 September at 7.15pm
Join our commenting forum
Join thought-provoking conversations, follow other Independent readers and see their replies