Indian boxer beats Chinese rival then gives back belt in bid to ease 'tension' between two nations
'I don't want tension on the border, it's a message of peace, that's important,' said WBO Asia Pacific super middleweight champion Vijender Singh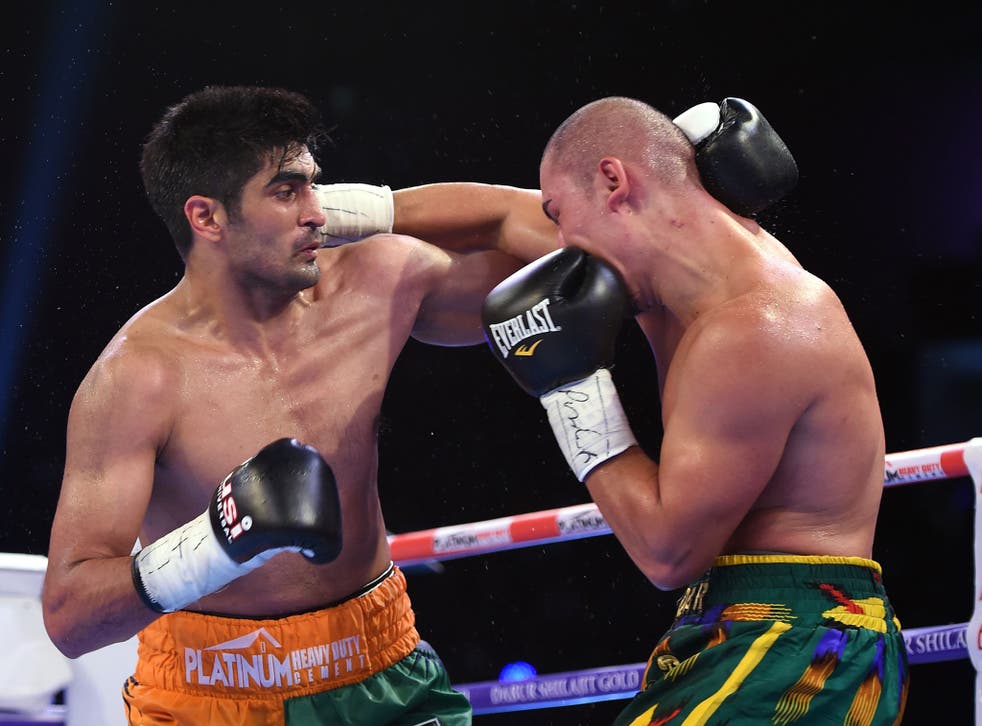 An Indian boxer beat his Chinese rival in a championship bout and then offered to hand his belt back to him to ease "tension" between the two nations.
Vijender Singh, 31, won a unanimous decision against China's Zulpikar Maimaitiali, 23, after a 10-round fight at the National Sports Club of India in Mumbai on Sunday.
Singh successfully defended his WBO Asia Pacific super middleweight title and also took his opponent's WBO Oriental super middleweight belt after the three judges' scorecards were announced.
But the Indian star handed Maimaitiali's title back as celebrities including Bollywood star Amitabh Bachchan watched on at the star-studded event.
"I don't want this title. I will give it back to Zulpikar," he told the packed arena.
"I don't want tension on the border. It's a message of peace. That's important."
The countries have been involved in a lingering dispute over a contested region high in the Himalayas where China, India and Bhutan meet.
Singh, who won the title fight 96-93, 95-94, 95-94, is still technically the WBO Oriental super middleweight champion.
His win and gesture of peace sparked celebrations on social media, with Indian MP Vinod Chavda tweeting: "Heartiest Congratulations to @boxervijender for a brilliant victory!! Extremely proud."
Additional reporting by agencies.
Join our new commenting forum
Join thought-provoking conversations, follow other Independent readers and see their replies