Violence against Rohingya exposed in 'shocking photographs'
A team of Reuters photographers have captured images of the refugees at their most vulnerable – mourning mothers, scarred children, and survivors of violent attacks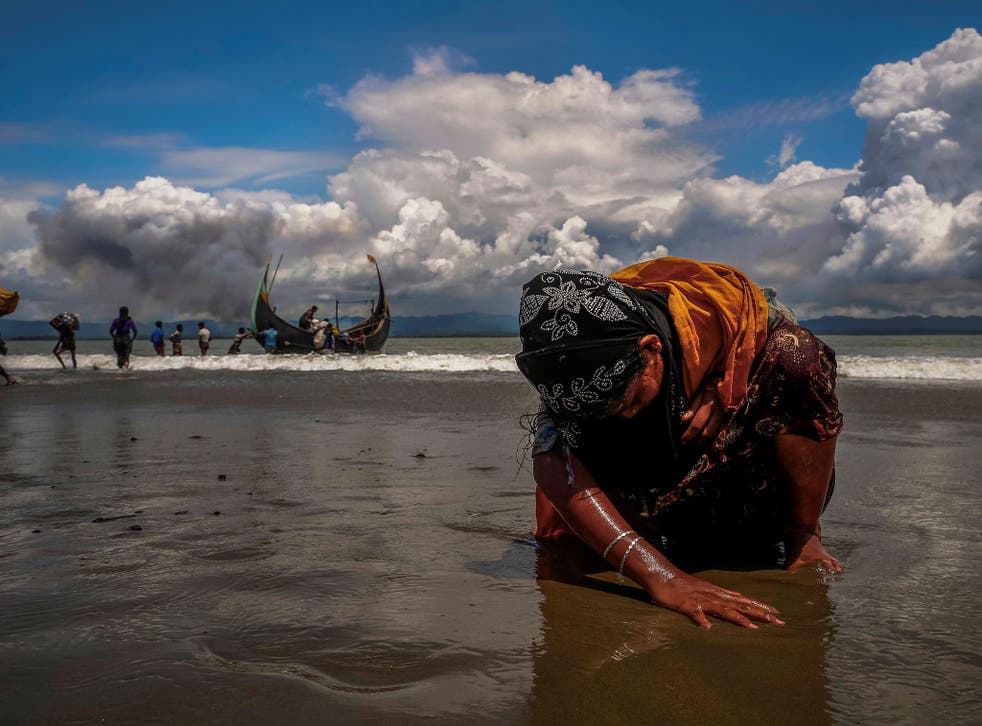 When a Rohingya refugee boat capsized on the Bangladesh coastline, photographer Damir Sagolj rushed to the scene and saw locals collecting the drowned and arranging their bodies next to the road. In the torrential night-time rain, the sheets that covered them clung to the bodies.
"You couldn't see how many were under the sheets, but what I could see was that most were children," Sagolj said. The photograph he captured was one of a series awarded the Pulitzer Prize for feature photography on Monday, described by the judging committee as "shocking photographs that exposed the world to the violence Rohingya refugees faced in fleeing Myanmar."
The latest crackdown by authorities and Buddhist civilians against the Rohingya population in Myanmar's Rakhine state created a mass exodus of more than 600,000 Rohingya men, women and children who fled their homes at the end of 2017.
The refugees have reported killings, rape and arson on a large scale, and senior United Nations officials have described the violence against the Muslim Rohingya population as a "textbook example of ethnic cleansing".
Myanmar has denied ethnic cleansing or systematic human rights abuses, saying it waged a legitimate counter-insurgency operation. The army has said its crackdown was provoked by the attacks of Rohingya militants on more than two dozen police posts and an army base last August.
Rohingya crisis in photos

Show all 15
Reuters has covered the plight of the Rohingya since 2012, but in 2017 it became clear that the scale of this exodus was far larger than previous migrations. For the next several months, a team of photographers, including Sagolj, Cathal McNaughton, Danish Siddiqui, Soe Zeya Tun, Adnan Abidi, Mohammad Ponir Hossain, and Hannah McKay, working under the direction of Asia Picture Editor Ahmad Masood, documented the journeys of refugees by sea on rickety fishing boats and over land through barbed wire and along other routes.
They also visited refugee camps to tell the stories of the new lives the Rohingya built and the scars they brought with them. While the size of camps expanded, one thing that never changed was the stories the refugees brought with them.
"The same horror stories of killings and rape and massacres that we were hearing when the first refugees started crossing in August and September, the exact same – if not worse – stories were being told three months after that," Sagolj said.
Even as the team captured images of the refugees at their most vulnerable – mourning mothers, scarred children, survivors of violent attacks – the journalists found that the refugees were surprisingly open. The photographers experienced almost no resistance from refugees as they photographed them and asked about their experiences. "I had the impression that these people want everybody to know what happens to them," Sagolj said. "They all really wanted their story to be told."
Reuters
Register for free to continue reading
Registration is a free and easy way to support our truly independent journalism
By registering, you will also enjoy limited access to Premium articles, exclusive newsletters, commenting, and virtual events with our leading journalists
Already have an account? sign in
Register for free to continue reading
Registration is a free and easy way to support our truly independent journalism
By registering, you will also enjoy limited access to Premium articles, exclusive newsletters, commenting, and virtual events with our leading journalists
Already have an account? sign in
Join our new commenting forum
Join thought-provoking conversations, follow other Independent readers and see their replies