Violence in Kashmir over death of rebel social media star leaves eight dead
The region is a flash point for tensions between India and Pakistan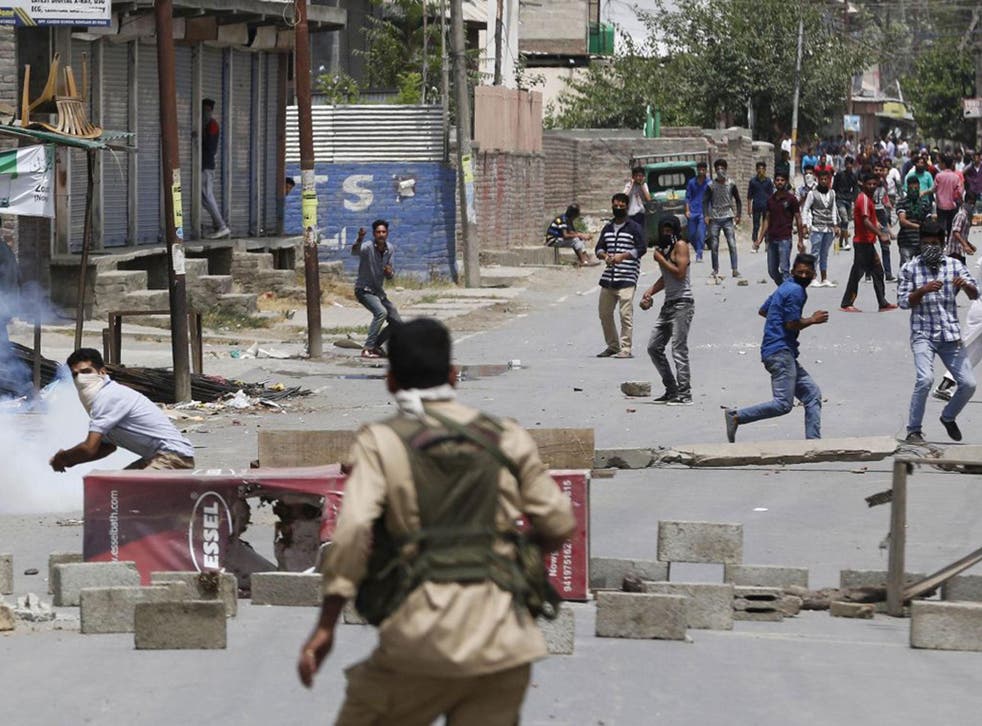 At least eight people have died and scores have been injured in the disputed Himalayan region of Kashmir, as anger at the death of a young local militant leader erupted yesterday.
Burhan Wani, a social media savvy leader in the Hizbul Mujahideen separatist group, was killed in a shootout with Indian security forces on Friday. Despite a curfew and orders against congregating in public places, thousands of people mourned for Wani and vented their anger against the Indian authorities, leading to the violence.
A tip off to the authorities is believed to have led to Wani's death, along with two of his comrades, on Friday, in a shootout with Indian security forces in the southern Kokernag area.
Muslim majority Kashmir is a flashpoint for tensions between the nuclear armed states of India and Pakistan, who have fought several wars over the region. Both countries lay claim to Kashmir but govern separate parts of it. On India's side, separatist politicians and rebels reject Indian rule over the region and have been fighting for independence or merger with Pakistan since 1989.
Yesterday, tens of thousands of people – many encouraged by separatist leaders – defied the curfew to participate in Wani's funeral in Tral, 24 miles south of Srinagar, Indian Kashmir's main city. The event was reportedly marked by anti-Indian sentiment, with many people shouting "Go India! Go back!" and "We want freedom!". Firearms were also discharged in a salute to the fallen commander.
Soon after, clashes erupted in several neighbourhoods in southern Kashmir as thousands of residents threw rocks at Indian troops, who responded by using live ammunition, pellet guns and tear gas. The street clashes also spread to Srinagar and at least a dozen places in central and northern Kashmir.
Local police intelligence chief Shiv M Sahai said seven men were killed in "retaliatory action" by government troops. Another man drowned as he tried to flee government troops. At least 60 civilians were wounded in the clashes.
Mr Sahai said that protesters attacked several police and paramilitary posts in the region and 90 government troops were injured.
In response to the violence, phone, internet and train services have now been suspended in parts of Kashmir. A general strike has been called by separatists and shops, businesses and government offices are closed.
World news in pictures

Show all 50
Hizbul Mujahideen is one of the most powerful militant separatist groups in Kashmir and is listed as a terrorist group by the Indian, US and British governments. Wani is believed to have been one of the youngest divisional commanders of the pro-Pakistan group.
Noor Ahmed Baba, a political scientist at Central University of Kashmir, said Wani "rose to become the symbol of resistance and defiance against the Indian state, mainly because he was politically sharp in his messages".
He added: "He revived militancy at a time when people were waning away from armed struggle and became a youthful face of the rebellion, a hero for not just young men but even so many older people."
Wani was known for openly using social media and videos to communicate with and recruit local youngsters, inspiring increased militant activity in the region. In a brazen display of defiance to the authorities, he was famed for not wearing a mask in his digital broadcasts.
Despite the outburst of violence, some Indian officials have welcomed his death. Inspector-general Syed Javaid Mujtaba Gillani described his killing as the "biggest success against militants" in recent years.
In Dehli, politicians said the protests were "unfortunate". Ghulam Nabi Azad, leader of the opposition in upper chamber of parliament said: "People should not condone the death of terrorists, who are responsible for killing hundreds of innocent people."
However, some Kashmiri politicians have called for "cool heads". Omar Abdullah, former Chief Minister of Jammu and Kashmir, warned: "Burhan's ability to recruit in to militancy from the grave will far outstrip anything he could have done on social media."
Register for free to continue reading
Registration is a free and easy way to support our truly independent journalism
By registering, you will also enjoy limited access to Premium articles, exclusive newsletters, commenting, and virtual events with our leading journalists
Already have an account? sign in
Register for free to continue reading
Registration is a free and easy way to support our truly independent journalism
By registering, you will also enjoy limited access to Premium articles, exclusive newsletters, commenting, and virtual events with our leading journalists
Already have an account? sign in
Join our new commenting forum
Join thought-provoking conversations, follow other Independent readers and see their replies