VJ Day 70th anniversary: Two families are reunited by an extraordinary wartime memento
Andrew Marshall decided to discover the origins of a Japanese flag that his father had picked up during the Second World War
Andrew Marshall
Monday 10 August 2015 15:08 Comments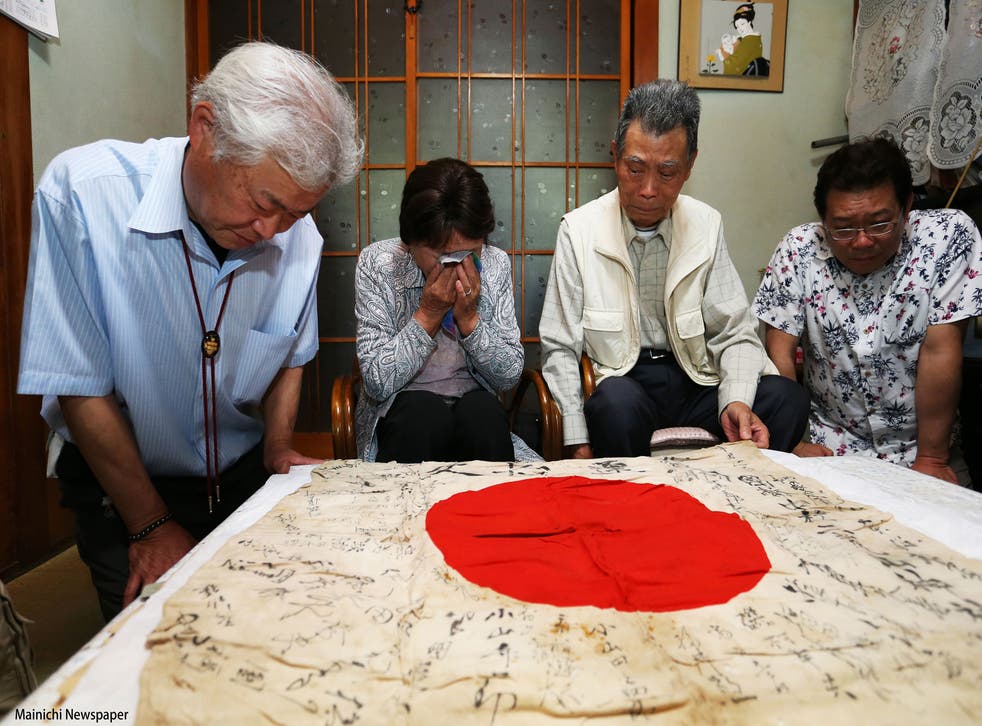 I had not thought much about my father for many years; and then my daughter was born. Having children makes you think about your own parents, seek to understand them a little better. In my case, it made me want to know more about this man who had died nearly 40 years earlier, whom I barely knew. And I thought that maybe the flag would tell me something about him.
The flag spent decades in my mother's house, and after her death it sat in my desk for a couple more years. It was about three feet by two, a Japanese rising sun, covered in Japanese script. The colours and the writing were surprisingly clear, not faded; especially given that my father had picked it up some time in 1944 or 1945 while serving in Burma.
My father never spoke much about the war. Certainly not to his children, and not much to my mother. I remember him as a kind but somewhat distant man. He was from a different generation than most of my friends' parents in the 1970s. He cut his hair short, used Brillantine, wore long trousers and a collared shirt to the beach – and he had been in the war. Six years of his twenties had been spent in the army, mainly in England, but with a year spent in Burma: Staff Sergeant Ronald Marshall, Royal Engineers.
I'd long wondered about that year. He told my mother he had been depressed, seriously so.
You couldn't grow up in England in the 1960s and 1970s without absorbing everything about the war in Europe and the Middle East: Dunkirk, the Battle of Britain, El Alamein, D-Day. But apart from The Bridge on the River Kwai, there was little place in popular culture for Burma. I knew about the brutality of Japanese soldiers towards Allied prisoners of war, the appalling conditions, but not much about the actual war.
My father's letters to his mother in Gravesend told me little: they were mainly about pay, leave, questions about his family, details of the movies he had seen while on leave.
Perhaps the flag had a story to tell. It was a mysterious and alien object. I knew nothing of its history, except a story my father had told my mother. His unit had arrived in a Japanese-held town in north-west Burma. All the Japanese soldiers there had been long dead; it was a dreadful scene. The officer in charge had told everyone to take something by which to remember that shocking day.
Earlier this year, I decided to see what could be discovered about the flag. I wanted to take it back to where it had come from. The 70th anniversary of the end of the war was a compelling time to find out where it belonged. I emailed a friend in Tokyo and another Japanese friend in Singapore. Could they tell me anything about the flag? To whom had it belonged? Was there any way of returning it to someone?'
Japanese forces had invaded Burma in 1942, then pushed into India in 1944. At Imphal and Kohima in the wooded hills of north-east India, they met, for the first time, resolute, organised, well-supplied British and Indian resistance. After a titanic and bloody struggle, they were decisively defeated, and fell back in disarray. It is now regarded as one of the most important battles of the war, but it was overshadowed at the time by D-Day, the US war in the Pacific, the atomic bomb. My father's unit, a division of troops from East Africa, arrived soon after, and together with British and Indian forces, pushed the Japanese back to Rangoon.
As I read more, I began to understand what this must have been like for my father. The young man from Kent was building roads and bridges in the Burmese jungle with African soldiers, constantly wet from the heat and the rain, suffering from leeches, dysentery and malaria.
The presence of death was constant, inescapable. In its first action, his division arrived in the town of Tamu in August 1944, to a scene described vividly by Field Marshal William Slim in his history of the conflict. "The place was a charnel house, of a macabre eeriness hard to describe. 550 Japanese corpses lay unburied in its streets and houses, many grouped grotesquely around stone Buddhas which looked blandly out over the sacrifices huddled at their feet. Dozens more, over a hundred, lay in indescribable filth, dying of disease and starvation, among the corpses." That seemed like a plausible place for my father to find the flag.
In the end, it took only a week for my friends in Japan to respond. The name of the soldier it had belonged to, Susumu Handa, was there in plain view on the flag. So was the name of a nearby shrine that identified a city in Japan. And the family was still living in the same city, in the same house. They were interested to hear of the flag's existence. What would I like to do now?
A few weeks later, I arrived in Tokyo after a 24-hour journey from Washington DC, where I now live. The following morning, my friend Tsuyoki and I set off for Utsunomiya, the Handa family's home city, about an hour north of Tokyo. Norio Handa, the soldier's nephew, met us at the station and we drove out into the lush green hills, to the village of Ishinada.
When we arrived at the Handa family burial plot, Masa Kimura, the 79-year-old sister of the dead soldier, was sitting on a folding stool. She rose to meet me. We stood and talked in the cemetery: a patch of stone and gravel on the edge of a rice field, with apple orchards on one side. It was very quiet. Water gurgled into a ditch nearby. This stone pillar was a memorial to Susumu, she said. But he was not buried here: his body had never been returned. He was 15 years older than her. He had come home for the last time, in 1942, for a wedding. There had been letters, then nothing.
The Army told them he had died in February 1945. Later, one of his comrades had returned and confirmed: Susumu Handa was dead. He had died when he was 24 or 25, four years younger than my father at the time.
By then I also knew that Handa had been part of the Japanese force that my father had, in his small way, helped to defeat. Handa's unit, the 214th Regiment of the 33rd Division, had been badly mauled at Imphal, and many more had died on the retreat. Somewhere in Burma's Kabaw Valley or on the Chindwin river, Susumu Handa had died and my father had taken this flag from his body.
It is hard, if you are a Briton of my age, to feel great sympathy for an Imperial Japanese soldier. The things that were done to prisoners of war and civilians are well documented, cruelty beyond belief. But the more I read, the more I had a sense of the appalling suffering that Handa and his colleagues went through. There had been many such horrifying scenes; they weren't easy to read about.
More than half of the 84,000 men of the Japanese forces in Burma were killed or died of starvation or disease. Their agony is vividly described in Fergal Keane's Road of Bones, the dreadful name the soldiers gave to their line of retreat. "The rain came in moving walls, pummelling bodies, making pools of trenches, a rain that carried chills and fevers across the valleys, unearthing the graves of the newly dead," writes Keane. "For many of the survivors the emotional torment of hearing the dying call out for mothers, wives, children would endure for a lifetime. Some dying men asked to be cast over cliffs to spare the burden on exhausted stretcher bearers." I had come to realise the vast horror of what my father and his comrades had experienced; but also what so many Japanese soldiers had been through.
Afterwards, at the family house, we sat and talked around a low wooden table, seated on cushions on the tatami mats. There were pictures of ancestors around the picture rail: sepia photos of old men and women, and a few of Susumu, the brother who had not come home from the war. In one, he was stern and martial: the image of a soldier leaving for war.
They asked me what I knew of how my father had come by the flag, and I told them the little I knew. It seemed very unlikely that my father had actually killed Susumu Handa.
Mrs Kimura showed me another photo. It showed her as a small girl, nestled against her older brother, in uniform (see previous page). "He was such a good brother. He would always ask in his letters: 'How is my sister?'" I had not really thought of the flag as belonging to someone with a baby sister. I thought of my own younger sister, Sally, in England.
We looked at letters from Susumu kept in an old wooden box. I took the flag from the box I had brought, unfolded it and laid it out for all to see. The family pored over it, read the names: some were family; some were friends, with familiar surnames – all of whom had signed it to wish Susumu good luck and success as he went to war. "Thank you so much for bringing this back to us," said Mrs Kimura. "I have not thought about this for so many years but now the memories are coming back." She looked over the flag and read the names, then she began to weep. So did I.
On the flight home, I read a book a Japanese friend from Washington had suggested. The Burmese Harp is a children's story about Japanese soldiers in Burma at the end of the war. It was made into a popular film, which helped people understand the horror of war and the pity of those who live on, mourning their friends. A Japanese soldier, a musician, decides he will not return to Japan: he cannot, while so many still lie unburied. "The bones of the countless unknown dead are calling me. They are waiting for me. I cannot ignore them," he tells his friends. "How could anyone see what I have seen and do nothing about it? How could anyone ignore it with a clear conscience, or say that it was none of his business?"
As the end of the war grows more distant, there will be a lot of talk about national reconciliation, history, armies, generals, politicians around the anniversary of Victory in Japan Day (Saturday). I will think about my father, and about all those who were pushed into the dreadful meat grinder of war in Burma – Burmese, British, Australian, American, Indian, Kenyan, Ugandan, Chinese – and who suffered; and I will think about a woman in Japan who still misses her brother.
Register for free to continue reading
Registration is a free and easy way to support our truly independent journalism
By registering, you will also enjoy limited access to Premium articles, exclusive newsletters, commenting, and virtual events with our leading journalists
Already have an account? sign in
Join our new commenting forum
Join thought-provoking conversations, follow other Independent readers and see their replies