Putin readies new 350,000-strong National Guard to 'combat subversive activity'
The new force is directly subordinate to the Russian leader in his capacity as Supreme Commander-in-Chief of the country's armed forces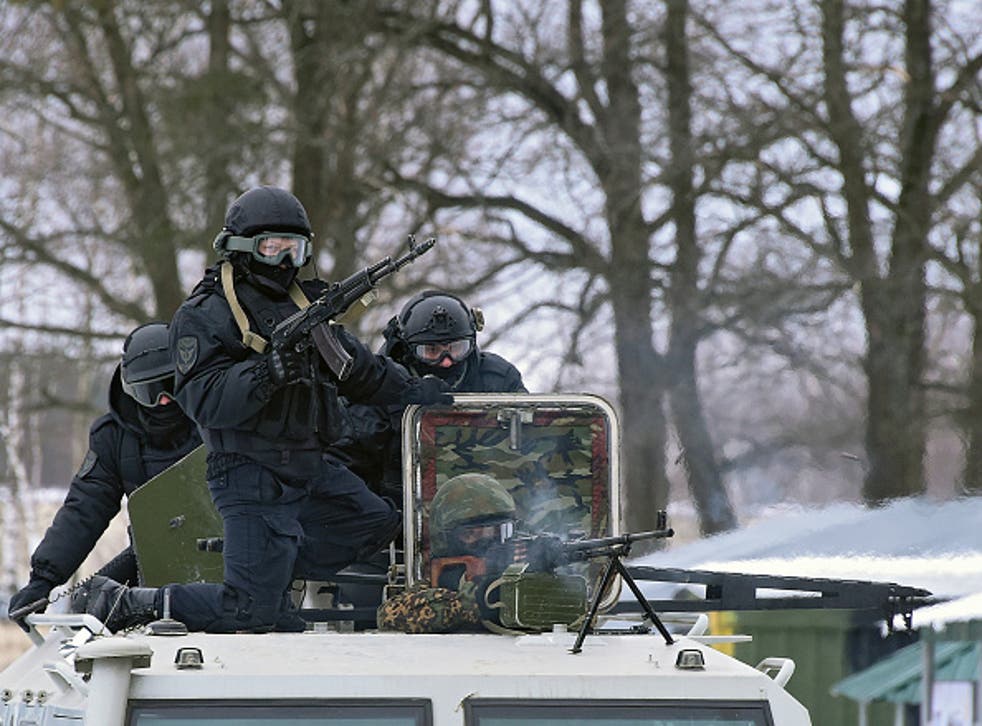 Vladimir Putin's "National Guard" is undergoing its first readiness tests, as the newly-formed internal security corps gears up to quell potential unrest ahead of this year's elections.
The exercises will allow the estimated 350,000 new troops to "practice their readiness to combat subversive activity and reconnaissance groups, terrorist and extremist formations," the force's press office said.
But critics of Mr Putin's government have claimed they will be used to repress dissent.
The bulk of the soldiers were previously part of other internal security forces and the creation of the Guard in 2016.
The new force is directly subordinate to Mr Putin in his capacity as Supreme Commander-in-Chief of the Russian Armed Forces. It is commonly known as the Russian Guards, or Rosgvardiya.
In certain circumstances, they have the authority to fire into crowds of civilians while the press has been forbidden from reporting on the location of their soldiers, allegedly in order to "protect the safety of the troops and their families".
The force is headed by Viktor Zolotov, a former bodyguard and judo sparring partner of the strongman President.
It was rumoured that the Russian interior minister Vladimir Kolokoltsev was going to resign over its creation, which effectively stripped powers from other Russian law enforcement bodies and codified it under Mr Putin and his close ally Mr Zolotov.
Putin calls for stronger Russia at parliament opening
Tatiana Stanovaya, the director of the analytical department of the Centre of Political Technologies in Moscow. last year wrote that Mr Zolotov's appointment as chief means the new defence force will be "a continuation of Putin himself".
"The unnecessary link — that of a minister — between the commander-in-chief and the head of the National Guard is removed," she said. "Whoever the minister is — a brother, friend, classmate or judo coach — his hand may tremble when you need him to execute an order. Zolotov is protected from those fluctuations as much as possible.
"But what is particularly symbolic is that the former head of the security service of the president becomes the head of a kind of security service of the country."
Though the creation of the Guard is seen as an autocratic move, the corps is by no means a uniquely Russian phenomenon.
The United States, among other nations, has had a National Guard since 1903. This body has similarly been used to put down internal unrest, from trade union protests to the 1992 Los Angeles riots to recent Black Lives Matter protests in Ferguson, Missouri.
Register for free to continue reading
Registration is a free and easy way to support our truly independent journalism
By registering, you will also enjoy limited access to Premium articles, exclusive newsletters, commenting, and virtual events with our leading journalists
Already have an account? sign in
Register for free to continue reading
Registration is a free and easy way to support our truly independent journalism
By registering, you will also enjoy limited access to Premium articles, exclusive newsletters, commenting, and virtual events with our leading journalists
Already have an account? sign in
Join our new commenting forum
Join thought-provoking conversations, follow other Independent readers and see their replies