War between US and North Korea 'increasingly likely every day', warns Trump's National Security chief
'The greatest immediate threat to the US and the world is that posed by the rogue regime,' says HR McMaster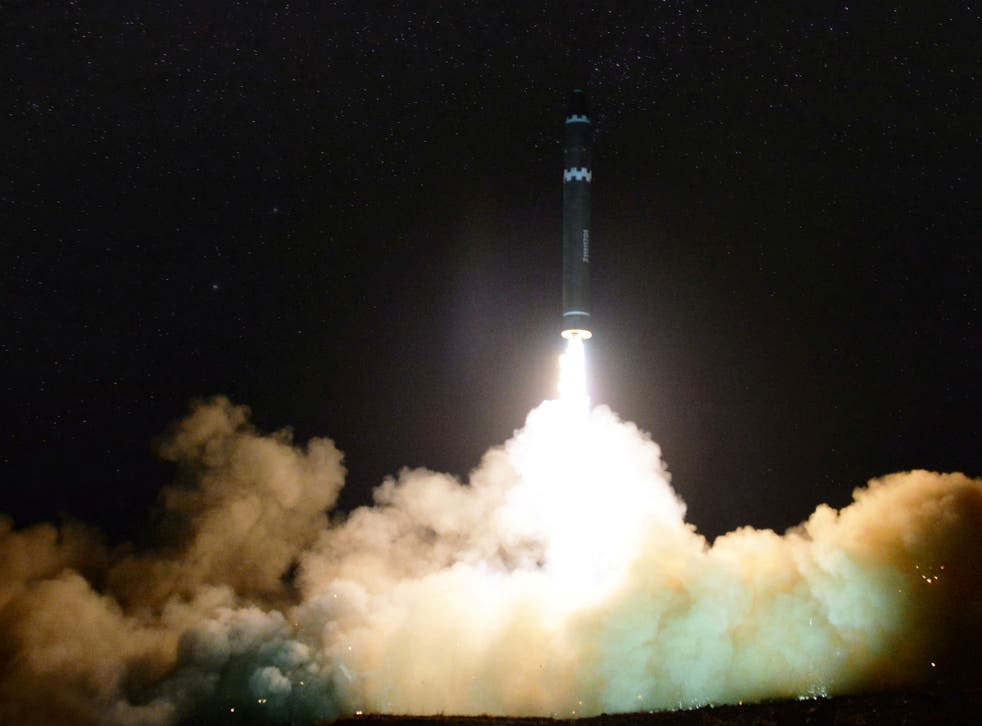 The likelihood of war between the US and North Korea is "increasing every day", the US National Security Adviser has said.
Herbert Raymond McMaster made his comments following the pariah nation's latest launch of an intercontinental ballistic missile (ICBM), which flew higher than any of its previous long-range weapons.
"The greatest immediate threat to the United States and to the world is the threat posed by the rogue regime in North Korea," Mr McMaster told Fox News.
"I think it's increasing every day, which means that we are in a race, really, we are in a race to be able to solve this problem."
He added that dictator Kim Jong-un, is working to advance his country's nuclear capability against the US.
"Every time he conducts a missile launch, a nuclear test, he gets better," he said.
The secretive communist state's media claimed its successful test of the new type of missile, dubbed the Hwasong-15, proves it is capable of delivering a "super-large heavy warhead" to the US.
Experts have confirmed the missile, which North Korea has called "the most powerful ICBM", could have followed a trajectory that would have put the east coast of the US within range.
However, it remains unclear if North Korea has the technology to mount a heavy nuclear warhead on a long-range missile.
His comments follow hard-hitting remarks from the US Ambassador to the United Nations, Nikki Hayley, who warned that North Korea would be "utterly destroyed" if the country's continued aggression sparks a military conflict.
"If war comes make no mistake: the North Korean regime will be utterly destroyed," she told a UN Security Council meeting that followed the latest missile test - an action she warned "brings us closer to war".
North Korea announces intercontinental missile launch

Show all 13
"We have never sought war with North Korea, and still today we do not seek it. If war does come, it will be because of continued acts of aggression like we witnessed yesterday," Ms Haley added.
Mr Trump has previously promised that any strikes on the US by North Korea would be met with "fire and fury", and called on China to do more to bring its communist ally and neighbour to heel.
"If the righteous many do not confront the wicked few, then evil will triumph - the US has great strength and patience," he said in an address to the United Nations.
Mr Kim responded through the Korean state media, saying: ""I will surely and definitely tame the mentally deranged US dotard with fire."
Join our new commenting forum
Join thought-provoking conversations, follow other Independent readers and see their replies