Welcome to Chitral: Where Pakistan's elite goes to play
Foreign tourists may be staying away, but this town in the lush Hindu Kush has become a popular destination for the country's growing middle class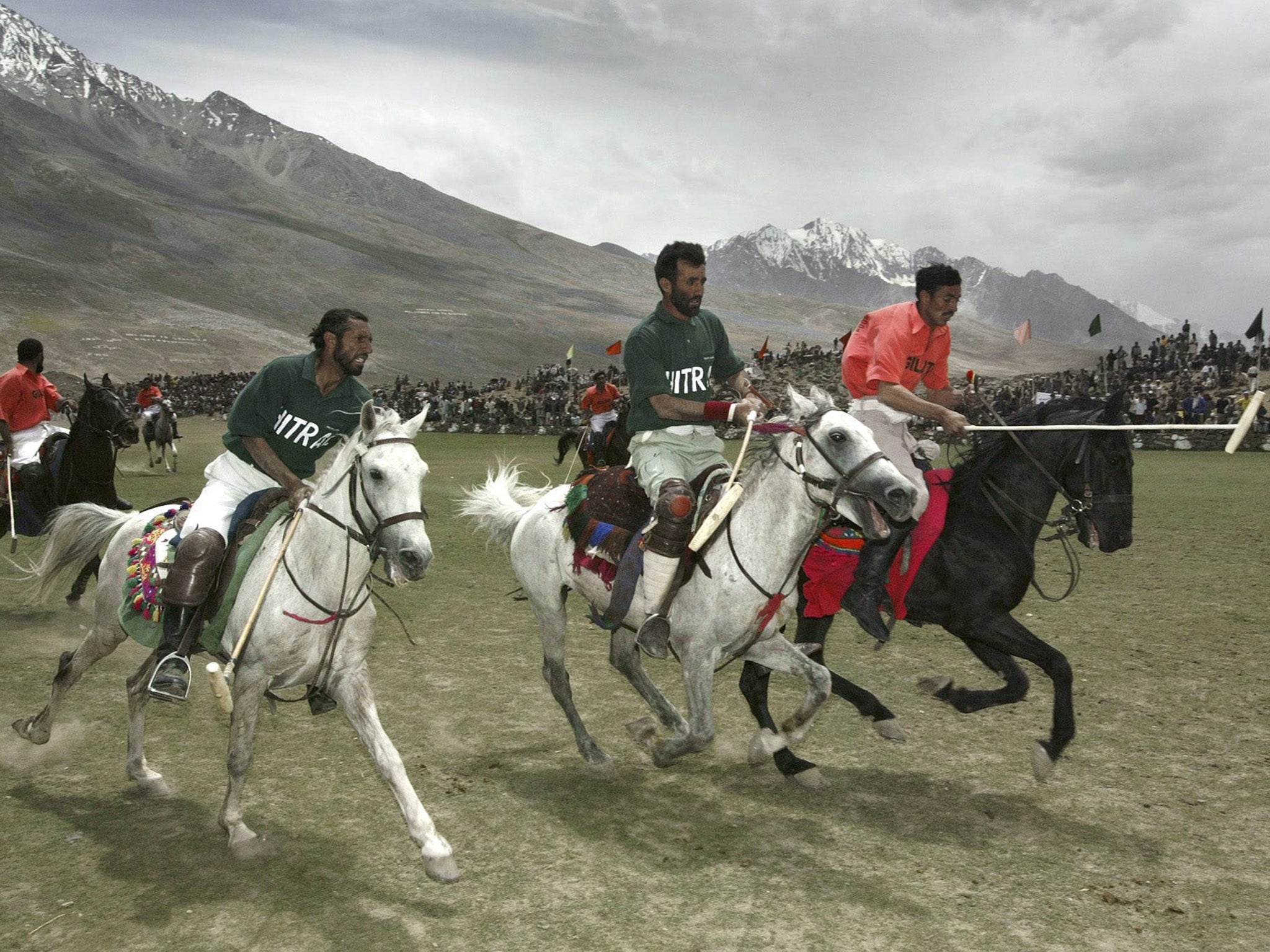 Siraj Ul-Mulk's friends thought he was mad when he started building a hotel in the early 1990s, off the beaten track and carved out of a mountainside.
"When I was building this hotel, people used to ask me, what are you doing? There was no water, there was no road," he said. "For me it was a passion, but they didn't understand," he says wearing a floppy, brown pakol hat, sitting in his hotel garden overlooking the emerald green valley of Chitral, with snow-tipped mountains in the distance.
Mr Ul-Mulk's gamble paid off. Tourists are now flocking to Chitral, nestled in the foothills of Pakistan's Hindu Kush mountain range in the country's remote and mountainous north-west region, close to the Afghanistan border. It's so busy that he's even having to turn people away from his hotel, the Hindukush Heights.
"As soon as 9/11 happened, foreign tourists dropped drastically and domestic tourists started to increase. My business has recovered," he said. Local tourism now accounts for 70 per cent of bookings.
"There are very rich Pakistanis: they stay longer, eat more and they send all their relatives here, so it just doesn't finish."
Evidence of local tourism in Chitral, an unspoilt paradise of lush green valleys, snowy peaks and glacial rivers, is not hard to spot. Jeep-loads of Pakistani trekkers crawl up the dicey, single-track road from Chitral to Mastuj, a four-hour journey. Dislodged stones are sent tumbling down a cliff face from the road barely wide enough for a vehicle. The tourists are unperturbed.
For a country whose tourism industry has been hard hit by the 9/11 attacks, a devastating earthquake in 2005, floods in 2010, and fighting between the government, Taliban and other militant groups, it is a remarkable turnaround.
Over the past five years, foreign visitor numbers to Pakistan have almost halved. In 2014, around 400,000 tourists visited the country, down from 906,800 in 2010, according to the State Bank of Pakistan. But while fewer foreigners may be coming to the country, domestic tourism is booming. The Pakistan Tourism Development Corporation says that 50 million Pakistanis travelled on short trips, including day and weekend visits, last year.
There are several reasons for this trend. Ongoing political unrest means that even some wealthy Pakistanis struggle to get visas to travel abroad. Yet, despite its problems, Pakistan's economy grew at 4.4 per cent in 2013, up from 1.6 per cent in 2010, the World Bank says. A rosier economy has fuelled a burgeoning middle class who cannot afford to travel abroad but who are instead exploring their own country. Massive devaluation of the Pakistani rupee against the dollar and the pound over the past 10 years has also made it less attractive for Pakistanis to venture overseas. "We can't go out [of the country], foreigners can't come in, but we're OK," Mr Ul-Mulk points out.
At 1,500 metres above sea level, Chitral's cooler climate is an increasingly popular pull to locals wanting to escape the sweltering metropolises of Lahore, Karachi and Islamabad. Others come to see wildlife and visit the indigenous Kalash tribe in the surrounding valleys. There are now even yoga retreats.
Data collected by the police station in Chitral show that domestic tourists have averaged about 15,000 every year since 2010. By contrast, Chitral attracted only 604 international visitors in 2011 and numbers have steadily been falling every year since. Security is also a major reason why Chitral is experiencing a local tourist boom. It remains one of the safest parts of Pakistan, where radicalisation has struggled to take root. This is partly because of its geographical isolation, hundreds of kilometres from more unstable cities such as Peshawar. But Chitral has a peaceful, tolerant, close-knit community, which has so far escaped the clutches of extremism.
Despite this, very few Western tourists go to Pakistan. One exception is Jonny Bealby, founder of an adventure travel company, who has led trips to north-west Pakistan since 1998. "Chitral is safer than some parts of London," he said.
Aminah Zaheer, 45, who runs a management consultancy business in Karachi, came to Chitral for a week with her husband last month to visit the annual festival of the Kalash people, a minority pagan tribe whose non-Muslim customs in an Islamic country are a big tourist attraction.
Since her last visit to Chitral 30 years ago with her parents, roads have vastly improved, making travel possible by car. But Ms Zaheer says the tourism boom is being driven by a society that is getting wealthier and more Westernised. "People are getting richer, people are getting more adventurous. Because of the internet, social media and exposure to television, people have understood tourism," she said.
With many young Pakistanis studying abroad in Europe and the US, exposure to Western culture is growing, she explained. "We think more like Westerners, we want to emulate the lifestyle of Westerners in our own country so we eat like them, we dress like them, and we holiday like Westerners."
Despite its growing popularity, Chitral is still a hidden jewel in northern Pakistan compared to places such as Gilgit in Baltistan, which are more firmly on the tourist trail. The Chitrali government and the ruling family are keen to preserve the area and have imposed limits on hotel-building and development.
Mr Ul-Mulk predicts that tourism will increase in the coming years, meaning that more hotels will have to be built if it is to keep pace with the expected influx of visitors. Even so, the region is already not immune to the negative effects of tourism. Locals say tension between the Kalash tribe and crowds arriving in minibuses in their remote valleys is growing.
With this in mind, the authorities in Chitral face a delicate balancing act to grow the industry sustainably. Aisha Chapra Sander, 33, started organising yoga retreats to Chitral in 2013 and her business is flourishing. She is optimistic about the future in Chitral but warns there are risks after witnessing the effects of poorly managed tourism in Pakistan. "Tourists come and add to the environmental damage and sometimes the industry is not eco-friendly or aware of the damage that tourism may cause.
"Many are just hoping for tourism to support the economy and lift people out of poverty, without considering the long-term costs of such an endeavour."
Join our commenting forum
Join thought-provoking conversations, follow other Independent readers and see their replies