Delhi white tiger attack: Zoo staff face investigation after 'doing nothing for 15 minutes' when student fell into enclosure
Witnesses say the animal 'watched' the man for a long period of time, and only attacked when onlookers started throwing stones
Andrew Buncombe
Friday 26 September 2014 15:06 Comments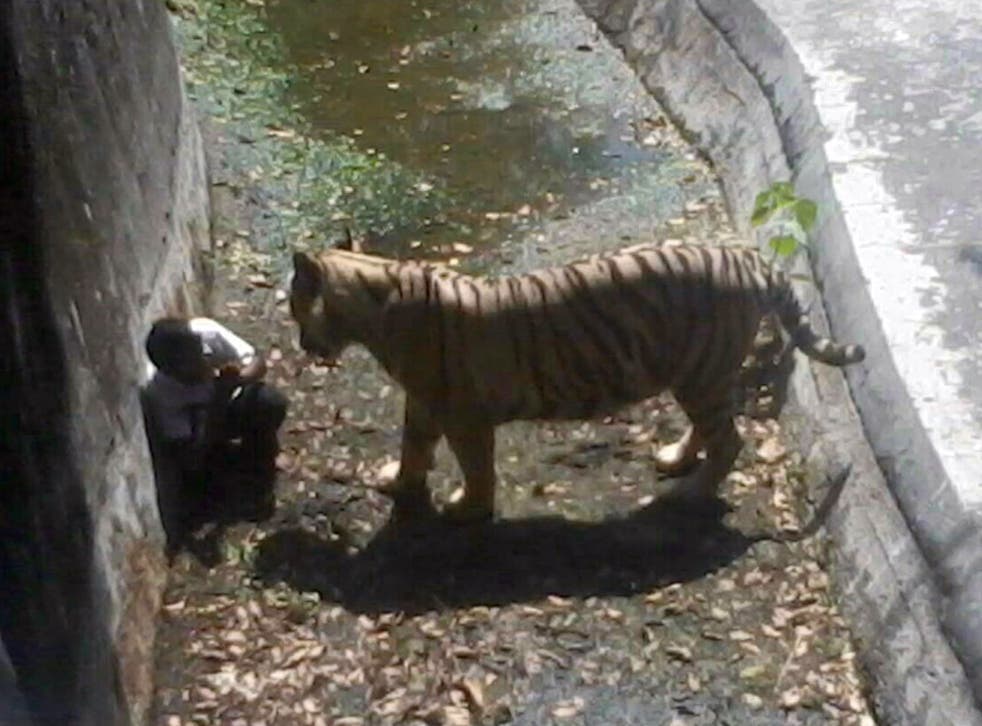 An inquiry is underway into the circumstances in which a young man with mental health problems was killed by a white tiger as it emerged zoo officials took more than 15 minutes to reach the scene of the incident.
Witnesses said the white tiger, Vijay, had sat and watched the man for 15 minutes after he either fell or clambered into the enclosure at a Delhi zoo. It was only when onlookers started throwing stones at the animal, presumably in an effort to distract it, that the tiger fatally attacked the man.
As the government's Ministry of Environment & Forests ordered an inquiry into the incident, reports said the man who was killed, 20-year-old Maqsood Khan, may have been suffering from mental health problems. Local media said the man was employed as a casual labourer and sometimes earned as little as 60p a day.
"An investigation is being carried out by the police," said Riyaz Ahmed Khan, a spokesman for the National Zoological Park, which dates back to 1952.
Warning some viewers may find these images distressing
"All the enclosures of the National Zoological Park are absolutely safe," the zoo's director, Amitabh Agnihotri, said in a statement. "No visitor can reach the moat wall of the enclosure without crossing the the stand-off barrier. This visitor...ultimately jumped into the enclosure which led to his death."
But several witnesses said the young man appeared to have lost his balance while standing on the edge of the barrier, possibly while throwing stones at the seven-year-old tiger, said to weigh around 470lbs. He then fell 18ft into the moat.
"After he fell down, the white tiger came towards Maqsood," one witness, Himanshu, told the Indian Express newspaper. "As the tiger came closer he clasped his hands and seemed to be praying. The tiger watched him closely for 15 minutes."
Zoo officials said that during that time, the guard at the tiger enclosure sounded the alarm and sent an emergency message by radio. Yet witnesses said it took between 15 and 20 minutes for additional zoo staff to arrive at the scene. By this point Mr Khan had been fatally injured.
Footage broadcast by the NDTV news channel showed images of the man cowering before the tiger and then, later, the tiger dragging the man around its enclosure.
Authorities eventually frightened the tiger into a small cage inside the enclosure. Mr Khan's body remained inside the enclosure for up to two hours.
Register for free to continue reading
Registration is a free and easy way to support our truly independent journalism
By registering, you will also enjoy limited access to Premium articles, exclusive newsletters, commenting, and virtual events with our leading journalists
Already have an account? sign in
Join our new commenting forum
Join thought-provoking conversations, follow other Independent readers and see their replies