Why Hindu nationalists would rather honour Gandhi's assassin
Nathuram Godse, the anti-Muslim extremist who murdered India's founding father, is revered as a hero by some supporters of the new Prime Minister, Narendra Modi, who can never forgive the partition of their country
Salil Tripathi
Tuesday 24 March 2015 19:48 Comments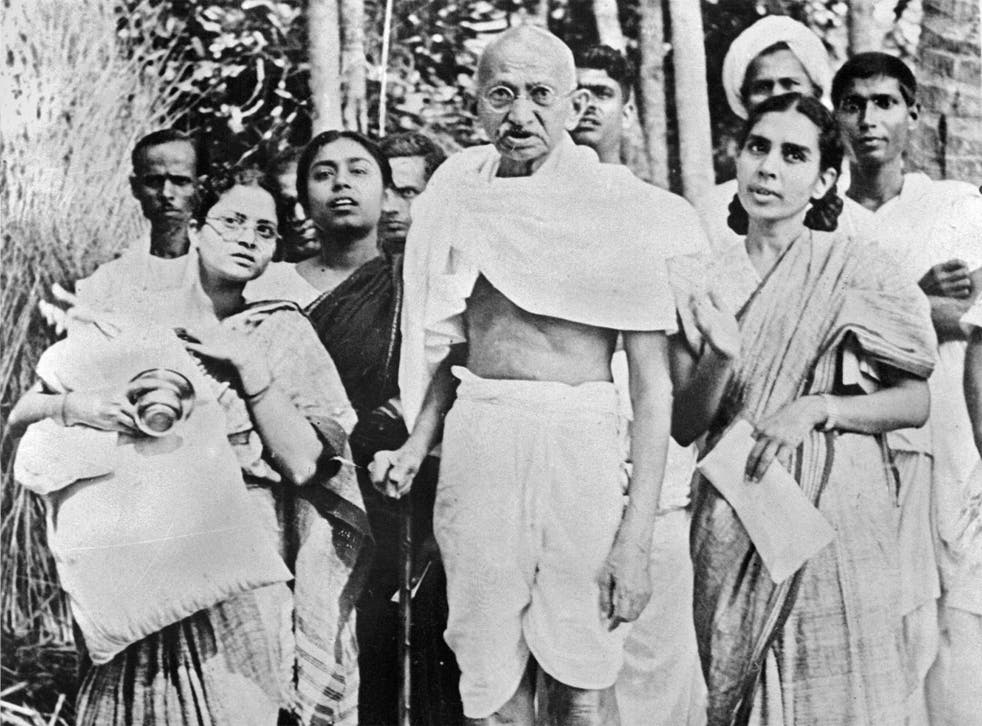 When David Cameron unveiled a bronze statue to honour India's founding father, Mohandas Gandhi, he might not have realised it, but he gave an unintended shot in the arm to Indian Gandhians.
Television networks in India showed images of the ceremony and newspapers applauded the British recognition. For many Indians, the recognition didn't come 67 years late; rather, it was timely. Since the election of the Hindu nationalist Bharatiya Janata Party to power last May, organisations supporting the Prime Minister Narendra Modi have been vocal in demanding statues to commemorate Gandhi's assassin, Nathuram Godse.
As Gopalkrishna Gandhi, academic and former governor of West Bengal state who happens to be Gandhi's grandson, said at the ceremony in London: "The fact that London.... raises a statue for him even as India has some people contemplate a temple for his assassin, shows that Gandhi's work for freedom of belief and expression succeeds in the most unbelievable ways."
The British Prime Minister spoke of giving India's founding father a permanent home in London, and among those honoured outside the Houses of Parliament Gandhi was the only one to have opposed the British empire.
The timing had its irony: almost 85 years ago, on 12 March 1930, Gandhi had embarked on the famous 240-mile march from his base at Sabarmati ashram, in the western Indian city of Ahmedabad in India, to the coastal town of Dandi, to protest at the salt tax the British had imposed. And with that march he launched a campaign of civil disobedience that ultimately led to India's independence from British rule 17 years later. That old animosity is forgotten; now Gandhi stands in Parliament Square alongside his protégé, Nelson Mandela, and his former rivals Jan Smuts and Winston Churchill. Smuts, who jailed Gandhi, later in life said he felt he was unworthy of wearing the sandals Gandhi had made for him as a gift; Churchill, who opposed Gandhi's politics, had once called him a "half-naked fakir".
But there is a greater irony. Even as Britain celebrates Gandhi, a Hindu nationalist organisation in India called the Hindu Maha Sabha, wants to build statues honouring Nathuram Godse all across India. Godse is the man who assassinated Gandhi on 30 January 1948. A week before the anniversary of Gandhi's death this year, local authorities in the northern Indian city of Meerut had to seal a spot where activists of the Hindu Mahasabha wanted to erect a Godse statue. In another city, activists named a bridge after Gandhi's assassin before its formal inauguration. Authorities hastily removed Godse's name from the bridge.
The Hindu Maha Sabha has urged the pro-Hindu nationalist Bharatiya Janata Party government in Delhi to name 30 January the "day of courage". It has planned other statues for New Delhi, Ambala (where Godse was executed), and at least 14 other cities in India. In late February, O Panneerselvam, the chief minister of the southern state of Tamil Nadu, told his state legislature that no Godse statue would be permitted in his state.
The fascination with Godse has two motives. First, some militant Hindus blame Gandhi for allowing India's Partition. They hold Gandhi and Congress Party leaders responsible for acquiescing with Muslim League demands that led to India's division at independence into two parts: a larger Hindu-dominated India which chose secularism, and a smaller Islamic state, Pakistan (which would split in 1971 into Pakistan and Bangladesh). The Partition was a traumatic episode, in which perhaps a million people died and some 14 million were forcibly displaced, and its wounds continue to haunt the two countries. After a decade, the Hindu nationalist Bharatiya Janata Party is in power, and militant Hindus, who form a sub-set of the BJP's supporters, are keen to honour their heroes.
Second, Godse's popularity within that fringe is not only because of his killing Gandhi, but also because of an emotional speech he gave at his trial, in which he explained why he saw himself as a patriot. The speech was banned by the Indian government of the time because of fears that distributing it would polarise communities. But that ban gave the speech a samizdat-like reputation. The advent of the internet made it more easily accessible.
In 2001, a play based on Godse's speech was staged in India, and briefly it became popular. It was banned for some time after its first staging in 1997. Godse's fans now describe him as a misunderstood patriot: a martyr for the Hindu cause. But Ramachandra Guha, a Bangalore-based author who has written extensively about Gandhi, said: "I don't think most of those who invoke Godse have read his speech; rather, they detest Gandhi and his ideas."
To be sure, Godse's appeal is not extensive. Rajmohan Gandhi, historian and academic who is another of Gandhi's grandsons, said: "The fascination seems harboured only by a small section. Like most societies, India contains some who are intrigued by killers of a national hero. A second reason is Gandhi's image as a friend of Muslims. Dislike of Muslims produces approval of the assassin in some."
Pratap Bhanu Mehta, president of the Centre for Policy Research, points out the ideological dimension of the debate: "The left has as much of an investment in exaggerating the apocalyptic reach of the right as the right does in feeling hurt about everything. Even in Rashtriya Swayamsevak Sangh [an organisation with close ties to the Bharatiya Janata Party] strongholds, the number fascinated by Godse is quite small."
But Mehta suggests that there is a deeper undercurrent in the debate around masculinity and the effeminate nature of Indians, which the Indian sociologist Ashis Nandy has written about. In her book The Clash Within, the American philosopher Martha Nussbaum has pointed out the anger and frustration among many Hindus who believe that Gandhi's politics of passive resistance and civil disobedience made Hindus an effeminate community.
These Hindus have turned to more militant heroes from Hindu iconography for inspiration. Godse, having shot Gandhi, becomes their natural idol. The Indian economy is growing, and it has a ruling party that talks of a more assertive India keen to recapture its lost pride. In the search for new heroes, some Indians seem to be turning to the nation's villains.
Register for free to continue reading
Registration is a free and easy way to support our truly independent journalism
By registering, you will also enjoy limited access to Premium articles, exclusive newsletters, commenting, and virtual events with our leading journalists
Already have an account? sign in
Join our new commenting forum
Join thought-provoking conversations, follow other Independent readers and see their replies