Will a woman follow Hamid Karzai as Afghanistan's president?
Fawzia Koofi is determined to run for her country's highest post, despite the dangers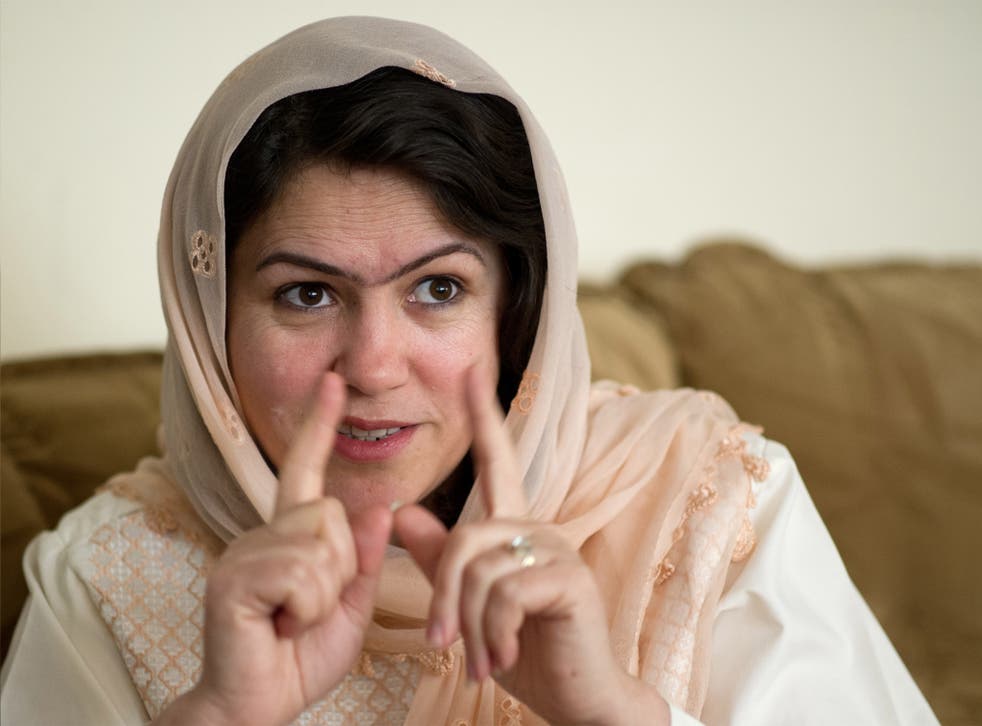 As a baby, Fawzia Koofi was placed in a field and left to die under the baking sun.
That was the choice the 38-year-old's mother made, believing she had failed by not producing a son and heir for her husband, whom she shared with six other wives. Koofi was the 19th child in her family; to her mother, a girl was just "another mouth to feed and a dowry to finance", Koofi says. The sunburnt baby was brought in by a stranger and handed back to her mother who, pitying her, decided to keep her.
Now, Fawzia Koofi has set her sights on becoming Afghanistan's first woman president at next year's national elections – a controversial move in a country where women in any position of authority are targets of death threats and assassination attempts.
Ms Koofi is no stranger to these threats – having served as an MP and the country's first female Deputy Speaker of Parliament since 2005, she is a leading activist for women's and children's rights.
Her family bears all the scars of the country's troubled history. Her father, an MP for 25 years, was killed by the Mujahideen before the Soviet invasion of 1979. Both of her brothers were killed in politically motivated assassinations, and her husband died in 2003 after contracting tuberculosis in a Taliban jail, leaving her to raise her two daughters alone.
"As a woman, I have suffered a lot – faced injustice and discrimination," says Ms Koofi, speaking to The Independent in Singapore after launching her new political party, Movement for Change in Afghanistan, in front of thousands of supporters last week.
"I would like to create an environment for my own daughters and other women in my country so that they don't suffer as much as I suffered, and as the generation before me suffered," she says.
Ms Koofi has promised that her party will focus on women's rights and the progressive parts of society that she says aren't being represented by the male-dominated, conservative politicians who have ruled Afghanistan for years.
"All of the political parties in Afghanistan are being led by a man and there is a lack of women and youth participation. All of these people have been ruling Afghanistan for the last 55 years… if you look at the parties, the power transfers from the father to the son and from the son to the grandson.
"I represent a transformed Afghanistan. It is not only youth that are pro change: I have had an elderly person ask me about schooling for their girls; these same people 15 years ago wouldn't have let their boys go to school," she says. "That's a transformation that's happening right now in Afghanistan and it hardly gets reported because it's not a suicide bombing and it's not a measurable change.
"There is a lack of change and vision in these parties especially when it comes to women's rights and Afghanistan now requires parties and politicians who adjust themselves with the changes [that are going on]."
Whoever takes over from Hamid Karzai as President will face a long list of challenges – and at the top will be the handling of the country's security situation after the withdrawal of US and Nato forces, expected to take place late next year.
Ms Koofi has previously criticised the Obama administration's decision to withdraw troops, pointing out that Afghanistan is being left as a largely undeveloped nation lacking in infrastructure, security and health care, and heavily dependent on opium production amid declining opportunities for Afghans in rural areas to make money through other means.
"You have a political transfer of power which is not a one-day thing, it will take a few months and you have a military transition which is also a long process... it [the withdrawal] was not realistically planned," she says.
Opportunities for women have notably improved since the Taliban was toppled from power in 2001. The constitution now treats both sexes as equals and the 2009 Law on the Elimination of Violence against Women (EVAW) made crimes of child marriage, forced marriage and rape for the first time under Afghan law, with tough penalties for domestic violence.
However, many fear that advancement has reached its zenith and is in danger of regressing. In some parts of the country conservatives are already preparing themselves for the "new situation", as Ms Koofi describes it – a possible power vacuum to be filled by politicians sympathetic to the Taliban. She says some parliamentarians have joked to her about how women's rights will fare after her "international friends" have left.
Conservatives have already tried to stall further amendments to the EVAW law, arguing that President Karzai should never have signed the decree in the first place. Violence against women in positions of authority has also continued unabated with two senior female police officers gunned down in the capital of Helmand province recently.
Earlier this year, Human Rights Watch estimated that more than 400 women had been imprisoned for the "moral crime" of running away from home or having sex outside marriage, a 50 per cent increase in the past 18 months.
Ms Koofi says that progress for women in Afghanistan can only be achieved by challenging men in every traditional realm. "We don't always have to have a man with a beard in a uniform and Kalashnikov to provide security and safety for our people. You could have a policewoman with a pistol who can provide security and social safety… I would like to see women take responsibility for safety, but I know the risks," she says.
As her own profile has risen, so too have the threats against her and her family. She has survived two assassination attempts since moving into politics, including a prolonged assault in 2010 on her armed convoy while she cowered in the back of her car.
Last week she had to bolster her security and place soldiers on the rooftops of her neighbours' homes after the National Department of Security informed her that 30 armed Taliban fighters were heading to Kabul to attack her.
"I didn't sleep for three nights," she says. "Even if my security is at the gate, if they have 30 people who want to kill themselves, you cannot stop them."
Regular letters have appeared at the gates of her home threatening to kidnap her daughters. When she travels overseas, it is their security she worries about most. "Sometimes it gets to the level where you'd like to stop it, because it's too much. But when you see a man or a woman with so many problems and they need your help, and if I can make a difference in their life, then I should continue."
But is Afghanistan ready for a woman president? "If Pakistan is ready, why not Afghanistan?" she replies. "I have the people's support, I believe in myself… the only concern I have is lack of financial support."
As the young girl who persuaded her parents to send her to school, she is hopeful that her candidacy will help consolidate the gains made over the last 12 years, such as the opportunity of schooling for girls.
"Afghanistan has come a long way, but if I don't run [for political office] and other women like me don't run then we will automatically give this space for the conservatives to rule the country… you allow them to have the opportunity. If you really want change, you have to take that opportunity away from them."
Afghan election: Key figures
Abdullah Abdullah
The only confirmed candidate, Mr Abdullah is a former foreign minister. He was also an associate of Ahmad Shah Massoud, the "Lion of Panjshir", who was assassinated by the Taliban days before the 9/11 attacks in the US. He is likely to take a hard line against insurgency.
Ali Ahmad Jalali
The Afghan-American, born in 1940, has spent most of his career as an academic in the US. Currently professor at the United States' National Defense University, he served briefly as Afghanistan's interior minister.
Mullah Mohammed Omar
He is unlikely to be on the ballot paper, but the leader of the Taliban is almost certain to have a significant role in the future of Afghanistan.
Join our new commenting forum
Join thought-provoking conversations, follow other Independent readers and see their replies