Woman caned in Indonesia for 'standing too close to her boyfriend'
Aceh is the only province in Indonesia with sharia law
Charlotte England
Tuesday 18 October 2016 13:57 Comments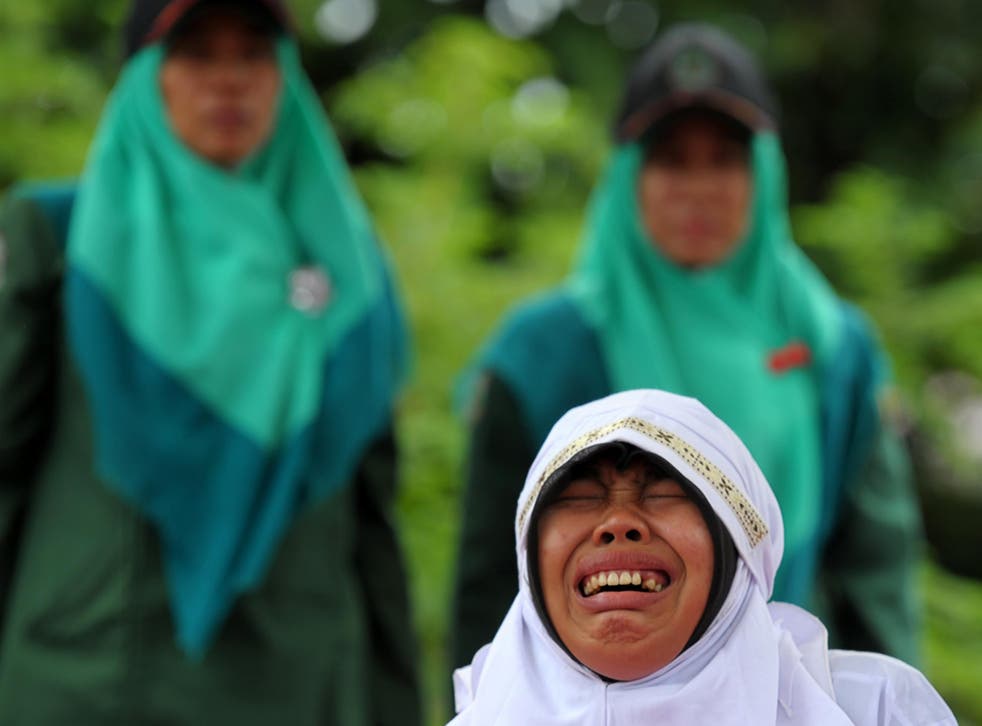 An Indonesian woman has been caned in front of a jeering crowd on Monday after being accused of "standing too close to her boyfriend".
The woman, who has not been identified, was among 13 people flogged in Aceh province on the western island of Sumatra for allegedly breaking strict Islamic laws, which ban intimate behaviour such as touching, hugging, and kissing between unmarried people.
Photographs of the young woman crying out in pain have been shared by local and international media, amid growing concerns over the rising number of people — particularly women — subjected to corporal punishment in the region.
Indonesia is the world's most populous Muslim-majority country, but Aceh is the only province which imposes sharia law.
People in the region can be flogged for a number of "offences", including gambling, drinking alcohol, and gay sex, in addition to any consensual sex outside of marriage.
Seven men and six women aged between 21 and 30 were punished on 17 October at a mosque in the provincial capital of Banda Aceh, after six couples were found guilty of getting "too close" out of wedlock.
Another man was caned for allegedly "spending time with a member of the opposite sex in a hidden location in a fashion that could lead to adultery".
Only one of the group due to be flogged, a 22-year-old woman, was granted a temporary reprieve, because she was pregnant.
Aceh Deputy Mayor Zainal Arifin said she would still be caned, but her sentence would be suspended until after she had given birth.
The official added that he hoped the canings would serve as a deterrent.
"We hope there are no more people in Banda Aceh who break the law in future," he told AFP.
Aceh began implementing sharia law after being granted special autonomy in 2001, in an attempt by the central government in Jakarta to quell a long-running separatist insurgency.
In October 2015, regional authorities added a new passage to the Aceh Islamic Criminal Code, criminalising consensual sexual relations outside of marriage.
The UN Human Rights Committee and other human rights bodies raised concerns about laws criminalising "adultery" and other consensual sexual relations outside marriage, saying they violate the right to privacy.
Amnesty International said the law would be particularly detrimental to women.
"Laws concerning 'adultery' are discriminatory and have a disproportionate impact on women," the organisation said in a statement.
"Social expectations regarding 'appropriate' behaviour for women and discriminatory attitudes that seek to control women's sexuality mean that women and girls are more likely to face arrest and prosecution for these so-called 'crimes'".
The group added that 108 people had been caned in Aceh for gambling, drinking alcohol or "adultery" by the end of 2015.
In pictures: Haze in Indonesia

Show all 8
It is estimated that even more people have been publically flogged so far in 2016 year, with a particularly large number of women being punished.
In April a 60-year-old woman was caned for selling alcohol in an unprecented case: the first time a non-Muslim had been handed such a punishment in Indonesia.
More than 90 percent of Indonesians describe themselves as Muslim, but the vast majority practice a moderate form of the faith.
Additional reporting by Agence France Presse
Register for free to continue reading
Registration is a free and easy way to support our truly independent journalism
By registering, you will also enjoy limited access to Premium articles, exclusive newsletters, commenting, and virtual events with our leading journalists
Already have an account? sign in
Join our new commenting forum
Join thought-provoking conversations, follow other Independent readers and see their replies