World's longest running hunger striker Irom Sharmila charged with trying to commit suicide
Activist launched her fast in November 2000 to protest over the killing of a group of civilians by paramilitary forces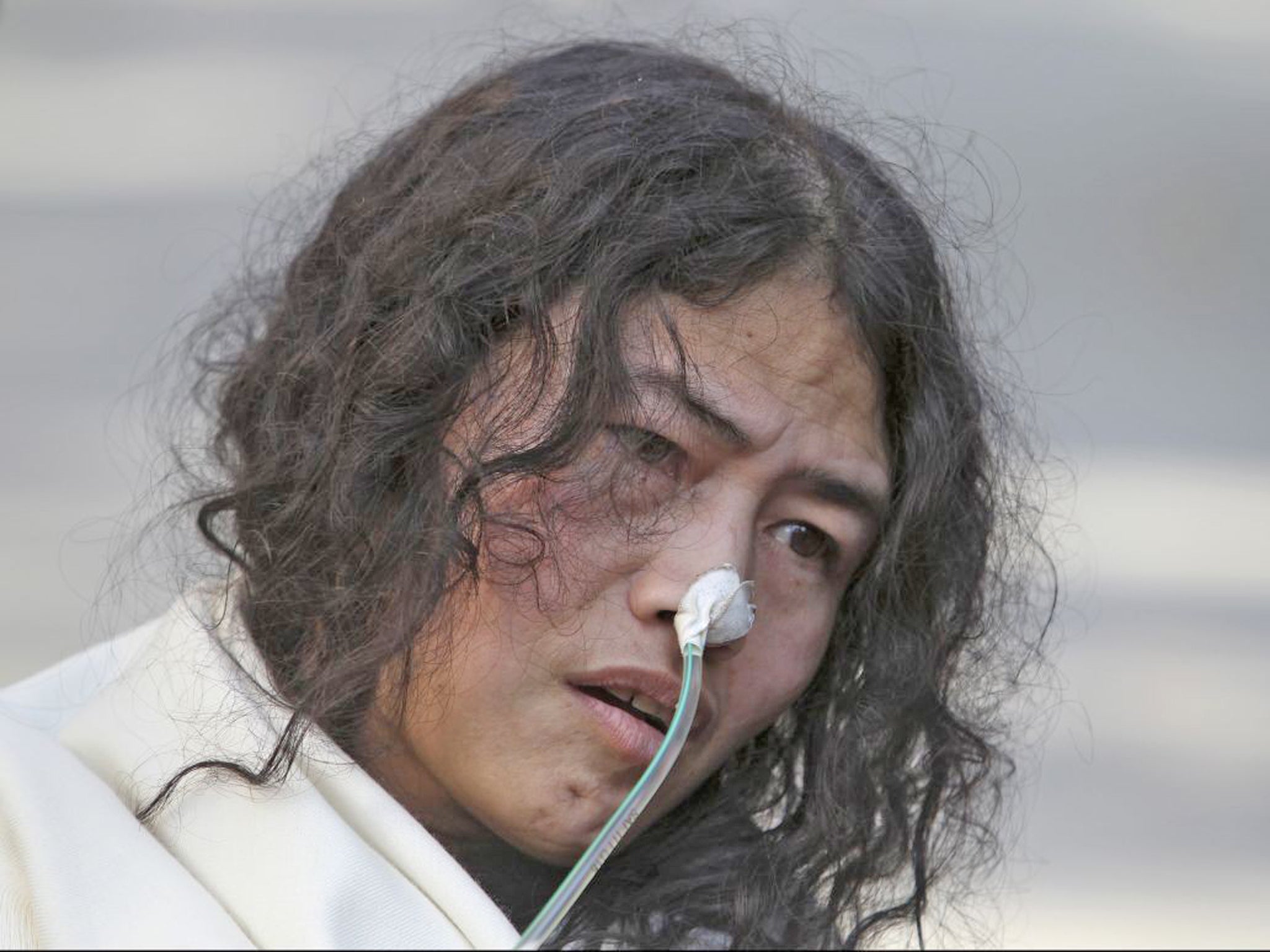 It was a piece of theatre that appeared little short of absurd.
Activist Irom Sharmila, a woman from India's north-east who has been force-fed for the past 12 years, was flown to Delhi so that a judge could charge her with trying to commit suicide. The 40-year-old declined to play along.
"I do not want to commit suicide. Mine is only a non-violent protest," the activist told the judge, according to the Press Trust of India. "It is my demand to live as a human being. I love life. I do not want to take my life but I want justice and peace."
The activist known as the Iron Lady of Manipur launched her fast in November 2000 to protest over the killing of a group of civilians by paramilitary forces and to demand the repeal of legislation that provides effective immunity to soldiers. Since then she has refused to eat, drink or even brush her teeth with water.
Refusing to end her fast until the so-called Armed Forces Special Powers Act (AFSPA) is withdrawn from all of Manipur, she has been repeatedly detained and fed twice a day by a tube attached to her nose. In 2006, she brought her protest to Delhi where she was arrested by police and charged under section 309 of the Indian penal code; the slow nature of the system means her case is only now reaching court.
"The magistrate said to her 'if you plead guilty the [matter could be dropped],'' said Svetlana Correya, from the Human Rights Law Network and a member of the activist's defence team. "But she did not want to plead guilty. She said 'I'm not trying to commit suicide but this is a form of protest'."
Ms Correya said the judge said he had no option but to adjourn the case until May 22 when the court will hear evidence and Ms Irom will have to attend again. A spokesman for the Delhi police failed to respond to queries.
Ms Irom is due to be flown back to Manipur on Tuesday, escorted by four police officers and a three-strong medical team. She is kept in the secure wing of the Jawaharlal Nehru Institute of Medical Sciences hospital in the city of Imphal where twice a day she is fed a liquid mixture of protein, carbohydrates and vitamins. She rarely gets to see the sunshine.
Following her court hearing, Ms Irom insisted her fast would continue and said she was following the example of Mohandas Gandhi, the "father of the nation". Taking hold of the feeding tube attacked to her nose, she told said: "This has become a part of my body. I think it's an integral to my struggle."
She added: "As a human being, I am a natural phenomenon. But this is not a natural phenomenon."
After deciding to launch her fast, she has bad barely any contact with her family, reckoning that if she were to meet her mother, Shakhi Devi, who lives little more than a mile from where Sharmila is held, she would feel tempted to end her action. "I feel that we came here alone and that we pass away alone," she said. "I don't want others to judge me to do this or that."
Manipur has been rocked by five decades of violence stemming from the actions of more than 40 militant groups demanding independence from India. The state has responded by dispatching tens of thousands of security personnel, who have been repeatedly accused of human rights abuses. A government panel is currently hearing evidence regarding claims of extra-judicial killings.
The activist, who has won a number of international human rights awards, said the state's chief minister, Okram Ibobi Singh, had done nothing to improve the situation and claimed he was only focussing on his own business interests. "Everything in Manipur is upside down," she said.
Asked about comparisons that have been made between her and other celebrated activists such as Nelson Mandela, she added: "I don't like to worship human beings. All human beings are two sides, good and bad, in their character. So when we worship a person, we worship the bad side of the person."
Reflecting on the 12 years that have passed since she stopped eating, the activist said: "I never thought about [my] situation when I started. I just felt I was a foundation stone."
Join our commenting forum
Join thought-provoking conversations, follow other Independent readers and see their replies