Chinese shopping mall refuses to relocate 'world's saddest polar bear' to UK zoo
More than 580,000 people have signed a petition to force the Grandview aquarium to close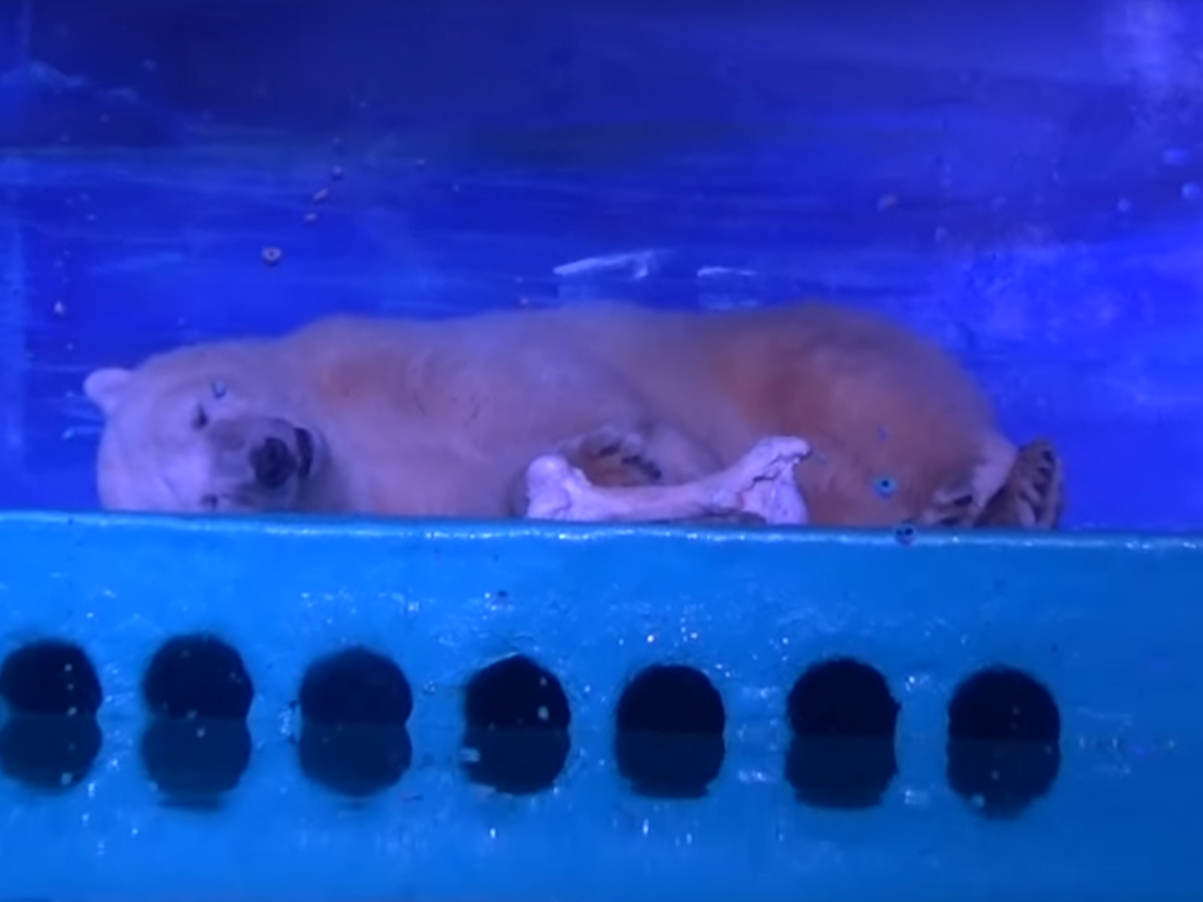 A polar bear allegedly being held in cruel conditions at a shopping centre in China will not be moved to a British zoo, after the aquarium's manager refused calls for it to be transferred.
A petition to remove the bear, named Pizza, gained more than half a million signatures after photos were posted online from the Grandview facility in Guangzhou, south China.
Pizza was shown lying on the ground in a room without windows, looking visibly distressed as tourists crowded around to take photographs.
Yorkshire Wildlife Park in Doncaster confirmed it would offer a new home to the bear, but declined an offer of money due to "fear that any funds could be used to buy more animals".
The park is home to a purpose-built environment for polar bears and currently has four of the animals living there.
'World's saddest polar bear'
However, Grandview general manager Fan said there had been no formal contact from the zoo and argued there was "no need for foreign organisations to get involved".
"We are a legally compliant aquarium, run according to Chinese standards and protecting animal rights. In the future we will strengthen the protection of animal rights and welfare," he told AFP.
Hong Kong-based Animals Asia said the cost of transferring pizza 10,000km to Doncaster will be raised charitably if the offer is accepted, and confirmed they had organised a meeting with Grandview to discuss the issue.
World news in pictures
Show all 50
The charity's welfare director Dave Neale said Grandview "have the chance to put their mistake right" and encouraged them to accept the offer.
"We would be delighted to see Pizza end up at Yorkshire Wildlife Park," he told BBC News.
"There can be a happy ending - Pizza would not only enjoy incredible facilities, he would also be part of a community of bears."
Join our commenting forum
Join thought-provoking conversations, follow other Independent readers and see their replies