Wu'er Kaixi: The Chinese dissident who can't get himself arrested - not even to go home and see his sick parents
Wu'er Kaixi, living in exile in Taiwan, has tried to hand himself in to Chinese authorities several times, to no avail. As the activist tries to reunite with his ailing parents, Tiananmen Square continues to define him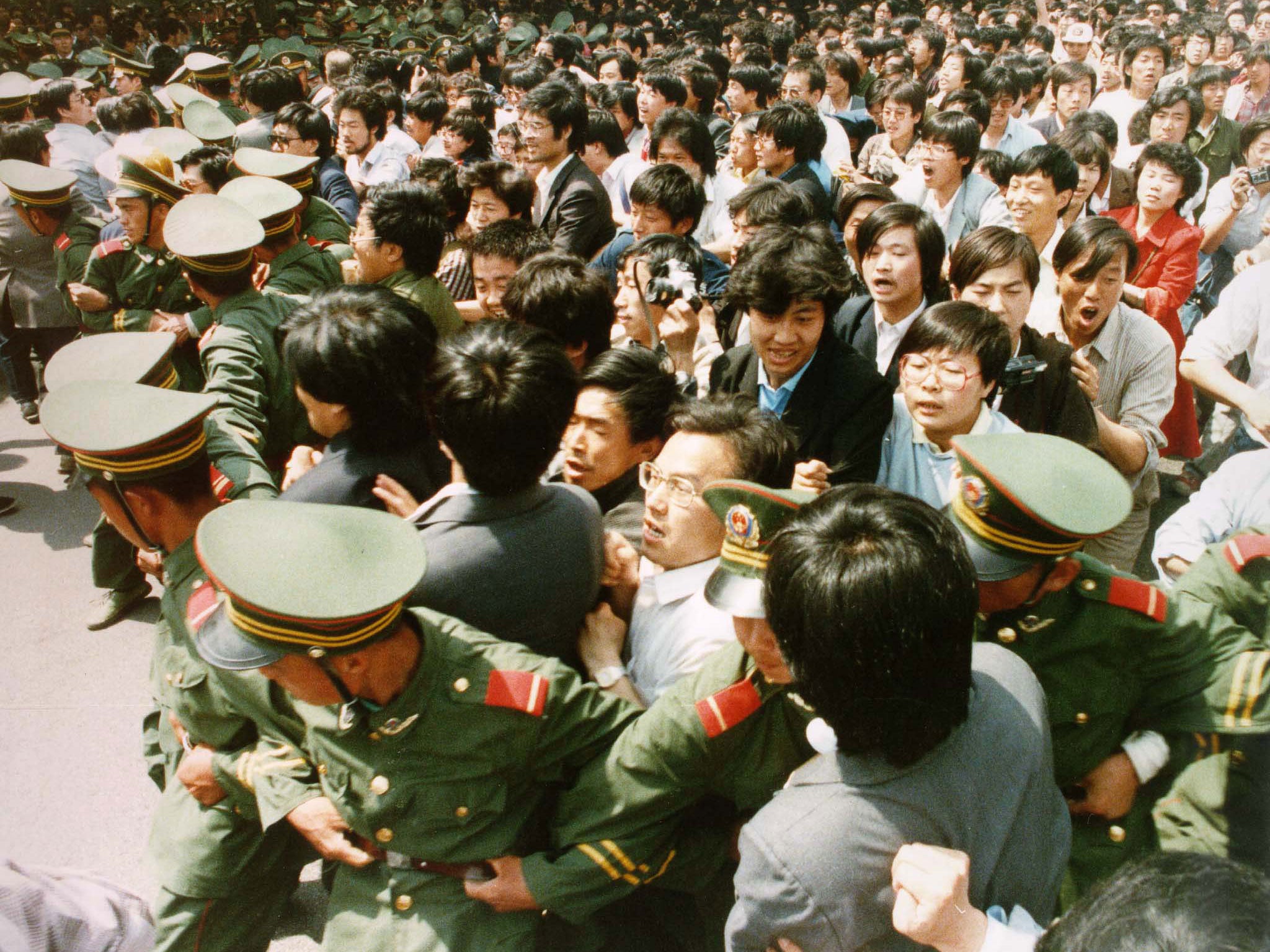 As one of the leaders of the 1989 Tiananmen Square protests, Wu'er Kaixi was named as China's second most-wanted dissident. He is still a wanted man in China.
As such, it is difficult to imagine why Wu'er, who lives in self-imposed exile in Taiwan, would ever want to return to a country whose government killed hundreds of his fellow pro-democracy demonstrators on that infamous day more than two decades ago.
That, however, is exactly what Wu'er wishes to do. Monday marks his fourth attempt to turn himself in and return to China – and the fourth time he was refused. This time, he had boarded a Cathay Pacific Airways flight from Taipei to Bangkok on Monday morning, using a stopover in Hong Kong to try to turn himself in to authorities, with the hope that he would be deported to China. The Hong Kong authorities put him straight back on a plane to Taiwan. 
Like other exiles from those turbulent days – which saw thousands demonstrate in favour of democratic change in the Communist country –Wu'er has been stuck in limbo. He is wanted for arrest by the Chinese authorities, and yet is prevented from returning home. For nearly a quarter of a century, Wu'er has not seen his elderly parents, who remain in China.
"My parents are old and in ill health," Wu'er wrote in a blog post shortly before being sent back to Taiwan. "The Chinese government refuses to issue passports for them to travel abroad and visit me. My parents have been told clearly that the reason they will not be issued passports is that their son is a dissident," he wrote.
He said this behaviour is not in keeping with Chinese law or international treaties, nor does is it true to the spirit of Chinese traditional values.
"I miss my parents and my family, and I hope to be able to be reunited with them while they are still alive, even if the reunion would have to take place behind a glass wall," he said.
During his attempt to hand himself over, Wu'er was accompanied by the Hong Kong pro-democracy legislator Albert Ho, who helped the NSA whistleblower Edward Snowden when he was hiding out in Hong Kong in June. A spokesman for Hong Kong's Immigration Department said yesterday it would not comment on individual cases.
In June 2009, Wu'er was denied entry to Macau, which, like nearby Hong Kong, is a specially administered Chinese region. Last year, he tried to turn himself in to the Chinese Embassy in Washington. In 2010, he was arrested when he tried to enter the Chinese Embassy in Tokyo.
"What I'm doing is a result of the Chinese government's absurd act of ordering my arrest, while at the same time refusing to allow me to return," he wrote in his blog.
"I am willing to turn myself in to the Chinese authorities. I urge the [Hong Kong Special Administrative Region] SAR government, based on Chinese law, and by my own agreement, to exercise its judicial power and extradite me to the Chinese authorities."

Alongside Shen Tong, Chai Ling and Wang Dan, the most wanted of the 21 student leaders of the Tiananmen Square protests who was jailed twice for his actions, Wu'er Kaixi was one of the iconic faces of the 1989 Tiananmen Square pro-democracy movements. In May 1989, Wu'er met Li Peng, the Chinese premier who just weeks later ordered tanks to roll into Tiananmen Square to brutally quell the protests. Wu'er, who was on hunger strike at the time, wore a hospital gown during a live television interview in which he rebuked Li Peng in a remarkable sign of defiance.
"Li Peng sat down and gave us an endless monologue, he was saying sorry for being 20 minutes late, but the traffic was bad because the city was in chaos, implying that we should be responsible for the situation. So I interrupted him and said: 'No, no, you weren't 20 minutes late, you were a month late. We asked you to come on 19 April,'" Wu'er said of the incident years later.
In exile, Wu'er has remained fiercely critical of China, despite President Xi Jinping's promises of reforms when he took power this year. Wu'er has especially condemned the jailing of the Nobel Peace Prize winner Liu Xiaobo, who is in detention for subversion.
"Liu Xiabo was arrested and sentenced for 11 years for expressing his political opinions, and he has now been in prison for five years," Wu'er wrote. "Many more Chinese citizens have been imprisoned for their ideas. Is this China's idea of a 'rising great nation' and the 'China dream' – to name just two official catch-cries?"
Wu'er says he deals with survivor's guilt every day, along with homesickness, anger and the feeling that he was the captain who survived the sinking of his ship. In interviews, he recalls the events of 4 June 1989 with vivid detail, talking of bullets flying past his head.
The Communist Party maintains the protests were an attempt to oust them and says the use of military force was necessary.
After the crackdown, Wu'er was one of around 150 dissidents smuggled out of China by "Operation Yellow Bird", a Hong Kong-based group which worked with Triad criminal gangs.
Key members of Operation Yellow Bird escaped Hong Kong before the 1997 handover to China, after being warned by Chinese officials that they could be the subject of reprisals.
From Hong Kong, Wu'er managed to travel to the United States, where he studied at Harvard and then settled in Taiwan, where he has been a talk-show host, a restaurateur and a fund manager, though he says his life has been defined by the events of 1989.
He has often spoken of how Hong Kong played an important role in making it possible for Chinese democracy to survive overseas, and reiterated his gratitude in his blog post yesterday.
"I will always be indebted to Hong Kong for that," Wu'er wrote. " The Victoria Park memorial that has taken place annually since the 1989 massacre is a globally recognised beacon in support of our endeavours to bring democracy to China. I admire the people of Hong Kong for this."
Islamic group praises Tiananmen attack
A radical Islamic group seeking independence for a north-western Chinese region has praised a deadly attack in Tiananmen Square last month and warned of possible new strikes. It wasn't clear if the Turkistan Islamic Party was claiming it planned the assault. Observers have questioned whether the group is capable of organising such attacks.
Join our commenting forum
Join thought-provoking conversations, follow other Independent readers and see their replies