Yingluck Shinawatra: Former Thai PM pleads not guilty in 'politically led' corruption case
The Shinawatra clan remain popular, especially in their rural heartlands, and Ms Yingluck was warmly welcomed by supporters as she arrived at the Supreme Court in Bangkok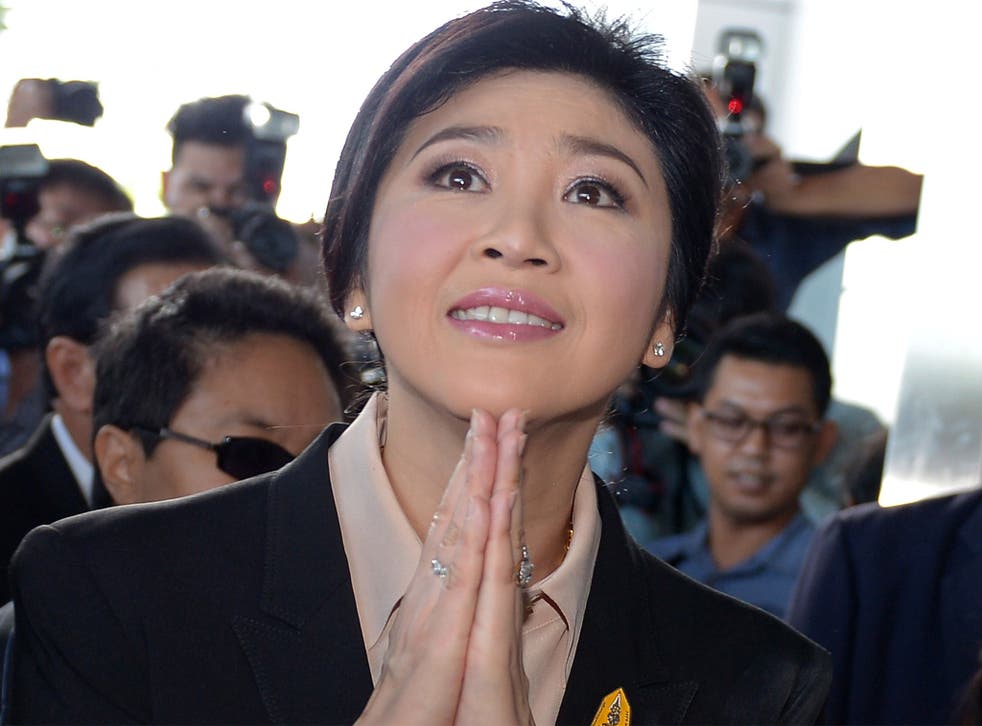 The former Thai Prime Minister Yingluck Shinawatra has pleaded not guilty to charges of criminal negligence which could see her jailed for up to 10 years.
She is accused of failing to prevent corruption and losses in a rice subsidy scheme during her term in office from 2011 to 2014. Her supporters maintain the trial is politically motivated and part of the ruling military's bid to stamp out the influence of the Shinawatra clan.
Ms Yingluck's older brother Thaksin Shinawatra, a telecoms tycoon-turned-politician, was overthrown as Prime Minister in a 2006 military coup, and now lives in exile. Thailand's constitutional court forced Ms Yingluck from office for abuse of power last May, amid protests aimed at toppling her government. Two weeks later, the army chief General Prayuth Chan-ocha declared another coup, and the country has been ruled by a military junta since.
"The trial showcases the potential power of the Thai judiciary and the Thai establishment to deal a deadly blow to 'House Shinawatra's' claim to political influence," said Rachel Harrison, reader in Thai cultural studies at Soas, University of London.
"At the same time, any potential for a backlash by Yingluck's 'red-shirt' supporters in Thailand's north and north-east is being crushed by a campaign of military intimidation. Yingluck is a pawn in a larger political game."
Ms Yingluck was warmly welcomed by supporters and former MPs from her Pheu Thai Party as she arrived at the Supreme Court in Bangkok. Prosecutors say that under the subsidy scheme, farmers were paid inflated prices for rice that was often not sold on, costing the country billions of dollars. In January, Ms Yingluck was retroactively impeached for her role in the project, receiving a five-year ban from politics.
The Shinawatras remain popular, especially in their rural heartlands in the north and north-east, but are reviled by much of the Bangkok elite who see them as corrupt and the red-shirt movement they lead as a threat to their traditional power and privilege. David Streckfuss, an independent Thailand analyst, said it would be hard for an impartial court to convict Ms Yingluck, but the case was "politically motivated". He said: "She seems to be being punished for having a popular policy, a policy that helped get her elected and she carried through with. I think it's very difficult to prove negligence or dereliction of duty. They would have to prove that there was corruption, and that it came to her attention and she didn't do anything. The ultimate target is to eliminate Thaksin's influence in Thai politics – as if that were the real problem."
The court granted bail of 30 million baht (around £580,000), on condition that Ms Yingluck not leave the country without permission. The next hearing was scheduled for 21 July. Shortly afterwards, the Deputy Prime Minister Wissanu Krea-ngam announced that elections would not be held until at least August 2016. According to the junta, a referendum must be held on the newly drafted constitution before the general election.
Critics say the new constitution is aimed at preventing a comeback by Thaksin Shinawatra. The military abolished an earlier constitution after it took over power and the government operates under a temporary charter. The junta agreed that the interim charter should be amended to pave the way for the referendum.
Register for free to continue reading
Registration is a free and easy way to support our truly independent journalism
By registering, you will also enjoy limited access to Premium articles, exclusive newsletters, commenting, and virtual events with our leading journalists
Already have an account? sign in
Register for free to continue reading
Registration is a free and easy way to support our truly independent journalism
By registering, you will also enjoy limited access to Premium articles, exclusive newsletters, commenting, and virtual events with our leading journalists
Already have an account? sign in
Join our new commenting forum
Join thought-provoking conversations, follow other Independent readers and see their replies