Yulin dog meat festival: Chinese city retains its appetite despite months of protests
Restaurants report brisk business as opponents fail to halt killing of up to 10,000 dogs for the pot
Jamie Fullerton
Tuesday 23 June 2015 11:09 Comments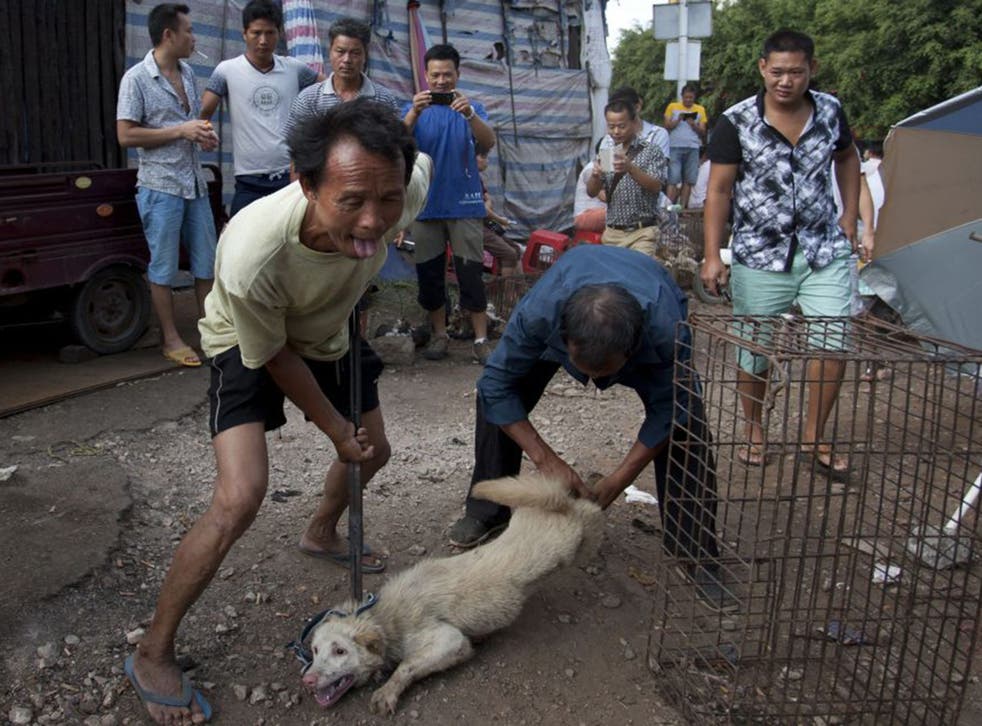 Thousands of dogs have been slaughtered and eaten at a "dog meat festival" in the city of Yulin, China over the past two days, with restaurants reporting brisk business as queues formed outside them.
Protesters at the annual event, which residents in the southern city say is a tradition to mark summer solstice, have bought hundreds to save them. But they have failed to prevent the killing of up to 10,000 dogs for the pot.
Yesterday morning a small group of protesters clashed with around 20 men outside the headquarters of Yulin's local government after they held up signs that read "Crack down on illegal dog meat trade" and "Punish illegal dog transport". Their placards were swiftly torn down.
One protester, who only gave his surname, Hao, said: "We held banners and they put us under close watch. I've been talking to locals from all walks of life here, from dog-meat vendors to scholars. The normal locals don't know about the cruelty involved in the process of slaughtering."
In pictures: Yulin meat festival

Show all 6
Adam Parascandola, director of animal cruelty issues at US activist group The Humane Society, said he had been struck by "the huge variety of breeds" of live dogs, delivered on the backs of scooters and trucks, on sale at a market. "I saw a Dalmatian and a chow and many dogs wearing collars that indicated they were stolen pets," he said.
An activist from animal rights group Guangdong Best Volunteering Centre, who posts online under the name Shan Dai, said: "We went to a dog meat market on Saturday where vendors waved machetes and security people followed us, saying they were 'bodyguards'. Some volunteers have been attacked."
Selling dog meat for consumption is legal in China, but protesters have accused vendors of flouting hygiene regulations and stealing pets for slaughter. The local Yulin government distances itself from the event, and tighter regulations about killing dogs in public have led to slaughterhouses being relocated to inconspicuous locations.
"I went to one of these slaughterhouses and saw more than 100 dogs in a pen, stacked two or three dogs deep," Mr Parascandola said. "A man went in and started clubbing them. The dogs were screaming." He added that activists were harassed. "On Sunday we gave dog food and water to a shelter," he said. "They called us later to say that a group of men had just threatened to take the dogs, then took all the food."
Many bought dogs to save them from slaughter, housing them in makeshift shelters. One woman, Yang Xiaoyun, paid 7,000 yuan (£1,130), to save 100 dogs in Yulin on Saturday. She was seeking new homes for them in Tianjin – more than 1,200 miles away.
British comedian Ricky Gervais and Brazilian supermodel Gisele Bundchen have joined in a social media campaign calling for an end to the festival, as have some Chinese celebrities. Shareeza Bhola, communications manager for Change.org, said that more than three million people had signed petitions against it. Campaigns on Weibo, China's version of Twitter, have also been prominent.
Register for free to continue reading
Registration is a free and easy way to support our truly independent journalism
By registering, you will also enjoy limited access to Premium articles, exclusive newsletters, commenting, and virtual events with our leading journalists
Already have an account? sign in
Join our new commenting forum
Join thought-provoking conversations, follow other Independent readers and see their replies