Zainab Ansari: Police arrest 'serial killer' over rape and murder of 7-year-old that sparked protests across Pakistan
Twenty-four-year-old man arrested and linked to 'at least seven' other killings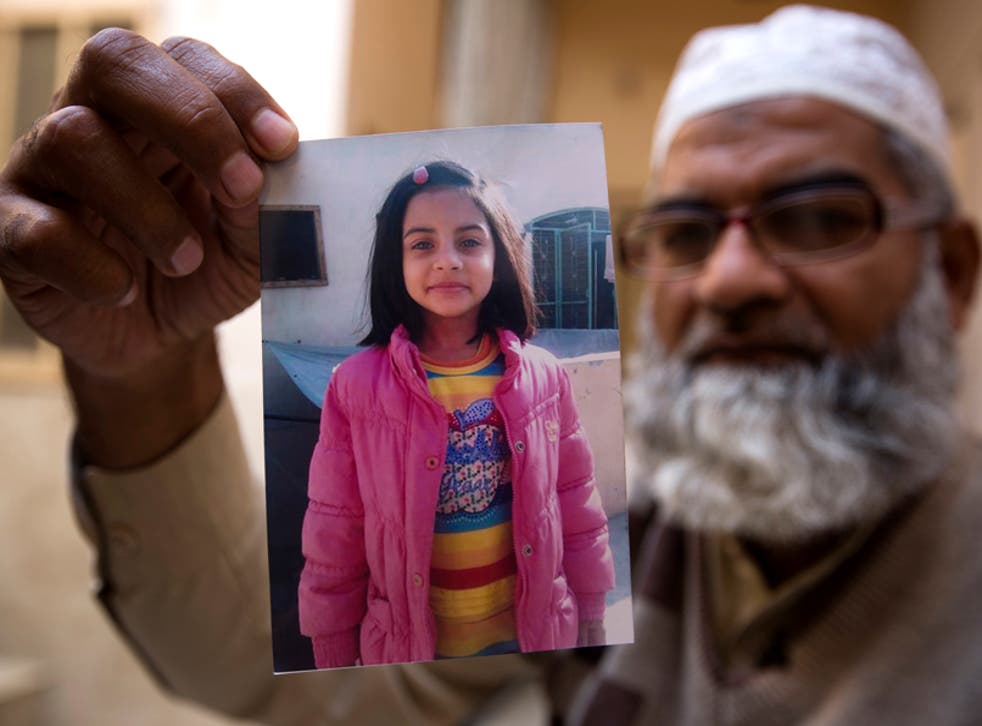 A man suspected in the rape and killing of a 7-year-old girl has been arrested and has confessed to hers and at least seven other child killings, Punjab province's top official said Tuesday.
Police launched a manhunt for the person responsible for the murder of Zainab Ansari in Kasur, eastern Punjab after the death sparked widespread protests.
At a news conference in the capital, Lahore, Chief Minister Shahbaz Sharif identified the suspect as Mohammed Imran, 24, who was arrested near Kasur.
Mr Imran will face the death penalty if found guilty.
After the 7-year-old's body was found earlier this month, police revealed at least 10 similar cases had been recorded in the city over the past 12 months.
The breakthrough came in what officials are now calling a serial murder case and which has stirred outrage across the country.
Zainab was sexually assaulted and her body thrown in a rubbish dump, where it was eventually discovered earlier this month.
All of the other young female victims lived within a 3km radius, went missing from near their homes and were dumped on rubbish sites or in abandoned houses nearby.
Mr Imran did not immediately have legal representation, officials said.
Mr Sharif said the provincial forensics lab processed 1,150 samples of DNA before arresting Imran.
"The beast has confessed to have committed the past such crimes," he said. "His DNA was matched 100 per cent with samples collected from crime scenes."
World news in pictures

Show all 50
Earlier this month Zainab's father Ameen called on the government to publicly punish the perpetrator.
"If the culprits are punished publicly then it will serve as a deterrent for preventing similar cases," he said.
Mr Sharif appealed to the chief justice of Lahore High Court to ensure a quick trial for Imran, who he said will face the death penalty.
"If the law permits and the court allows, I wish to hang such a beast publicly," said Mr Sharif, adding: "If this is done, there will be no killing of children by any other beast in future."
Zainab's father sat next to the chief minister at the news conference. He expressed satisfaction with the investigation.
AP contributed to this report
Register for free to continue reading
Registration is a free and easy way to support our truly independent journalism
By registering, you will also enjoy limited access to Premium articles, exclusive newsletters, commenting, and virtual events with our leading journalists
Already have an account? sign in