Anger over 'Nazi Swastika' New Zealand flag entry
The 'Red Peak' design was allowed after being debated in parliament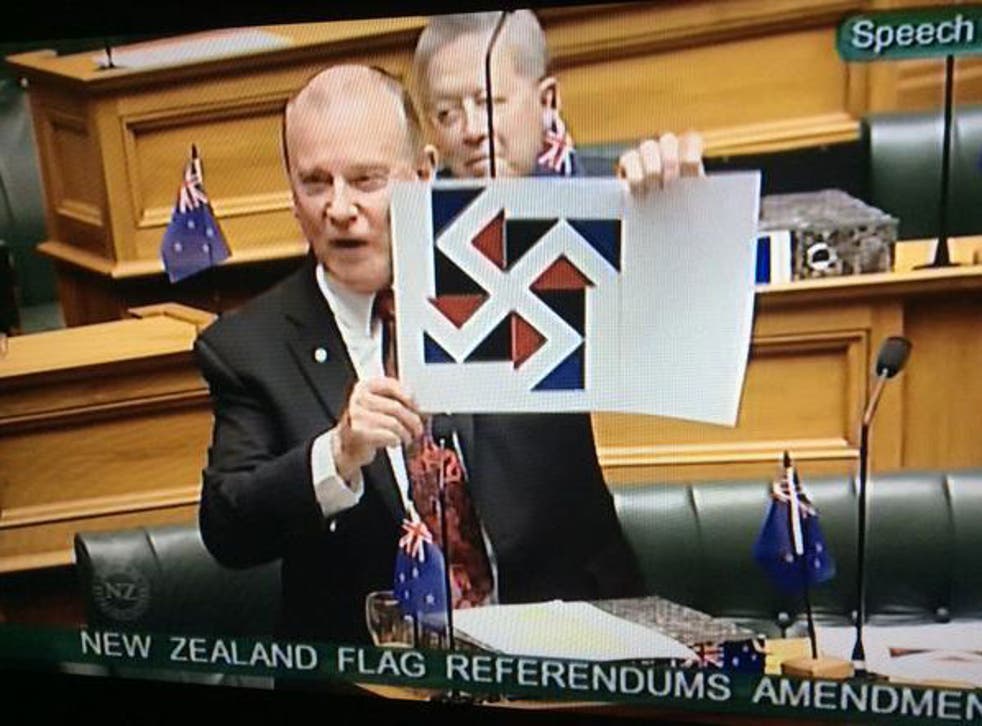 A wildcard entry in New Zealand's flag referendum has been likened to the Nazi Swastika symbol by politicians.
Prime Minister John Key had previously refused to add the new 'Red Peak' design to the contest, which already comprised of four entries.
But the inverted V-shape flag will now been included in the referendum due to take place in November after 52,000 people called for it to be allowed, the BBC reported.
And the news will add to the fury felt by the New Zealand First party, who suggested the design could be misappropriated as a symbol of Adolf Hitler's evil regime.
During an occasionally bizarre debate in parliament on Wednesday, Denis O'Rourke MP demonstrated how the design could be made to resemble the Nazi Swastika if four of the flags were placed together.
The deputy leader of the party, Ron Mark, also compared the design to insignia painted on the side of Nazi sentry boxes.
The BBC reported that he said: "How offensive is that to veterans? It's going from farcical to ridiculous. We don't want a bar of it."
Social media user, John Hart, suggested that parliament should invoke Godwin's Law.
The unofficial Godwin's Law of Nazi Analogies was developed by Mike Godwin in the 1990s as a counter-meme. The theory behind the so-called law is that "as an online discussion grows longer, the probability of comparison involving Nazis or Hitler approaches one".
Red Peak was designed Aaron Dustin, who said on his website that the "the 'First To The Light' flag was intended to be a 'new' symbol that expressed our NZ identity".
Three of the other flags in the contest feature a fern which is a national icon. The fourth design features a koru, which is frequently seen in Maori art.
New Zealand Flag - The designs that didn't make the cut

Show all 8
Register for free to continue reading
Registration is a free and easy way to support our truly independent journalism
By registering, you will also enjoy limited access to Premium articles, exclusive newsletters, commenting, and virtual events with our leading journalists
Already have an account? sign in
Register for free to continue reading
Registration is a free and easy way to support our truly independent journalism
By registering, you will also enjoy limited access to Premium articles, exclusive newsletters, commenting, and virtual events with our leading journalists
Already have an account? sign in
Join our new commenting forum
Join thought-provoking conversations, follow other Independent readers and see their replies