Australia faces 'catastrophic' fire danger as temperatures reach reach record levels in heatwave
'This is not a usual fire day, this is as bad as it gets'
Chloe Farand
Saturday 11 February 2017 18:43 Comments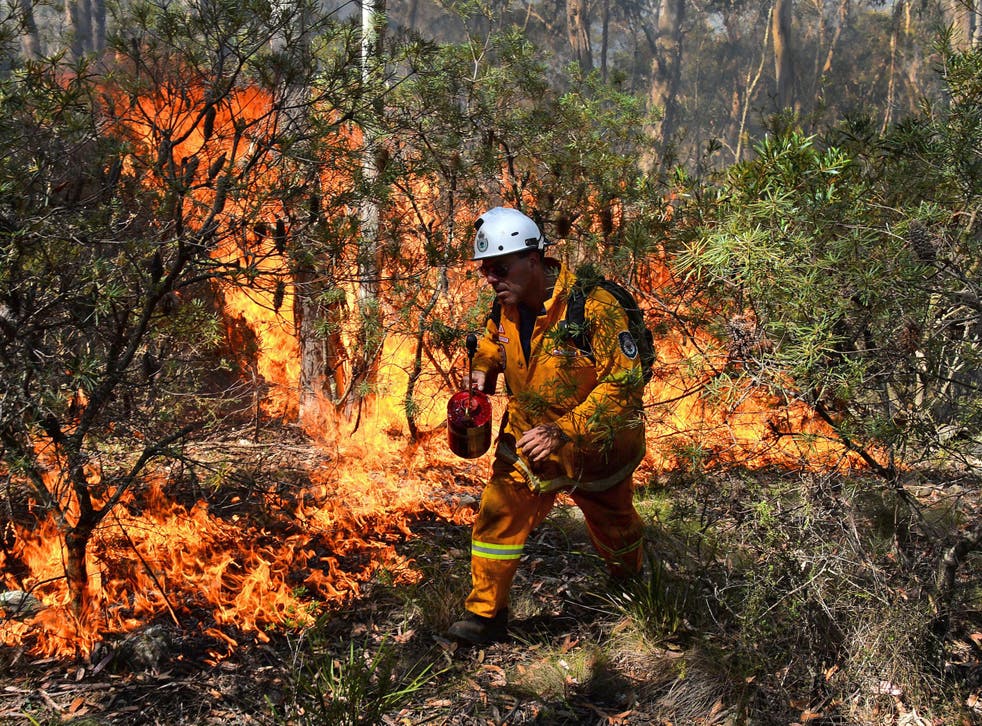 Authorities in Australia are facing the "worst possible fire conditions" and have declared a "catastrophic" fire danger over the weekend with the country engulfed in a series record-breaking heat wave.
The states of New South Wales and Queensland have felt sweltering temperatures, exceeding 40C, in recent days.
Up to 66 temperature records were broken in the New South Wales with the hottest temperature recorded in Ivanhoe at 47.6C.
At one point 49 fires were burning across the state of New South Wales,17 of which were not under control.
In a press conference, New South Wales rural fire commissioner Shane Fitzsimmons said "This is not a usual fire day, this is as bad as it gets.
"To put it simply [the conditions] are off the old scale. It is without precedent in NSW," he said.
Mr Fitzsimmons warned the situation could get worse on Sunday, when winds are expected to sweep through the northern areas of New South Wales.
Residents are being warned by telephone messages, when their area comes under threat, but Mr Fitzsimmons said they were no guarantees everyone would get the message.
He added the conditions in some part of New South Wales could be worse than the "Black Saturday" bush fires in the state of Victoria in 2009, when 173 people died in Australia's worst-ever fire disaster.
The fire and rescue authorities in New South Wales are anticipating a "catastrophic danger" of fires throughout the weekend with areas of "severe and extreme fire danger".
A statewide total ban on fire is in place in New South Wales and bans have also been put in place in areas of Queensland.
The suburban town of Penrith west of Sydney had its hottest day in at least 23 years, reaching 46.9C which is 18 degrees above average. Nearby Richmond reached 46.8C, the hottest day since records began in 1893 and Forbes in the west of New South Wales, had its hottest day in 135 years, reaching 46.5C, 9news reports.
Many parts of the country are also experiencing what have been dubbed "a new era of extreme heat".
Science information project Climate Signals said new weather patterns caused by climate change were causing rolling heatwaves and a 14 per cent increase in the number of days, where temperatures are 35C in Australia or over over the past 20 years.
Register for free to continue reading
Registration is a free and easy way to support our truly independent journalism
By registering, you will also enjoy limited access to Premium articles, exclusive newsletters, commenting, and virtual events with our leading journalists
Already have an account? sign in
Join our new commenting forum
Join thought-provoking conversations, follow other Independent readers and see their replies